Alex Salmond hinted at a desire to return to frontline Scottish politics as Holyrood backed the devolution of major new tax and spend powers.
The former first minister said he was leaving the devolved parliament "for now" during his farewell speech to the parliament in Edinburgh.
Mr Salmond – who is currently MSP for Aberdeenshire East – is standing down at the election in May to sit solely as an MP.
He has previously left to take a seat in Westminster, only to return to the Scottish Parliament.
One MSP branded him the "Muhammad Ali of Scottish politics" for his repeated comebacks.
The comments were made as MSPs gave their assent for the UK Parliament to pass the Scotland Bill, which will hand greater control over areas including income tax, VAT and welfare to the Scottish Parliament.
Welcoming the new powers, Mr Salmond said: "There is a broad consensus on the need for this parliament to assume greater responsibility for the governance of Scotland.
"And we are definitely stronger – so much stronger – as a result."
He added: "There is no greater honour in public life than to be a member of this parliament.
"There is no greater task than to mould the public purpose of Scotland.
"There no greater cause to serve than that of the people of this country.
"And so, with that it is goodbye from me – for now."
Mr Salmond served in the fledgling Scottish Parliament for two years between 1999 and 2001, before departing for Westminster and then returning to lead the SNP to its first minority government in 2007, a landslide in 2011 and then the unsuccessful independence referendum in 2014.
He has held a dual role as MSP for Aberdeenshire East and MP for Gordon since the general election in 2015, and is the SNP's Westminster spokesman on foreign affairs.
Responding to Mr Salmond, north-east Conservative MSP Alex Johnstone said: "I suffered slightly from deja vu as I listened to Mr Salmond make his final remarks – as did some other members, I am sure – because we have heard him do that before.
"What worried me most was that he finished his speech by saying goodbye 'for now', so it is possible that he may be planning, in his role as the Muhammad Ali of Scottish politics, to make that second comeback?
"Let us watch this space."
The path is now clear for the UK Parliament to approve the Scotland Bill, which will mean powers to set the rates and bands of income tax being devolved to Holyrood, alongside control over certain benefits such as support for carers and those with disabilities.
A share of VAT receipts in Scotland will be assigned to the Scottish Government's budget.
Other powers include control over air passenger duty, abortion law and the management of the Crown Estate relating to Scotland.
The Bill also recognises the permanence of the Scottish Parliament, with a referendum needed in order to abolish it.
The funding deal to accompany the transfer of the powers was agreed by the Scottish and UK governments last month.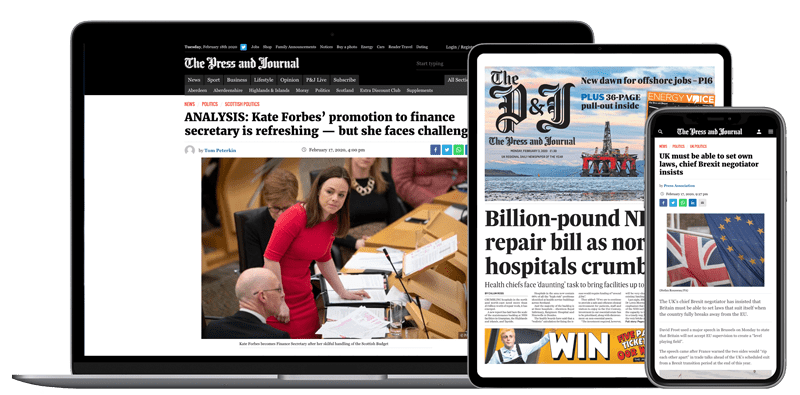 Help support quality local journalism … become a digital subscriber to The Press and Journal
For as little as £5.99 a month you can access all of our content, including Premium articles.
Subscribe