The SNP has failed to win a majority at the Holyrood election – but a minority government will not be a barrier to a second independence referendum.
Nicola Sturgeon declared yesterday she would not seek a "formal arrangement" with any other party after falling two seats short of the 65 required to govern outright.
In a statement outside Bute House, Ms Sturgeon said her party had won an "unequivocal mandate" to form the government.
But – despite recognising she won't have guaranteed control of Holyrood – potential allies in the Scottish Greens indicated they would not block a bid to hold another poll on the independence question.
The revelation came as Scottish Tory Leader Ruth Davidson addressed the issue head on, demanding the first minister start the new parliament by ruling out a second referendum.
Throwing down the gauntlet, the triumphant Edinburgh Central MSP also insisted majority government had not worked well.
She argued the SNP would now be forced to "listen, learn and to improve".
In a dramatic election night, the Scottish Conservatives leapfrogged Labour, who recorded their worst result north of the border since 1910, to become the official opposition.
As well as Ms Davidson's surprising victory, Alexander Burnett romped home in Aberdeenshire West.
The SNP won 63 seats, six fewer than their 2011 tally, losing a number of high-profile former MSPs, including Dennis Robertson and Christian Allard.
The first minister defended her party's performance, however, saying: "We won the highest share of the constituency vote and the largest number of constituency seats ever achieved in a Scottish Parliament election.
"And we are the first party in the era of devolution to poll more than one million votes in constituencies across the country.
"The result of the election was emphatic – the people of Scotland once again placed their trust in the SNP to govern our country.
"We won a clear and unequivocal mandate."
Despite falling short of an absolute majority, the first minister said she still held the aim of "persuading" people to back Scottish independence.
She said: "On the question of independence, the SNP will make our case with passion, with patience and with respect.
"But our aim is to persuade, not to divide.
"We will always respect the opinion of the people – now and in the future – and we simply ask that other parties do likewise."
The support of the Scottish Green Party – as Holyrood's only other pro-independence grouping – would be crucial if Ms Sturgeon were to attempt to hold another referendum during the next parliament.
Co-convener Patrick Harvie, one of the party's six MSPs, indicated he would not block a bid to hold another referendum.
But he questioned whether such a move would take place in the next five years.
He said: "I don't think anyone can honestly say they know when another independence referendum will be called.
"I personally don't doubt that one will be called and I look forward to campaigning for a Yes vote when that happens.
"But if you're asking me can put a timescale on it, I don't know.
"What I find interesting is the way that the parties against Scottish independence used to say things like 'bring it on' and now they seem terrified at the prospect of even talking about it.
"I think that in itself signals there may be a change in the landscape."
In 2007, when the SNP were the largest party with 47 members, then leader Alex Salmond chose to form a minority government.
Such a move requires the administration to negotiate bills on a case-by-case basis with other parties in order to get them passed.
This arrangement can cause uncertainty, however, such as when the SNP struggled to garner enough support for their 2009 budget, although it did eventually pass.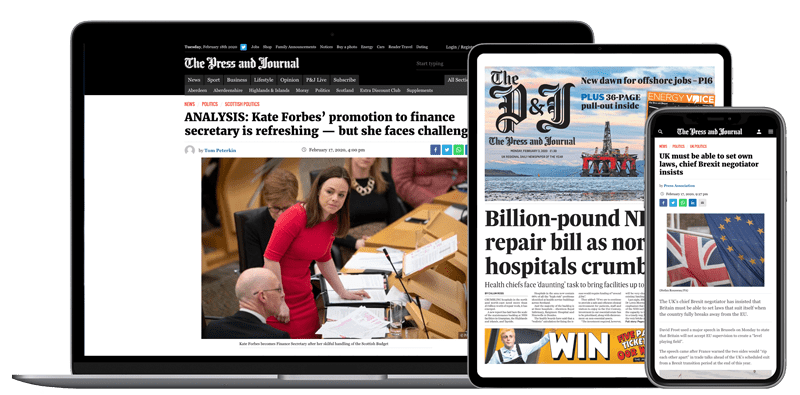 Help support quality local journalism … become a digital subscriber to The Press and Journal
For as little as £5.99 a month you can access all of our content, including Premium articles.
Subscribe