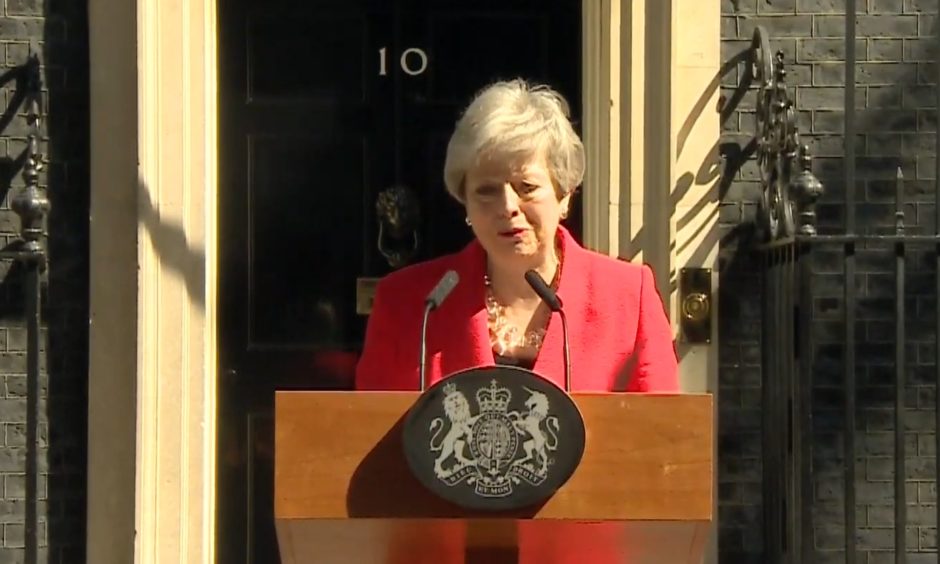 Theresa May has cleared the way for a new prime minister to take office by the end of July after calling time on her turbulent three-year stint in Downing Street.
In an emotional final speech outside Downing Street, Mrs May announced that she would step down as Conservative leader on Friday, June 7 after President Trump's official state visit.
With husband Philip and one of her closest aides, West Aberdeenshire and Kincardine MP Andrew Bowie, watching on, Mrs May said she had "done everything" she could to deliver Brexit, but accepted that was no longer possible under her tenure.
Her voice cracking, she said: "I will shortly leave the job that it has been the honour of my life to hold – the second female prime minister, but certainly not the last.
"I do so with no ill will, but with enormous and enduring gratitude to have had the opportunity to serve the country I love."
Mrs May's decision to finally name the date for her resignation came after a bitter backlash against her final effort to get a Brexit deal through Parliament.
A Cabinet mutiny and the prospect of the powerful Tory backbench 1922 Committee allowing another motion of confidence in her leadership eventually forced the prime minister's hand.
On the steps of Downing Street, she insisted she had done "everything" to deliver Brexit and take the UK out of the European Union.
But almost three years after the UK voted to break away from Brussels, Mrs May said: "It is, and will always remain, a matter of deep regret to me that I have not been able to deliver Brexit.
"It will be for my successor to seek a way forward that honours the result of the referendum."
With Brexiteer Boris Johnson the current favourite to replace her, and former Brexit secretary Dominic Raab his nearest contender, Mrs May warned against a hardline approach, saying a consensus was necessary.
She said: "Such a consensus can only be reached if those on all sides of the debate are willing to compromise."
Within minutes of the prime minister's statement, Cabinet colleagues paid tribute to Mrs May.
Scottish Secretary David Mundell, who had raised concerns about her Withdrawal Agreement Bill opening the door to a second referendum – a move which he alleged could have been "exploited" by the SNP to call for another independence vote – said "nobody could have worked harder or shown a greater sense of public duty".
But he added it was "time to get on with the process" of choosing her successor.
Scottish Tory leader Ruth Davidson said Mrs May had been a "role model for girls and women across the United Kingdom" by "showing there is no glass ceiling to their ambitions".
Ms Davidson said the next party leader would have to show the "same level of commitment to Scotland's place in the Union".
First Minister Nicola Sturgeon echoed Ms Davidson, saying the prime minister had "proven to little girls everywhere that nothing is off limits to them", but warned her departure would not solve the problems caused by Brexit.
She said: "Putting another Tory leader in Downing Street without a general election is not the solution to this crisis. The only way to resolve Brexit is to put the issue back to the people.
"For Scotland, the prospect of a hardline Brexiteer Tory becoming Prime Minister is not a happy one."
Labour leader Jeremy Corbyn said Mrs May had "now accepted what the country has known for months, that she cannot govern, nor can her divided and disintegrating party".
He said: "The burning injustices she promised to tackle three years ago are even starker today.
"The Conservative Party has utterly failed the country over Brexit and is unable to improve people's lives or deal with their most pressing needs."
The 1922 Committee will now set out the terms of the Tory leadership contest, to kick off on 10 June, which is expected to last perhaps six weeks.
Mrs May will remain prime minister until her successor is chosen.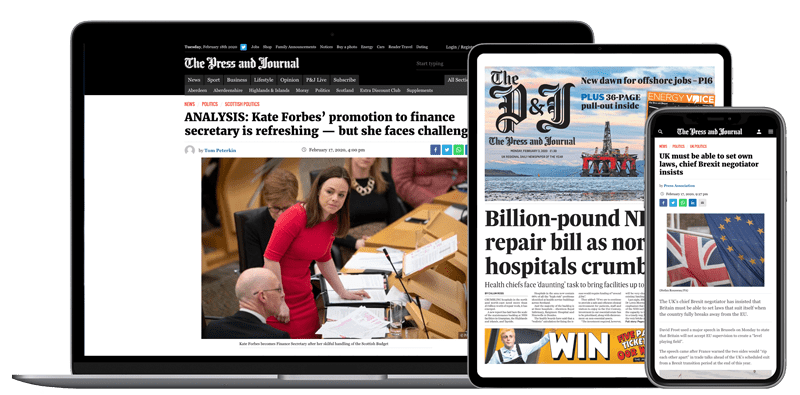 Help support quality local journalism … become a digital subscriber to The Press and Journal
For as little as £5.99 a month you can access all of our content, including Premium articles.
Subscribe