 Trade Secretary Liz Truss was "unable to give any comfort" to industry bosses on when President Donald Trump's punitive tariffs on whisky and clothing will be revoked.
The Cabinet minister met with north-east businesses  on Thursday in an attempt to reassure them that the UK Government was working to resolve the issue.
But Simon Cotton, chief executive of Johnstons of Elgin, a producer of cashmere and fine wool knitwear, said he remained unclear following the meeting.
He said: "We emphasised the serious threat these tariffs represent to our industry if they are anything more than short-term, and also the specific challenges brought about by these tariffs being applied to UK knitwear manufacturers but not our Italian competitors.
"The secretary of state was unable to give us any comfort in the likelihood that the tariffs might be paused or revoked."
Ms Truss, speaking following the meeting, said: "I made a promise that I will fight their corner by appealing to the better judgement of my counterparts across the pond and continue to press them to rethink their decision."
The US was given the right to impose tariffs on £6.1 billion of goods it imports from the EU following a World Trade Organisation (WTO) ruling.
The ruling found the EU failed to remove subsidies for European aircraft maker Airbus, causing a loss in sales for US rival plane manufacturer Boeing.
First Minister Nicola Sturgeon said yesterday that she was arguing the case for Scottish industry.
She said: "I have written formally to Boris Johnson in terms of making the case for the whisky industry in terms of what he should be doing in discussions with the President and with the US administration and we will continue to do what we can.
"Nobody wins out of this but it is particularly damaging for the whisky industry and I think the sooner we get into a position where these issues are resolved through negations rather than an escalating trade war the better."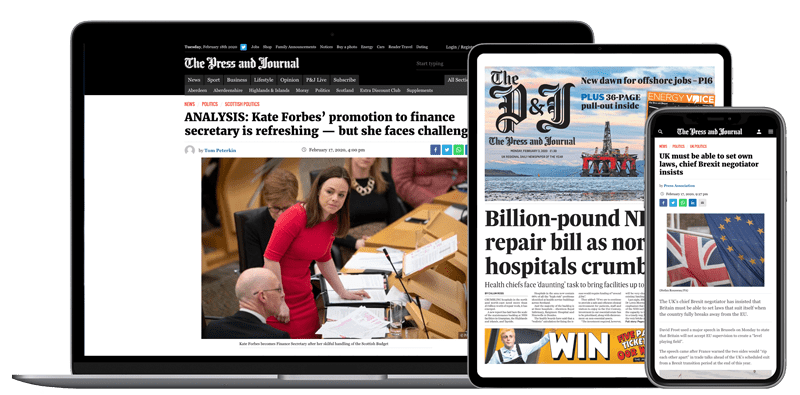 Help support quality local journalism … become a digital subscriber to The Press and Journal
For as little as £5.99 a month you can access all of our content, including Premium articles.
Subscribe