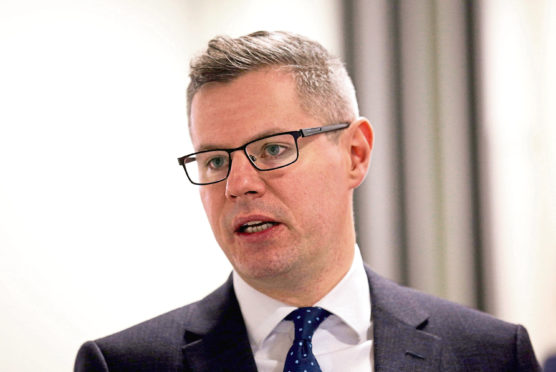 North-east councils have had to peel back culture and sports spending due to "drastic SNP cuts", new figures have revealed.
A council-by-council funding breakdown, issued by the office of Culture Secretary Fiona Hyslop, revealed 20 local authorities spent an average of 2.75% less on leisure-related pursuits in the 2017 and 2018 tax years – a £16 million difference.
Aberdeenshire, Moray, Dundee, Angus and Fife councils all posted cuts to the revenue budgets over the two-year period, with only Perth, Highland and Aberdeen seeing increases.
Gordon Tory MP Colin Clark said the downwards trend across Scotland was a "symptom" of the wider cuts being forced on councils.
He said: "It's important to note these revenue figures are not exactly what is being spent by each council.
"Many local authorities have set up arms-length organisations (ALEOs) which help fund tourism, sports and leisure.
"But all of the councils across the north-east will tell you the same – ongoing and drastic SNP government cuts to core budgets are forcing them to make very difficult decisions."
He added: "According to Audit Scotland last month, Aberdeen's core revenue funding was cut by 9.9% over the last five years, while Aberdeenshire's fell by 5%.
"The north-east has lost out under the SNP and it is time Nicola Sturgeon gave this area a fair deal."
The figures come following the revelations that the public finance watchdog rebuffed a series of heated emails from the Scottish government, demanding they change a graphic illustrating a downturn in core council funding.
A spokesperson for Finance Secretary Derek Mackay responded by criticising funding cuts from Westminster.
He said: "The UK Tory Government has cut the Scottish budget by almost £2 billion since 2010 and Scottish Tory tax plans would cut the Scottish budget by a further £500 million, putting vital public investment at risk.
"Unlike the Tories, we will continue to invest in Scotland's public services.
"We are delivering a funding package of £11.2 billion for local authorities this year – a real terms increase of £310 million for essential public services in Scotland.
"Individual councils are responsible for their own budgets and, despite financial pressures, councils overall have supported culture and in recent years a significant number have increased their spend.