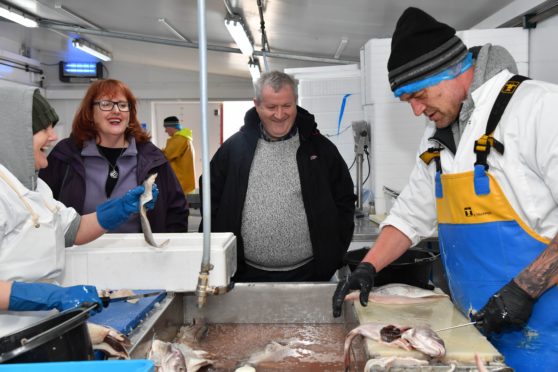 Theresa May's Brexit plan will deliver the "worst of all worlds" for fishermen in the north-east, Ian Blackford has claimed.
The SNP Westminster leader issued the warning yesterday after visiting fishermen and producers in Peterhead and Fraserburgh.
Mr Blackford accused the government of "selling out" the fishing industry and said the Tories could not be trusted to "stand up for Scotland's interests".
Speaking to the Press and Journal after the trip, he said: "The prospect of a Tory Brexit deal would be a disaster for Scotland's interests and would deliver the worst of all worlds for our vital fishing communities.
"The Tories promised fishing communities that the UK would be out of the Common Fisheries Policy (CFP) by March 2019 – it is now May and the fishing industry still finds itself stuck in the CFP as a result of the chaos consuming the Tory party.
"Worse still, if the Tory government pushes ahead with its damaging Brexit plans then it will deliver a hammer blow to fishing communities by keeping it tied to policies that do not work for Scotland, whilst having its seat taken away from the top table and left without a voice in negotiations."
He added: "The SNP has been consistently clear that Scottish fishermen need a fair allocation of fish stocks and further reform is needed so that Scotland's fisheries are able to thrive and succeed.
"That can only be achieved by being at the top table and being able to stand up for our interests."
Banff and Buchan Tory MP David Duguid dismissed the criticism, saying the SNP would sell out the fishing industry "in a heartbeat".
He said: "Ian Blackford has a brass neck to come up to Fraserburgh and Peterhead and cosy up to north-east fishermen.
"The SNP would sell out our fishermen in a heartbeat.
"The Nationalists want to reverse the UK-wide vote to leave the EU and keep our fishermen shackled to the CFP.
"They have sought to frustrate Brexit from the outset – and would deny our fishermen the opportunities presented by leaving the EU."
A Conservative Party spokesman added: "Mr Blackford's hypocrisy won't wash with the people of the north-east, who know full well that the SNP have spent decades trying to face both ways on fishing.
"Only the Conservatives are committed to taking full advantage of the sea of opportunity that leaving the CFP will bring, delivering jobs and prosperity for coastal communities across our United Kingdom."