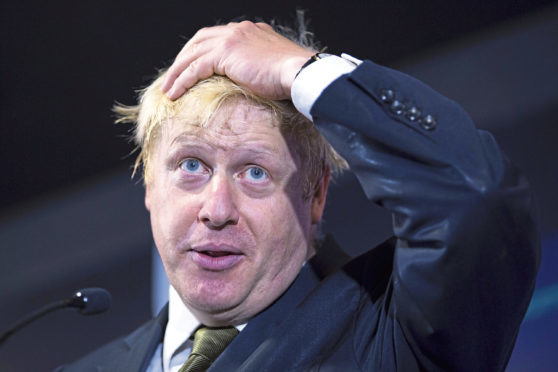 Love or loathe Boris Johnson, the fact is this Marmite politician is now the firm favourite to replace Theresa May after the Tory party's European election drubbing at the hands of Nigel Farage.
Johnson's promise to take the UK out of the EU "deal or no-deal" by the end of October is music to the ears of Brexiteers and is seen by many in the party as the only strategy that can beat back the Brexit Party, which picked up 29 MEPs on Monday from a standing start.
The prospect of Johnson's blond-mop entering Number 10 has long had Nicola Sturgeon and her SNP colleagues rubbing their hands together. Easy to cast as a disinterested London-centric toff, aloof from the concerns of the average Scottish voter, Johnson is very much viewed as the gift that would keep on giving to the indyref2 cause and until rather recently, this opinion was shared by many in the Scottish Tory fold.
Those in Westminster are all too familiar with a covert Scottish Tory plot, known as "operation arse", to block Johnson's ascendance to the Conservative throne. Launched by senior Scottish figures in the party last year, after private polling revealed Johnson would reverse many of Ruth Davidson's gains, the aim was to frustrate his efforts to garner support and put pressure on MPs to vote against him in the event of any leadership bid. The operation was seemingly still in action when the Tories came to Aberdeen for their conference at the start of the month. Johnson was noticeably absent and was rumoured to have been banned from attending.
But as Harold Wilson once said, a week is a long time in politics and indeed in the week following the conference Johnson was given a hero's welcome in the city by party activists. A private dinner he hosted at the Hilton Treetops Hotel sold out three weeks in advance and raised more than £6,000 for the Tories locally – the biggest fundraiser in a decade I was told.
One Johnson fan swooned that his presence in Aberdeen that weekend was like "Harry Styles walking through an all girls school". The reaction from activists and locals gave the former foreign secretary a "huge boost" and counter to perceived wisdom, led him to believe that he can win support with Scottish voters.
Another boost came just three days before the prime minister announced her resignation, when Johnson was invited to a private meeting with Scottish Secretary David Mundell – who is widely believed to have been one of the architects behind the anti-Bojo operation. The meeting apparently went "very, very well" and Mr Mundell was rather "enthusiastic" about Johnson's pledge to protect the Scottish whisky industry, help the oil and gas sector and look at expanding the seasonal agricultural workers scheme – which, as the Press and Journal has revealed, is essential to farmers and fishermen across the north. After the meeting one MP on team Johnson quipped: "yeah, operation arse is officially dead".
That said I'm told Ruth Davidson is still far from convinced, despite a number of phone calls with Johnson she is still likely to vote for another candidate if he makes the final two. And privately many Scottish Tory MPs are also still unsure, despite Johnson's determined pursual of them in Westminster's tearooms. One told me, after a few drinks last week, that Johnson was too much of a "toff" to win in Scotland and added "Michael Gove might be a toff, but he's a Scottish toff and can at least relate to our needs".
Whether or not Johnson ends up being the preferred candidate of the Scottish party, strategists are hoping if he wins the Tory leadership race his Brexit appeal will win out north of the Tweed. The European election results proved, while yes the majority in Scotland are clearly for Remain, there is a substantial Leave audience. Cast your mind back to 2013 when Mr Farage was hounded out of Edinburgh by a mob of angry protesters – leading senior SNP figures to proudly gloat afterwards that his politics "was not welcome" in Scotland. Fast forward six years and in the very same city more than 500 people turned up to meet him at a Brexit Party rally.
One Tory told me the change showed how Brexit had broken normal politics and people were craving politicians of "personality and character who are not just an empty suit". Johnson may just be a big enough personality to eclipse Mr Farage and win back support to the Tories, but as recent history has proven – tacking towards the Brexit Party leader does not destroy his appeal.
If Johnson indeed delivers a no-deal exit in October and the Treasury forecasts of fiasco come to pass, with queues at ports and shortages of medicines and food, Mr Farage could well turn round and say "this isn't the version of no-deal we wanted". Meanwhile the economic hit would give a huge boost to the SNP's demands for indyref2. Nothing is certain in politics, but there is likely a troubling road ahead for the Union.