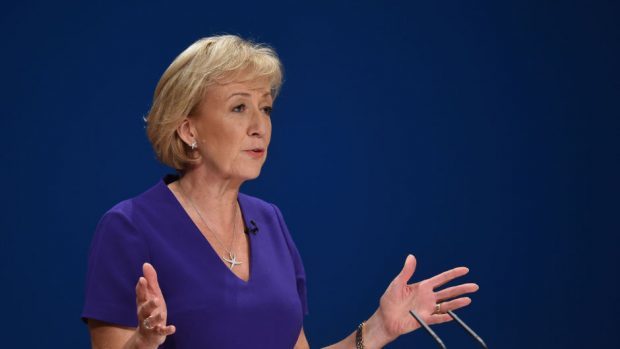 Tory leadership hopeful Andrea Leadsom has come under fire after saying she would "never say never" to a second independence referendum.
The former Cabinet minister, who quit over Theresa May's handling of Brexit, said it would be "disrespectful" to the Scottish Parliament for her to rule out a referendum completely if she becomes prime minister.
The UK Government under Mrs May has consistently said the matter of Scottish independence is closed and there should be no re-run of the 2014 referendum.
The Scottish Tories in Westminster have also made a point of saying that they could not support a candidate who did not hold firm on that line.
But Ms Leadsom, at a press gallery lunch in Parliament yesterday, opened the door to the possibility.
She said: "I do believe in sovereignty.
"I do not think that Scotland should have another independence referendum right now and I don't think most people in Scotland would want that to happen, but I would never say never."
She later added: "The reason I say never say never is because while I do not think that there should be another independence referendum in Scotland and I do not think it is in their interests, on the other hand I'm a big believer in devolution and so what I just want to say is I am not going to stand here and utterly rule it out because I think that that is disrespectful."
The former Commons leader said in the event of any referendum she would "fight" for the Union.
"What I think we have to be doing is to promote the strength of the UK, working together far more than we have done, and I have a number of policy areas that I would use to try and make that happen."
Aberdeen South Tory MP Ross Thomson quipped "never say never is just a bad Bond film."
He added: "Look, I think Andrea is one of the loveliest, most charming people in Parliament and I think it is in her nature just not to say no to anyone.
"But from my perspective, and that of the Scottish Conservatives, our number one clear ask is that any new prime minister will be just as robust in saying no more referendums, whether that is on independence or Europe.
"We are so divided as a country right now that a referendum will only exacerbate divisions further.
"I don't think any Scottish Conservative could back a candidate who won't be firm on saying no to indyref2."
He added: "Honestly, this is not something that we will equivocate on.
"We will always oppose a second independence referendum and we need a prime minister to reflect that."
The SNP were quick to welcome Ms Leadsom's comments, saying she was "right to recognise that it would be deeply disrespectful for Westminster to rule it out".
The party's Westminster leader Ian Blackford said: "The Scottish Parliament has voted to hold an independence referendum.
"It would be a democratic outrage for the Tories to stand in the way of democracy.
Meanwhile, Tory frontrunner Boris Johnson will today officially launch his campaign at an event in Westminster.
Mr Jonhnson is expected to say: "After three years and two missed deadlines, we must leave the EU on October 31.
"We simply will not get a result if we give the slightest hint that we want to go on kicking the can down the road with yet more delay. Delay means defeat. Delay means Corbyn.
"Kick the can and we kick the bucket."