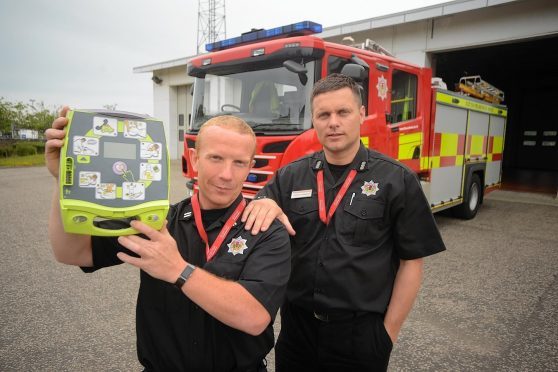 It's one of the biggest life-savers in the 21st century.
But few people will be aware that the man who invented the defibrillator fought with the Gordon Highlanders during the Second World War.
Doctor Frank Pantridge, who was posted to Singapore in 1940, aged 24, was attached to the 2nd Battalion Gordon Highlanders as their medical officer and played a significant part in the hostilities between the Allies and Japan.
The Irishman subsequently became a leading specialist in cardiology and recognised that many heart attack victims were dying before they even reached hospital.
This led to him creating a defibrillator prototype, powered by car batteries, in 1965, which enabled patients to be given immediate treatment.
And this week Irish author Cec Lowry, who is working on a new book "From the Heart of the River Kwai, the Portable Defibrillator is Born", visited Stewart Mitchell who is a historian at the Gordon Highlanders Museum in Aberdeen.
He has investigated Mr Pantridge's incident-packed life and made the original discovery about his link to the heart-reviving device.
Mr Mitchell said: "He is not well known in Scotland, but his statue stands proudly outside Lisburn Civic Centre and he had a stellar career in medicine after the war.
"His courage under fire was remarkable and it was recognised by the award of the Military Cross.
"His citation said he was completely cool under the heaviest of fire with complete disregard for his own safety at all times.
"After the fall of Singapore, he became a prisoner of war and was transported to work on the infamous Thai-Burma Railway, where almost 40% of POWs died because of tropical diseases, malnutrition and cruel tretament from their captors.
"Yet, even in these circumstances, he worked wonders and showed the sort of resilience and bravery that amazes those of us who research the history of these times."
There is now a picture board at the Gordon Highlander Museum, highlighting the pioneering role played by Mr Pantridge, who died in 2004, aged 88.
Mr Mitchell added: "It's strange to think that a device which we now take for granted and see in almost every public place sprung from the imagination of a man who suffered terrible privations thousands of miles away in the 1940s.
"He was only liberated after the dropping of atomic bombs at Hiroshima and Nagasaki and he was horribly emaciated.
"But he came through that experience to invent something that has saved the lives of countless people in the last 50 years."