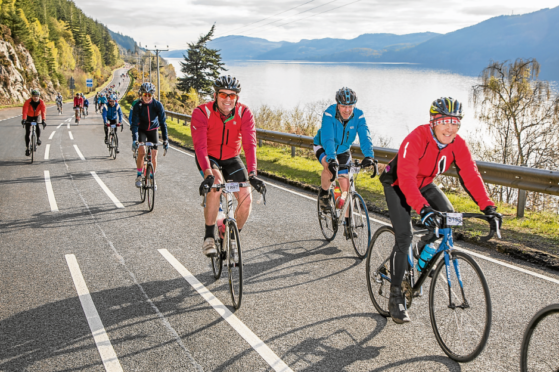 A record 5,600 cyclists took part in the Etape Loch Ness sportive on Sunday, with many making an emotional journey for loved-ones and charity.
The race got underway at 6.15am with riders sent on their way in 230-strong waves to make their way 66 miles around the loch.
Routes were closed to traffic to enable the cyclists to enjoy the freedom the road.
For the second year in a row the fastest male rider around the course was Andy Cunningham from the Ilkley Cycling Club.
He made it back to the Highland capital just 2 hours, 48 minutes and 50 seconds after setting off.
The fastest female cyclist was Marie Meldrum from Nevis Cycles RT who also repeated her 2017 success, finishing in a time of 2 hours, 57 minutes and 23 seconds.
Riders who made the nearly five mile climb up Glendoe in the fastest time were crowned the King and Queen of the mountain – with the royal titles awarded to Mr Cunningham again and to Lauren Johnston.
With the event backing Macmillan Cancer Support it frequently attracts people who have suffered health issues themselves.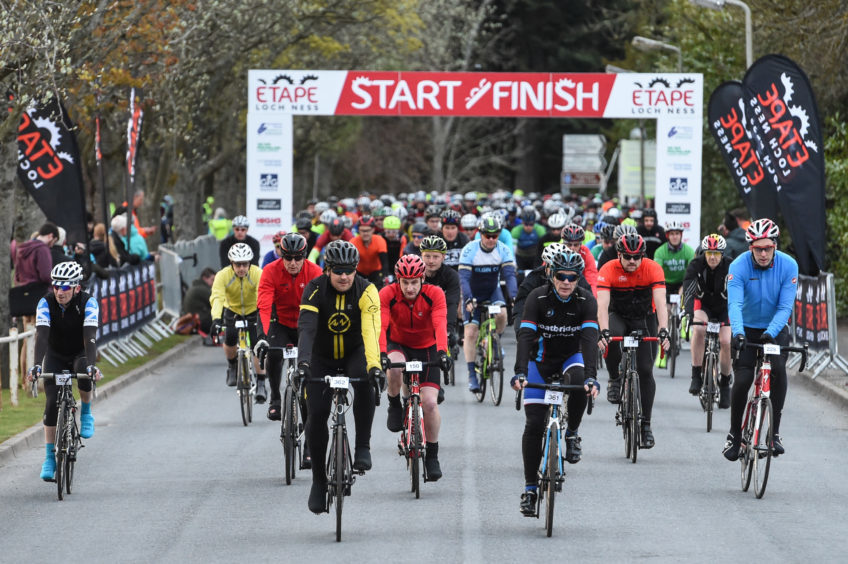 One such rider was Lorraine McCall from Conon Bridge who recently underwent treatment for breast cancer.
She said crossing the finishing line after such a gruelling course of treatment and such a challenging race was "emotional".
Ms McCall said: "I don't normally get emotional and it was a struggle out there but I have been left with a real sense of achievement.
"I loved it but it was hard, the last ten miles in particular, but I didn't get off my bike on any of the hills which was good."
Ms McCall and her race partner Russell Newham set up a Just Giving page for Macmillan Cancer Support that yesterday passed its £1,000 target.
Another entrant was Thomas Trigg who completed all 66 miles at the age of 69 and was met by his son, Garry, at the finish line.
Speaking about his father Mr Trigg said: "I am just glad to see he has done it again. He was really ill for a while and he has done well.
"He has got a defibrillator and half his heart was destroyed. Then he took up cycling and now he is fit as a fiddle."
Race Marshal Tracey Bain summed up the event, saying: "It was brilliant. The best one yet."