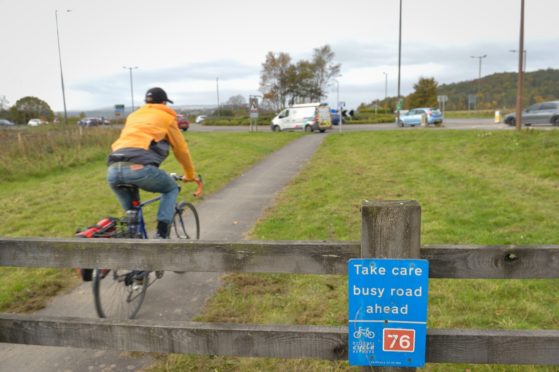 Some rural roads should be reduced to 40mph to make them safer for bike users, according to a leading cycling charity.
The call from Sustrans follows the release of a new audit which has branded 59% of Scotland's paths on the National Cycle Network (NCN) as "poor" or "very poor".
All of these are on-road routes and the organisation says more than half of their issues stem from traffic safety.
It has made 15 recommendations to remedy this, including one where roads overlapping with the cycle network have their speed limits reduced to 40mph in urban areas and 20mph rurally.
John Lauder, national director of Sustrans Scotland, said: "Scotland's unique geography means that a large proportion of National Cycle Network routes here are based on rural roads.
"And whilst it is heartening to see that the majority of our off-road routes are "good" or "very good", we still face a big challenge where NCN routes are on public roads.
"Reducing the speed limit to 40mph on on-road sections will help make these popular walking and cycling routes safer, better and more reliable for all users."
Of the 2,657 miles of National Cycle Network routes in Scotland, 59% have been deemed sub-par – higher than the 48% UK average.
Sustrans' other recommendations to reduce these numbers include creating new cycle paths, removing barriers such as gates or chicanes, setting up a group to look at accessibility and improving signage.
Transport Secretary Michael Matheson said: "This is a timely review of the National Cycle Network.
"The success of the network is critical in encouraging both walking and cycling trips for everyday journeys and especially shorter journeys.
"Having the right accessible infrastructure in the right place, which is well maintained and well promoted, is key to achieving our shared active travel ambitions and building an active nation –  where more people can enjoy the benefits of walking and cycling than ever before."
He added: "Doubling the active travel budget has allowed the Scottish Government to also double our investment in the NCN to £6.9 million this year.
"I am confident that this funding, alongside this review, will contribute towards allowing this inclusive network to flourish for future generations, so that people right across Scotland can continue to enjoy walking and cycling at all ages."