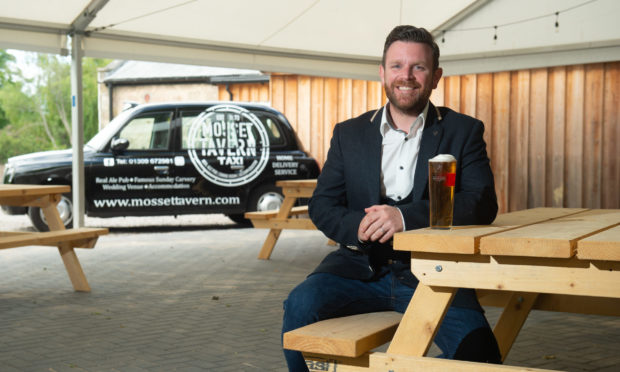 Businesses and customers alike are today poised for the return of pubs, hotels and restaurants after days of extensive preparations to get venues and staff across the north and north-east ready for a new way of working.
While the provisional date for opening inside areas is still several days away – tentatively set for July 15 – many businesses are looking forward to an initial bump in trade as beer gardens and outdoor areas open today.
The Mosset Tavern in Forres has "completely transformed" its outside areas, including its car park, to offer customers a new experience.
Owner Gordon Brailsford has invested in new furniture, marquees and even a vintage Airstream trailer to serve meals from.
"We've made the best of the situation and it's really put all of our creative thinking to the test," he said.
"We have been spurred on by our customers on social media, who I think are just as excited by the reopening as we are.
"Many have said they can't wait to come and support us and I'm hoping we'll have a full house all week.
"This has really tested us and had we not had the support of our community for our home delivery service, I dread to think what the outcome would have been."
David Hayfield of the Seafield Arms in Whitehills, Aberdeenshire, said everyone is "so excited" for beers to be poured once more.
At the beginning of lockdown the pub had six kegs of leftover beer and hundreds of Easter eggs – which they donated to people in the community.
My Hayfield said: "We're the only pub with facilities like this in the area and we can't wait to welcome people back.
"We all know it will be slightly different than before.
"We have our beer garden and secured permission to turn our car park into additional seating. It's all looking quite bonny, with our new umbrellas.
"We also have hand sanitiser stations. It's been a lot of expense but it will be worth it to get people back.
"We've had a lot of enquiries and bookings so far. Fingers crossed we get the sun next week."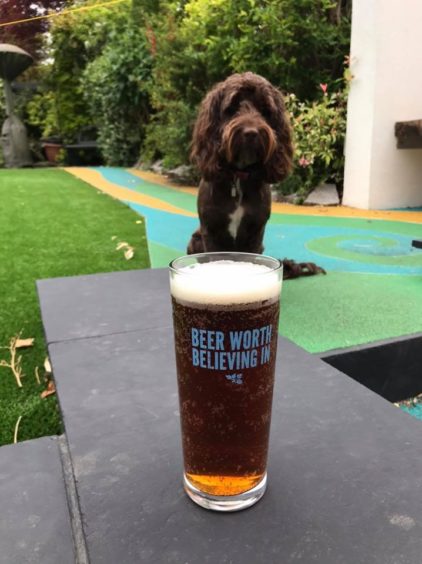 Meanwhile Graeme Hetherington of the Butchers Arms in Aberdeen has special branded PPE, aprons and snoods for his staff ahead of it reopening today.
He said: "We're looking reasonably good and have made improvements to the inside and outside of the premises.
"We know there's a lot of excited people and we're looking forward to welcoming familiar faces back into the pub.
"We're very much a community pub and have tried our best to keep in touch with people during all this."
The Heathmount hotel in Inverness has set up a one-way system throughout the premises and has also switched to compostable takeaway boxes and plastic glasses for hygiene reasons.
Manger Fiona Newton said: "This weekend is doing to be a lot busier than Monday and Tuesday.
"We're opening today so that, by the time we get to the weekend, we'll all be sorted."
She said: "When people get a table we have to clean the seats and even the legs before people can sit down.
"We have high standards for hygiene anyway, but this is extra."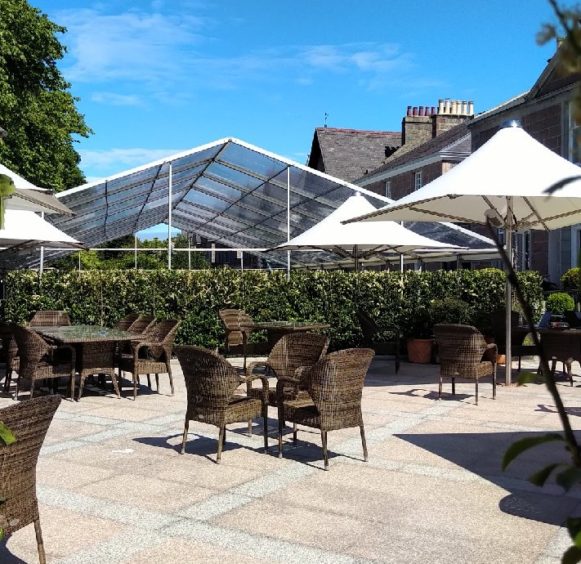 The Chester Hotel in Aberdeen is taking things slightly more slowly, first opening on Wednesday and for five days a week while staff find their feet once more.
Since it opened an online booking system last week, it has had more than 2,500 inquiries from customers.
General manager Stephen Gow said: "We've devised a menu which we are confident we can cook and serve safely and we have tried to cover all bases with new waterproof workwear for our team and also, optimistically, sun cream too.
"A lot of thought and planning has gone into how we keep our guests and team safe.
"We are not going back to the old 'norm'. We are entering the new reality and the customer experience will be different.
"It's up to the hospitality industry to inform their guests what that experience will be like, and equally for guests to abide by new guidelines."