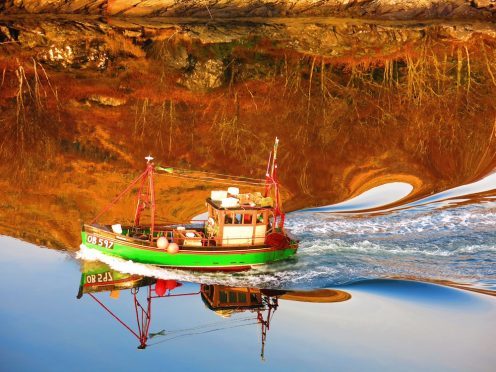 A picture of a fishing boat, taken by a cyclist in Argyll, has been named as the winner of a nationwide competition.
Hugh Nicol's snap led to him being named as the winner of the Jolomo Colours of Scotland Photography Competition.
The venture, run by artist John Lowrie Morrison, challenged the public to find colour in the Scottish landscape.
And Mr Nicol, a real estates manager from Appin, said he was "absolutely delighted" to be named as the winner.
He said: "I have no professional photography experience, I'm not even an amateur, but I like to carry a camera and will take a snap when I have the time.
"I am lucky to live and work in the west Highlands which really helps.
"The photograph was taken one beautiful, very still, autumn evening when I was out cycling around Loch Creran from my home at Portnacroish in Appin.
"I knew it was going to be a good night for photographs, so I took my camera with me. When you have somewhere as beautiful as Appin to work with, taking the picture was easy."
Mr Morrison stated that the picture stood out from the beginning.
He added: "People often ask me where I get the strong colours in my paintings.
"I tell them to get out more and really look at what's around them.
"We wanted to see what would happen when we invited people to send us their photographs of the colours they have seen.
"The entries were superb, making it difficult to judge.
"Hugh's picture is beautiful and stood out from the beginning. It shows the colours of Scotland extremely well.
"In fact, the whole image expresses a real feel of Scotland and a lovely feeling of movement.
"I love the way he has expressed the landscape through reflection.
"He has captured a moment in time."