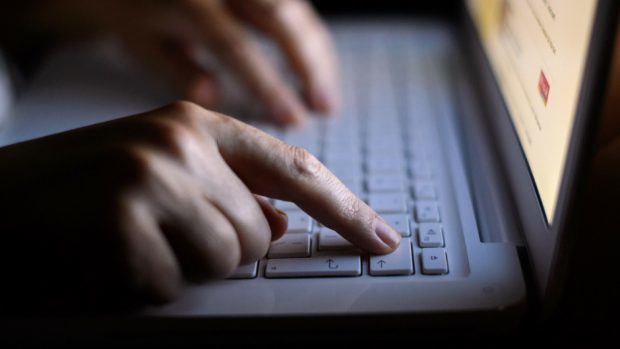 Sky News presenter Kay Burley needs a security escort to protect her from pro-Brexit protesters and a Guardian journalist filmed himself being hounded by a gang of men.
MP Anna Soubry was called a 'Nazi' and more than 60 MPs have written to the Met Police raising 'serious concerns' about heckling outside Parliament.
Yet Jeremy Paxman says MPs who complain are "snowflakes" who can't face hearing from the people who pay their wages.
It seems that simply taking part in a topical debate now makes you a legitimate target for verbal abuse.
When I first went on-screen as a journalist, presenting regional BBC news bulletins more than 20 years ago, social media hadn't been invented and the worst you could expect was a few hate mail letters a year.
I vividly remember the first one – she said my hair "looked like I'd been pulled through a hedge backwards" and, horror of horrors, my jacket buttoned up on the wrong side.
I was devastated: it confirmed all my young insecurities. Never mind that there was no clothing budget, no hairdresser, no make-up advice and that I was earning just over the minimum wage.
Even in those days the audience had high expectations, particularly when it came to your appearance.
Not much has changed in terms of support and financial reward for new presenters, but everything has changed in terms of audience feedback.
A few years ago I was walking down the street when I bumped into a young colleague who had just begun shifts as a breakfast presenter.
I made the mistake of asking her how it was going and she burst into tears. She had just checked her Twitter feed.
Instead of the usual cluster of friendly messages, she was met with a barrage of abuse criticising everything from her appearance to the tone of her voice.
We are famous around the world for our independent and balanced media, particularly broadcast media, but now presenters are the face of their organisation's perceived 'bias'.
As people have turned to social media for their news, they are increasingly subject to algorithms which reflect their own views back to them.
They are living in a social media bubble where everyone appears to think like them.
When they don't like what they see on TV, they can hurl abuse at the push of a button, or rather, the tap of a screen.
Don't get me wrong, social media has brought a revolution which has led to more openness, information and debate – all the things journalists strive for – not to mention giving us inspiration about what to have for dinner, parenting tips and shopping discounts.
But it has also made it all too easy to be an armchair critic. Did you give Jeremy Hunt airtime? Outrageous! You biased anti-Brexit traitor!
For women, there is the double whammy of having to fend off political fanatics and fashion fanatics. Standing in a gale while reporting on severe flooding?
I hope you have your lipstick and face powder handy and are wearing a coat from the latest 2019 collection!
The general advice dished out to the poor reporter is from the Jeremy Paxman school of journalism. Responding just encourages them, so ignore it and develop a thick skin.
During my time as a journalist I saw a few seismic events which changed things forever.
One of them was the murder of Jill Dando. Before that, lots of female presenters had a weird fan who sent them sordid letters.
That was something else presenters had to tolerate but it was no longer tolerated after Jill's death. A few knocks on a few doors by the police stopped most of those creeps and persistent offenders were prosecuted.
The #MeToo movement has helped to expose the culture of the casting couch. In the 1990s a colleague who complained about a cameraman who persistently touched her was told that he "would be devastated" to think it was sexual harassment, and therefore nothing was said.
Today I'd like to think a manager's reaction would be different.
For a time, it looked like the murder of MP Jo Cox would be another tragic event which changed society.
Although the foundation set up in her name campaigns for tolerance, there is little evidence of that at the moment.
So what can be done? It's certainly time for a rethink on the abuse that journalists and politicians face during the course of their work.
Research shows that women face a disproportionately high level of it and it's hard enough to get women to enter politics as it is.
As for news presenters, you might argue that the perks of the job offset the pitfalls.
Well, I got recognised in M&S and even got a free ride in a black cab once. Is that enough to offset a constant tirade of abuse?
Social media is a phenomenon which brings both happiness and harm. It is probably impossible to remove every abusive post, even if we could establish what qualifies and what doesn't.
Perhaps it's finally time for social media platforms to require identity verification so that the worst offenders can't hide behind anonymity.
In the meantime, like the #MeToo movement, we should all come together and call out the bullies. Parents should teach their children how to behave on social media.
Schools should encourage the right kind of debating skills. And before you click 'share', spare a thought for the human being at the other side of the Twittersphere.