 Given that a side effect of taking cocaine is losing touch with reality, it surely can't just be Boris Johnson and Michael Gove who have indulged in the Hooray Henry party.
Judging by their behaviour, the whole damn lot of them must have been at it, concocting every nutty Brexit decision between snorts.
Personally, I won't lose a second's sleep over who they put in charge of the Tory party hookah. It could be Donald Duck for all I care. He would make as much sense as Boris anyway.
But what I do care about is the two-tier system of privilege that sees a couple of posh Oxford boys legislating for the masses while breaking the rules themselves. When people like Gove and Johnson talk about drug taking, it's a sanitised version, no more than a rite of passage for the Oxbridge elite or  London yuppies.  Johnson's version even comes complete with middle-class dinner party anecdote: "I sneezed and it didn't go up my nose.  In fact, I may have been doing icing sugar."  Haw, haw, haw. Snort.
We can talk drugs here.  (I'll go next: I took a paracetamol circa 2006 but only under pressure; I'm a fearty.) Or, more importantly, we can talk hypocrisy, privilege and elitism in Britain. Johnson and Gove are admitting to behaviour they would stamp on in any kid from an under-privileged background, while reaching out shamelessly to the rich. Johnson is now pledging tax cuts for those earning over £50,000.  Is he still high?
It's an obnoxious suggestion. There have been six reports since 2010 from the Government's Social Mobility Commission, each one emphasising the shocking, and growing, gap between rich and poor in Britain, particularly the dominance of a privately educated elite. Meanwhile, in the last financial year, 1.6 million food bank parcels were distributed to people in crisis.  According to a 2019 report by the Trussel Trust, who support the nation's foodbanks, 14 million people live in poverty in Britain, 4.5 million of them children.  While the beauty-pageant leadership contenders witter on about their minor contributions to the world's drugs cartels, the report describes class privilege in Britain as "entrenched".  Events in the Tory party leadership contest are just another illustration of that sad reality.
The language surrounding  drugs, forgiveness, and the potential Conservative  leaders has been interesting. Michael Gove, looking earnestly through his specs like a 50-year-old version of the Milky Bar kid who has nothing more sinister than chocolate buttons in the pocket of his carefully pressed suit, has expressed regret, giving us just a little hint of self-flagellation with his acknowledged good fortune at not being thrown in the clink, as his mature self realises he deserved.
As for Johnson, is anyone still buying the Boris the Buffoon act, with his carefully coiffed disastrous 'do' and easy 'charm'?  The old hawk made clear ages ago that he had taken cocaine so it's a mystery why he's escaping into the hubba bubba haze leaving Gove in the spotlight.  Or the other candidates who admitted  trying cannabis, like Esther McVey… or Dominic Raab…or Matt Hanock… or Andrea Leadsom who, when admitting her past, asserted that everyone had the,  "right to a private life" before becoming an MP. Tell that to an 18-year-old in a jail cell, Andrea.
My favourite druggy stories from the candidates are from Rory Stewart, who accepted an opium pipe when it was passed round at a wedding in Iran (such politeness), and  Jeremey Hunt, who says he once had a cannabis lassi while backpacking in India. Cannabis lassi! Doesn't that sound so refined?  Kind of like a posh coffee.
"The quality of mercy is not strained," wrote Shakespeare.  "It droppeth as the gentle rain from heaven upon the place beneath." Well yeah, as long as the place beneath is Eton, Oxbridge or Westminster. In all the talk of little slip-ups and minor misdemeanours, of second chances for posh pranks, there has been little thought, empathy, or compassion for, say, young people in London housing estates or the drug-death capital of Europe, Dundee.
There have even been a few mutterings of approval about the "honesty" of the leadership candidates. Given that seven out of 10 of them  have admitted to drug use in some form, maybe the honesty should be at the despatch box, and  the legislative process should reflect the way people are actually living their lives.  Clearly, not everyone is like me and thinks they'll die if they take an aspirin.
So, it's time for a reality check amongst navel-gazing Tory politicians. No wonder our European neighbours are watching this contest with incredulity and not a little disgust.  Jean-Claude Piris, a former head of the European council's legal service says he doesn't understand why British politicians appear to have gone on holiday since the EU granted an extension to departure. "People in Brussels are fed up that the political class in the UK has gone a little bit crazy," he says.  Try living here, Jean-Claude.  Try living here.
---
Catherine Deveney is an award-winning investigative journalist, novelist and television presenter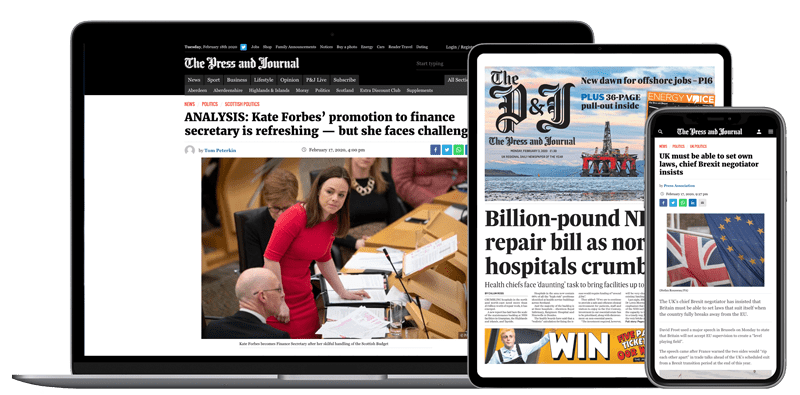 Help support quality local journalism … become a digital subscriber to The Press and Journal
For as little as £5.99 a month you can access all of our content, including Premium articles.
Subscribe