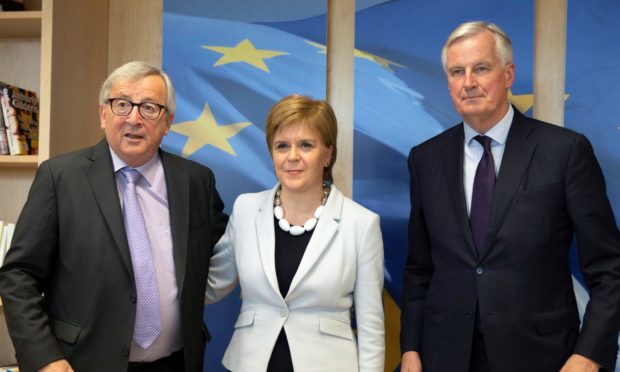 Does Scotland have its own foreign policy? Is it entitled to one? And what would be the point? After all, Holyrood is more River City than West Wing – a spectacle of local crises and glottal stops rather than exotic espionage and nuclear near-misses.
The Scottish Parliament is a domestic institution, charged with running schools and hospitals, councils and housing, law and order. The day job of MSPs is earthily unglamorous. There is no tense, eleventh-hour deal-making between Angela Merkel and Nicola Sturgeon; Xi Jinping is not holding on line three for John Swinney.
Matters of peace and war are reserved to Westminster, as are treaties with overseas powers, international development, and that ultimate foreign policy, outer space: bug-shaped Venusian senators remain Dominic Raab's problem.
Indeed, utter the words "Scotland" and "foreign policy" in the vicinity of harder-edged Unionists and they shrivel in horror. Even the sight of Nicola Sturgeon on a day-trip to Brussels boils their oil: back in yer box, Condoleeza.
And yet devolved Scotland does have a foreign policy, and needs one, and indeed should have a better one. There is nothing quasi-nationalist about that statement, it's simply a matter of economics, good government and soft power.
Look at the stats. In 2019, before Covid hit, Scotland was the most favoured place for overseas business in the UK outside of London, with a 7.4% increase in foreign direct investment (FDI) on the previous year. Excluding London, Glasgow is the UK's third most attractive city, followed by Edinburgh in fourth and Aberdeen in seventh.
The average FDI project created 83.6 jobs in Scotland, well above the UK average of 51.4. Most came from the US, followed by France, Germany, Japan and Norway. The most common sector was energy, but we also did well in business services, digital, machinery and equipment, electronics and transport equipment.
Stuff comes in, and stuff goes out. The latest available data for our exports, which covers 2018, shows they were worth £85bn. Of these, 60% went to the rest of the UK, with 19% going to the EU and 21% to the rest of the world. Food and beverages – dominated by whisky – is the single largest sector, followed by refined petroleum and chemical products, then professional, scientific and technical activities. Our top international export markets are America, France, the Netherlands, Germany and Belgium.
Scotland is fully engaged with and exposed to the world, whether the levers sit in Edinburgh or London.
But we don't talk much about foreign policy, beyond anti-war protests and Brexit-bashing, and that's unhealthy. That's why my think tank Reform Scotland organised a public discussion on the subject last week with former first minister Lord McConnell, ex-diplomat Dame Mariot Leslie, and former SNP MP Stephen Gethins, who is writing a book on the subject.
While in office, Lord McConnell took an expansive view of foreign policy. One of his smartest moves was the Fresh Talent Initiative, under which overseas students at Scottish universities were allowed to stay on for two years after graduation.
With a looming demographic crisis, McConnell saw this as a way of persuading educated foreigners to work and settle here. Our university sector is anyway one of the most effective tools of Scottish soft power, building lifelong links with international high-achievers.
Dame Mariot spoke of a growing trend in city-based diplomacy, a sub-state approach where, say, Glasgow and St Petersburg could build close links that might boost investment, share best practice, grow tourism levels and create new informal channels through which government can speak to government.
Do we make enough of Scotland's vast diaspora? There are roughly 200,000 people born in Scotland who are now living outside the UK. But the number of global citizens whose ancestry means they consider themselves to be Scottish in some fundamental way is a staggering 30 million (some say the figure could be as high as 100 million). This includes nine million Americans and nearly five million Canadians.
The Scottish Government does reach out to the diaspora, whose impact on tourism alone is estimated around £400 million a year. The GlobalScot network seeks to connect Scottish businesses with expertise and opportunity around the world, easing the path into foreign markets. But we're far from Irish levels of success.
As Oxford University's Migration Observatory puts it, the diaspora has real economic and social consequences: "Scotland's vision of itself and its identity, particularly as a place culturally and geographically distinct from England, [creates] a market for Scotland and Scottish products that benefits the country significantly."
Brexit brings an acute focus to our foreign activities. It will create difficulties with Scotland's existing EU markets, and uncertainty as the UK government seeks new trade deals around the globe. Scotland's enthusiastic Remain vote has secured a sympathetic ear in many European capitals, and it's possible we can play Good Cop to England's Bad Cop. We should exploit our external representative offices in Brussels, Paris, Berlin and Dublin, as well as British embassies.
Lord McConnell spoke of having "the best of both worlds" as first minister, with a Labour government in London and a Labour-run administration in Edinburgh. Nicola Sturgeon lacks that advantage, and must also operate in a significantly tougher economic and diplomatic climate.
All the more reason, then, for devolved Scotland to look to its own interests. It's time to design a foreign policy worth the name.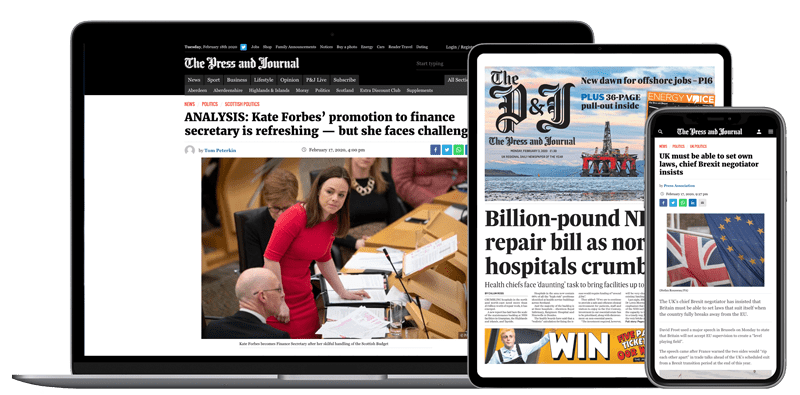 Help support quality local journalism … become a digital subscriber to The Press and Journal
For as little as £5.99 a month you can access all of our content, including Premium articles.
Subscribe