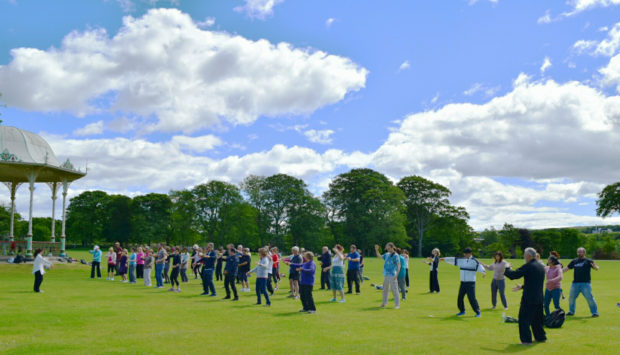 I was standing on one leg in the middle of a park swirling my hands around my head as though I was balancing imaginary plates or trays of drinks.
A casual observer might have thought I had gone stark staring mad or was practising for a career in the hospitality trade.
I felt most of the pretend plates were crashing to the ground all around me as I was having a co-ordination issue about keeping my palms upright so as to keep them from falling.
But I plodded on undeterred by a furious-looking sky laden with black cloud, a wicked wind whipping my ears under my cap and a steady drizzle heralding an inevitable downpour.
It was early on a Saturday morning and Aberdeen's magnificent Duthie Park was waking up to the usual smattering of dog walkers, joggers and tired-looking parents trying to wear out their children's endless energy on play equipment.
I finally caved in after gentle pressure from my son to have a go at what I can only describe as a kind of slow motion, dance-like ancient Chinese martial art known as Tai Chi. The warm-up we were doing was Qigong (Chi Kung).
My son has been an devotee for years, but persuaded me along to free open-air public sessions which are organised every summer by his group from Ruyi School.
The prestigious Harvard Medical School describes Tai Chi exercise as "medication in motion" and "the perfect activity for the rest of your life", building strength, flexibility and balance – and helping the mind, too.
I was impressed that one score and ten citizens braved the elements. A similar free session in the park by the same group during the recent hot spell attracted nearly 100 people.
For me, with a pelvis pummelled by surgery requiring lengthy rehabilitation, it was worth a try.
They picked a peaceful spot shielded slightly from the worst of the weather in the shadow of The Mound, and its towering flagpole, for our gentle basic workout.
Sitting unobtrusively by a path behind us was a dignified and moving monument to men of the Gordon Highlanders who were killed or died from wounds and disease in the Indian campaign of the 1890s.
Among our ranks, I chatted with an inspirational Canadian who turned to Tai Chi after losing the use of his legs when cancer invaded his spine, and left him bed-bound.
But his spirit and rehabilitation regime brought him to a point where he was given the all clear, and could try classes on a walking stick. Now he was stick-free after feeling the benefits.
Another smiling chap doffed his hat, showing me healing wounds on his scalp from holes made by surgeons after he suffered a brain haemorrhage in a fall. He was in his early 80s and had enjoyed horse riding and judo, but another bang on the head could prove catastrophic.
"I've only just turned to this, but it gives me an alternative safe and gentle workout which is just as beneficial and you meet nice people," he told me.
A woman with hearing problems revealed it had done wonders for her sense of balance. Some golfers recently did it to help their posture and balance. Maybe they knew Tiger Woods is a big fan.
Legendary singer/songwriter Lou "Walk on the Wild Side" Reed trod a gentler path to Tai Chi and was a dedicated practitioner.  "Awareness through your legs" was his mantra.
Anyone who has read my column more than once (and I know this is seriously presumptuous) will know that I have warned before that our balancing ability on one leg and the way we walk can predict a long life or premature death.
My interest began when I started having trouble putting my socks on while standing on one leg. This technique had never failed me before, but it led me to plenty of research on the subject of balance.
In the animal world, if anything stops moving it usually means it will be dead soon. It's similar for us.
Falling over is big business these days, and not just in hospital casualty units – a web check "falling over in Scotland" came up with a mass of no-win-no-fee legal firms eager to pin the blame on someone.
It's difficult to sue yourself, though, if neglecting your health and fitness results in serious balance and falling-down problems.
By the way, Tai Chi is not just for older people like me who are falling apart, but the younger generation, too, as a meditative de-stress pastime and several joined our group.
The weather finally beat us into surrender and we retreated to the park cafe.  But none of us was sweating buckets after our workout or guzzling gallons of energy drinks or nursing sore muscles – gentle is the word.
We simply had coffee and delicious salted-caramel cake, and very enjoyable it was, too. This was my kind of exercise: very civilised, indeed.
* The free Tai Chi session in the park was provided courtesy of the Ruyi School of Tai Chi and Qigong www.ruyischool.com
---
David Knight is the long-serving former deputy editor of the Press and Journal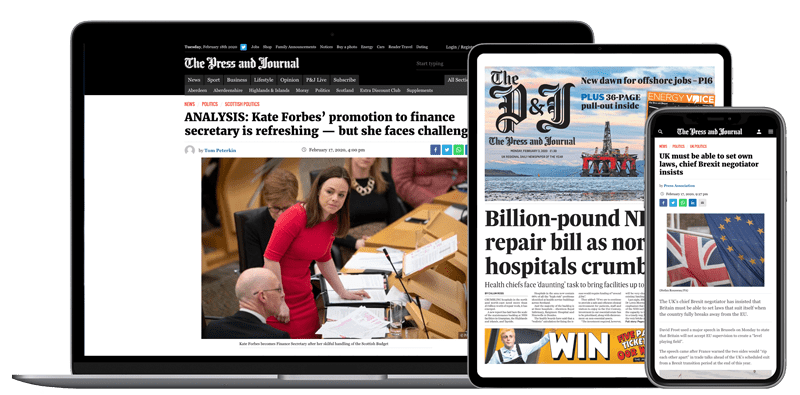 Help support quality local journalism … become a digital subscriber to The Press and Journal
For as little as £5.99 a month you can access all of our content, including Premium articles.
Subscribe