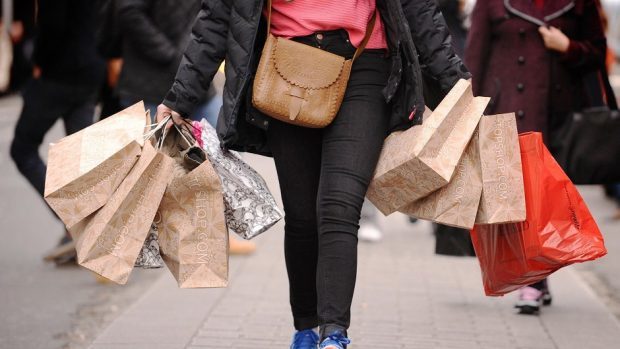 I bustle through my grandparents' front door, shopping bags in tow.
Without even pausing for breath or to say hello, I rush upstairs, such is my excitement to try on and show off my buys. Minutes later I'm down in the living room doing a twirl in my first outfit, working my captive audience.
Then I hurtle off to my bedroom again for a quick change, appreciative noises ringing in my ears.
Looking back at my adolescent self, it's utterly cringeworthy, and the closest I've got to a catwalk since was holding bags and coats belonging to the Italian child models I was an au-pair to after university. But at the time, my sister and I thought we were the bee's knees, strutting our stuff at the Thom residence in Kincorth – aka Thom Towers.
And these fashion shows, as we liked to call them, quickly became a Boxing Day tradition. My dad would take each of us, including my mum, to the Union Street sales for a spree. Of course, in those days, the retailers weren't forced to discount everything in the run up to Christmas – or earlier – so there was a real sense of anticipation.
Moreover, while we loved the once-a-year treat in itself, it was about much more than the shopping. Because dad insisted on bringing us individually, meaning we got to spend quality time with him, as well as some of his hard-earned money. On occasion, my gram – in her 70s – would come too and have the shop assistants in fits as she put on garments aimed at teenagers.
I chuckled to myself reminiscing about our antics as I happened upon a news story about the 2019 Great British High Street Awards, voting for which has now opened.
This UK Government initiative, in partnership with Visa among other sponsors, recognises achievements through two competition categories – champion and rising star – and offers £15,000 prize money.
This year's three Scottish finalists in the first class are High Street, Turriff; Alness High Street and Main Street in Prestwick, South Ayrshire.
There are also seven Scottish finalists in the second category.
It goes without saying that any efforts to shine the spotlight on successful high streets and to encourage innovation are welcome, although more could always be done to help reduce the financial burdens on smaller businesses. But sadly, across the country, all too often high streets aren't succeeding, they are beleaguered. And each of us is complicit as we opt to spend our money in the big chains or online with resulting closures and job losses.
In February, a survey revealed almost 20,000 high street jobs had been axed or put at risk since Christmas. Last month, shops recorded the lowest July sales growth since monitoring began in 1995 – despite the heatwave which was expected to get people spending and heavy discounting. Figures from the British Retail Consortium showed sales rose just 0.3% compared to the year before.
In contrast, a separate sales tracker recorded the strongest growth in online sales for 18 months. Unfortunately, this is the brutal reality for most areas – not the picture postcard images of the shortlisted entries.
And it's a problem we must face up to. For, as well as potentially devastating families affected directly by job losses, these closures have a wider social impact too. Whereas a high street might have once been the heart and soul of a town, without a focal point, both a sense of place and community spirit can be easily eroded. In turn, if people no longer feel invested in or proud of where they live, relationships come under strain and prejudices risk coming to the fore.
Call me old-fashioned, but I feel there's great value in the kind of social interaction involved in face to face shopping. There's something reassuring about knowing – to some extent anyway – the people you are buying from. Not to mention the environmental cost of all the additional delivery traffic, although it's not lost on me that trying to reduce my family's carbon footprint in this way seems pointless, hypocritical even, when we travel by plane to go on holiday most summers.
Commentators routinely predict the inevitable death of the high street and indeed all signs point to a bleak future. That doesn't mean we should stand back and do nothing, however. If we do value our communities – and we should – it's worth our collective while trying to support town centres. This means spending both time and money in them, as and when finances allow.
I accept this can't be all of us, all of the time – and it doesn't need to be. It doesn't have to be all or nothing – we need a retail mix. I understand too the convenience of being able to buy all the messages in one go, and have been left frustrated in the past at shops not stocking their full range and sizes. To boot there's sometimes the added obstacle of parking costs.
But these issues need not be insurmountable. And if each of us does our small bit, it could be the difference between a store going under or staying open.
To quote the blackboard sign outside the independent children's-wear shop near me: "Use us or lose us."
It is a plea reiterated up and down the country – and one we ignore at our peril.
---
Lindsay Razaq is a journalist and former P&J Westminster political correspondent who now combines freelance writing with being a first-time mum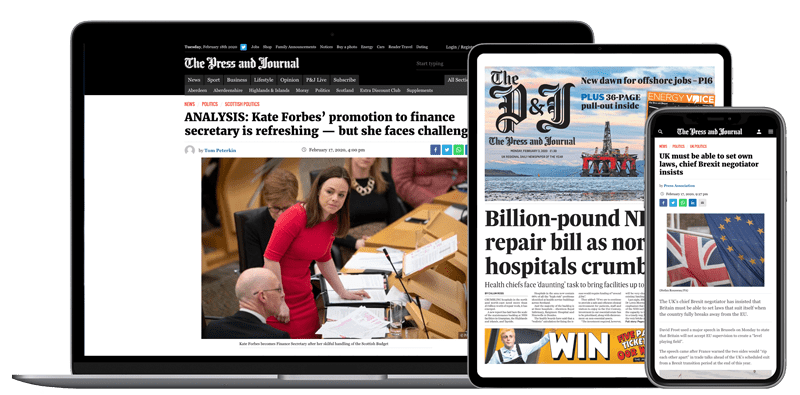 Help support quality local journalism … become a digital subscriber to The Press and Journal
For as little as £5.99 a month you can access all of our content, including Premium articles.
Subscribe