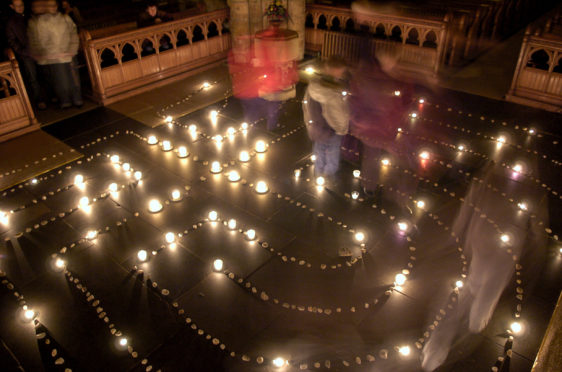 In Dornoch, on the last day of the year, we build a seven tier labyrinth in the middle of the Cathedral using stones and nightlights.
Then in the late afternoon, as people begin to gather for the Hogmanay Street Party, we offer a quiet place for them to take a few moments to reflect on the past, the present and the future.
People of all faiths and none come and walk the labyrinth or just sit in the cathedral watching others walking, while listening in the pitch black, to the ethereal and beautiful Taize music which plays over the sound system.
The labyrinth encourages participants to journey to the heart of Christ and then having met him in bread and wine – it challenges people to turn round to face the world and the New Year with him.
The symbolism is great.
But the message is even greater.
In a world that can be tough to live in and at a time in our own nation when there is so much uncertainty around, it is good to know that we are not alone, that God goes with us.
That becomes even more important when, as individuals, we face tough and difficult times in our personal lives.
Ill health – both physical and mental.
Job and money worries.
Problems with relationships or addictions or whatever – all these things are scary to face on our own.
All of us need to know there's someone there for us, especially when we find ourselves lying awake, minds in overdrive, in the wee small hours of the morning.I know however, that for many there is no such thing as a god.
Only wishful thinking at best. Or delusional thinking.
Everyone has a right to their own thoughts and I would never consider mocking anyone else for their beliefs or for their lack of belief.
I can only talk with any conviction about what is my own, very personal experience and for me, faith has opened my mind to new possibilities and has led to my life being enriched by the nurturing of the spiritual.
For me, it is not a case of having to leave my brain at the door of the Church in order to believe.
The very opposite is true.
There are enormous intellectual challenges that stem from being open even just to the possibility of the existence of God.
If that divine being is around, it raises whole mountains of questions but not simply the well-rehearsed ones that people of faith have come to expect to hear from those who are quick to dismiss us.
Sometimes those questions question the measurable certainties of, for example, science, in such a way that suddenly makes those certainties seem limiting and distinctly uncertain.
Sometimes those questions hint far more wonderfully at the complexities and intricacies of life in a way that a more factual, knowledge-based approach alone, simply cannot touch.
Please remember though, I am referring here only to my own thoughts and those are necessarily subjective.
But I wonder if at least some of those thoughts are not shared by a far wider audience than those who go to church?
Perhaps even by those who might label themselves in a census return, as agnostic?
Or even atheist?
If our experience of the labyrinth in Dornoch is anything to go by, there are a lot of people out there who are looking for something 'more' to life.
Perhaps it is not organised religion and I confess that sometimes I think, who can blame them because we can be guilty of showing more religion that faith. But whether or not these people are interested in organised religion, they are still looking for something that is missing.
There is a spiritual gap, I would suggest, in people's lives.
I would argue that there is evidence of exactly that when a tragedy occurs.
At those times people find themselves wanting to mark whatever has happened in some meaningful and tangible way and they light candles, or lay flowers or they leave messages of support and good 'thoughts'.
All of which bear a strong resemblance to what people of faith would do.
It may be that I interpret things this way because I am a person of faith .
Others may see things differently.
And that might be a fair criticism because as I have already said, I feel that my life would be all the poorer without the spiritual dimension.
I guess what I should be saying now, is 'each to their own'.
But the truth is I long for everyone to be blown away by the completely inexplicable.
I long for everyone to sense the beautiful thing this world is – so deliberately made.
I want us all to care because we know we are cared for.
As this New Year begins, let's just agree to be open to all that life holds.
---
Right Rev Susan Brown is moderator of the General Assembly of the Church of Scotland