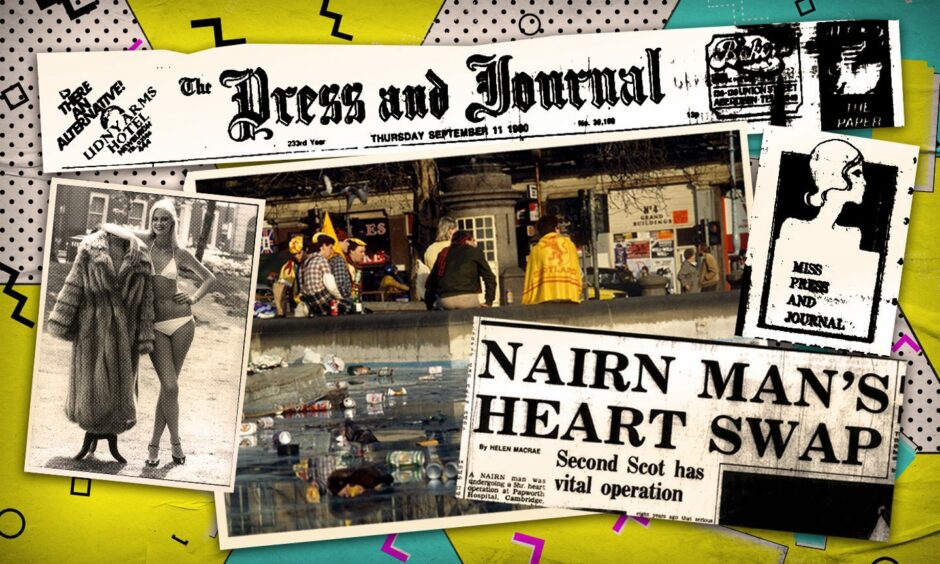 Join P&J writer Susy Macaulay as we journey back in time to see what we were reporting on, On This Day, in 1980. 
The finals of the annual Miss Press and Journal beauty contest had rolled around again this week in 1980.
Yes, readers were invited to study and judge a 'lovely line up of beauties' appearing in the finals of the Miss Press and Journal in Aviemore that week.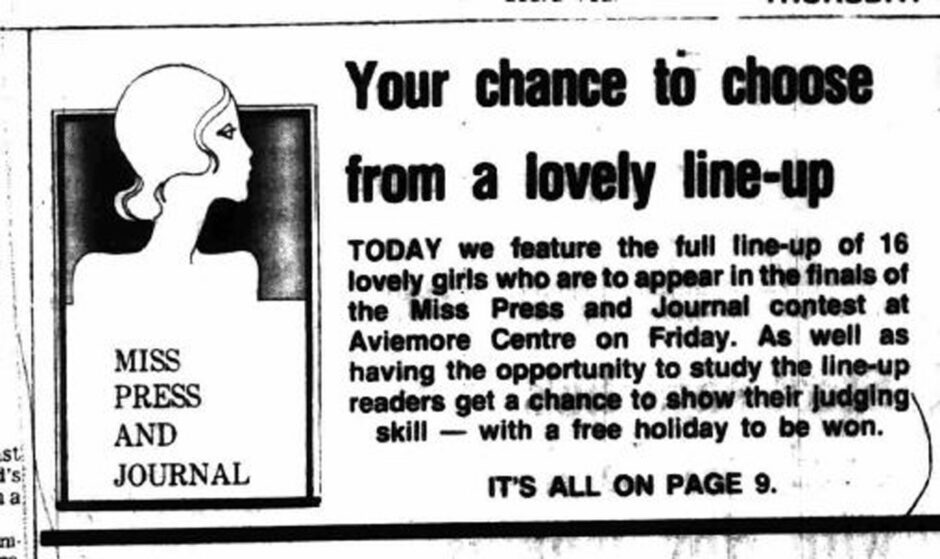 The girls were 16 contestants from the P&J patch who had won district or island council heats.
Their looks were being used as a promotional tool for a holiday at the Aviemore Chalets Motel and various other prizes.
The first reader whose entry was the same, or closest to the judge's choice would win.
"Remember, the judges are considering personality as well as looks, poise and dress sense," readers were exhorted — snort. That old chestnut.
Mercifully, journalists are now forbidden to use the 'bevy of beauties' type of language and the P&J doesn't run beauty contests any more.
Nairn man receives heart transplant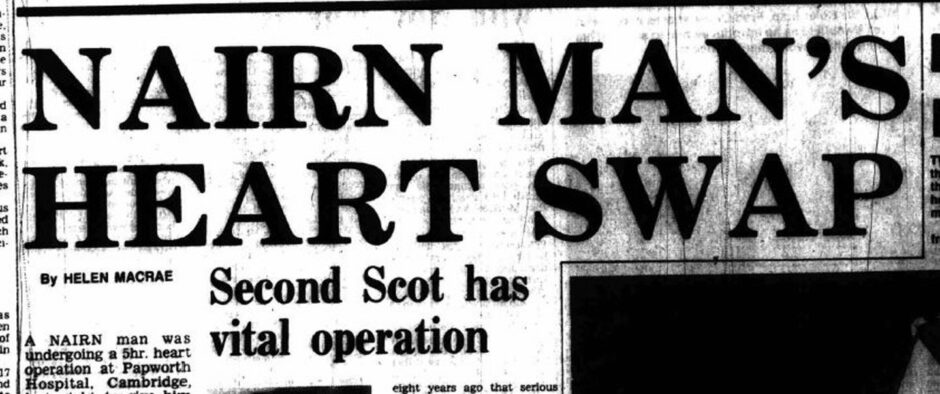 Gordon MacDonald of Nairn had just undergone a heart transplant operation at Papworth Hospital, Cambridge when the paper hit the stands that morning.
Things had happened fast for 40 year old Mr MacDonald, whose long-standing heart trouble had seen him in Raigmore hospital for months, waiting for a transplant. When a suitable donor was found, Mr MacDonald was rushed to Inverness airport at 6am and more or less straight onto the operating table.
As a Scot, his transplant was second only to that of 24 year old Ewan MacPhee of Inverness earlier that year.
Patients doing well
Both MacPhee and MacDonald were reported to be doing well.
Britain's first successful heart transplant had taken place at Papworth only the previous year.
It would be another 12 years before Scotland's first heart transplant unit opened in Glasgow.
The ugly face of football fandom regularly showed its face
Football hooliganism was endemic at this time.
The papers would often have ugly scenes to report, both on and off the pitch, and this day in 1980 was no exception.
Two bus loads of Buckie Thistle supporters were stoned by a group of Keith youths after a Highland League match at Kynoch Park, Keith.
Buckie had lost
Buckie had lost 1-0, but a group of boys saw fit to stone the buses as they left the Royal Hotel on their way out of town.
No one was hurt but the damage to Mayne's of Buckie buses was estimated at around £800 (£4,3,00 today).
A gutted Gordon Mayne said it would take the company a long time to make up that money, and "unless we can be guaranteed a police escort out of town, it is just not worth it."
A crack down on drinking on trains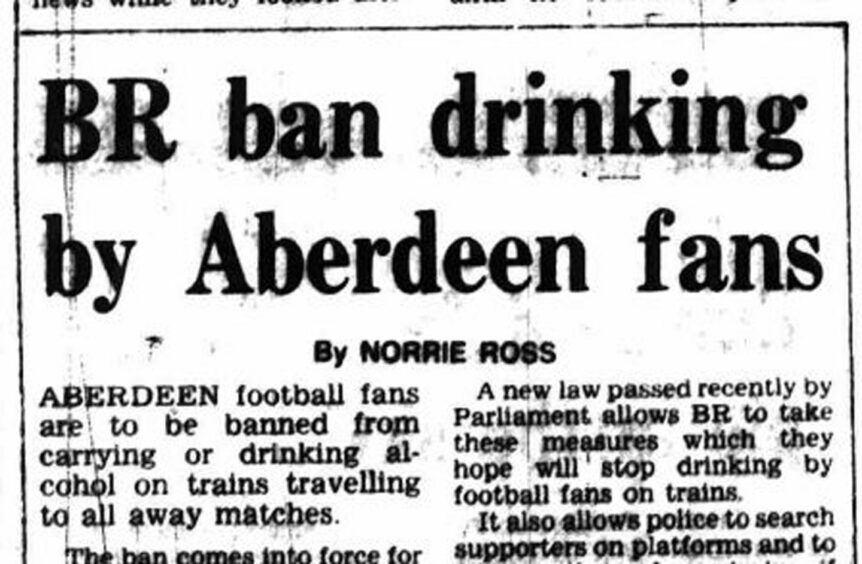 Aberdeen football fans were also in trouble, with a looming ban on carrying alcohol on trains travelling to all away matches.
Operator British Rail lamented the 'big increase in hooliganism by Aberdeen fans last season, with on one occasion four wrecked coaches having to be removed from a train carrying fans from Aberdeen to Glasgow."
No drink on board
The new ban was to be enforced by British Transport Police that Saturday at Aberdeen station to make sure fans were bringing no drink aboard on their way to a match in Glasgow.
Aberdeen Supporters Club said alcohol being taken into the grounds also needed tough measures, and predicted that football would be played behind closed doors within five years otherwise.
Mink coats on sale for a princely sum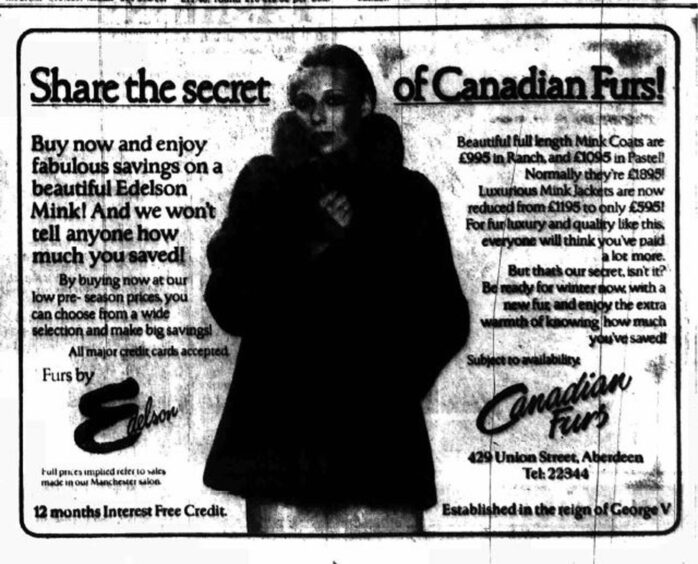 And in another reminder of how un-PC the 1980s now seem, real fur coats were on sale at Canadian Furs, Union Street Aberdeen for the equivalent of around £5,500 in today's money.
Fur farming and the importing of certain wild animal furs have been only banned in Scotland since 2002.
More from our On This Day series: