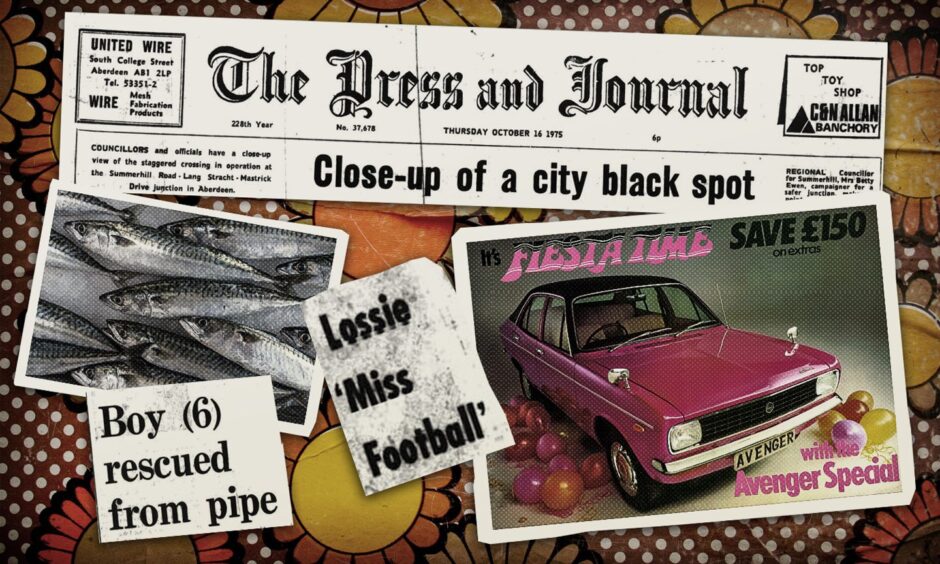 Oh, those un-PC '70s. Join me on a trip back through the pages of the P&J on this day in 1975 and find out about when…
The youngest ever club secretary was appointed at Lossiemouth FC
A six year old Bridge of Don boy dipped a toe in the burgeoning oil industry and promptly caused an emergency when he got stuck in a pipe
20 tons of mackerel foiled a Highland woman's holiday
And if you love classic cars, read on for a fun montage of photos from the heady days of Morris, Datsun and Vauxhall.
17-year-old girl becomes Lossiemouth FC secretary
"Women's Lib hit the Highland League yesterday when Lossiemouth FC appointed the league's youngest club secretary — a 17 year old GIRL," reported the P&J.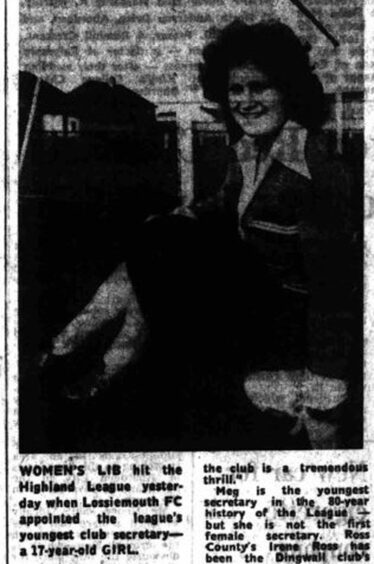 Unfazed, Margaret Wilson gave a good account of herself. She lived only 30 yards from Lossie's Grant Park and was doing a secretarial course at Elgin Technical College.
She said: "I've supported Lossie for years. To be invited to help run the club is a tremendous thrill."
Turns out that although she was the youngest secretary in the League, she was not the first female one.
"Ross County's Irene Ross has been the Dingwall club's scribe for eight years now," reported the P&J, not underplaying the role of club secretary at all…
Bridge of Don boy stuck in oil pipe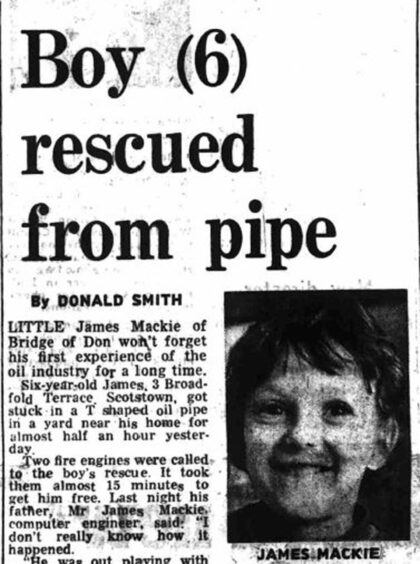 Six-year-old James Mackie of Bridge of Don made the paper's front page when he got stuck in an oil pipe in a yard near his Scotstown home for almost half an hour.
Two fire engines rushed to the site, and it took 15 minutes to free him.
James's father, also James, said he really didn't know what happened.
"Somehow James got stuck in the T junction of the pipe.
"When I got to the scene, firemen had managed to get him out without cutting the pipe."
Such an incident probably couldn't happen today, with our children barely allowed out to play, and cameras all over industrial yards.
Aberdeen harbour phone booth conspiracy

Let's be thankful for our mobile phones, although they dominate our lives in a way quite unimaginable in 1975.
'Four phones needed…for one call', was the headline.
"The sad tale of three phone booths at Aberdeen harbour had a happy ending yesterday.
"In their red PO [Post Office] livery they provide welcome splashes of colour in a rather grey and workaday area.
Lifeline to bookies
"To harbour workers with urgent messages to communicate —even if only to their bookies— the three have proved real friends.
"Yesterday however they 'fell into disgrace' after giving an Aberdeen man a very frustrating half hour.
"None of the three were working, at which the man had to ask for a favour from a nearby office, where an 'efficient private phone' was put at his disposal."
Conspiracy theory
This didn't stop the Aberdeen man from complaining to the P&J with a very modern take on the situation: "Why did THREE phone boxes in succession let me down? Is this some PO conspiracy of silence?"
Turns out two of the phones were vandalised and the PO had no explanation for the third one, but they were fixed and the drama was laid to rest, seamen could phone their wives and other ladies, and workers could place bets once again.
Fish lorry crashes into Highland hotel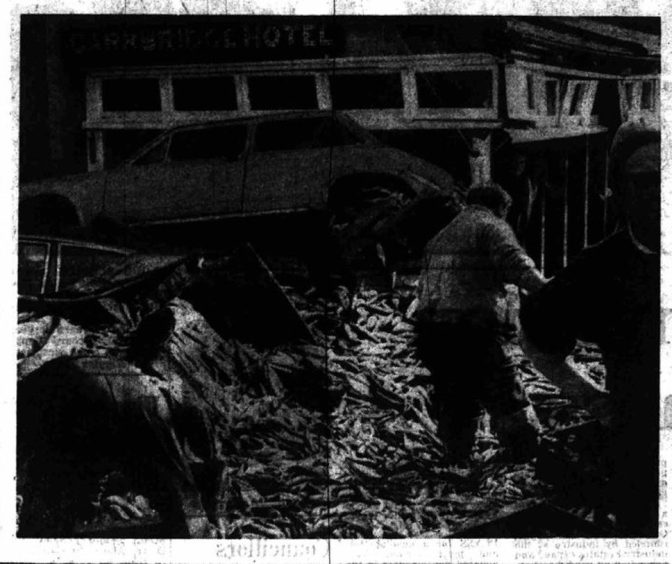 Imagine coming out of work to find your car covered in 20 tons of mackerel.
Poor Susan Coster (20) was a receptionist at the Carrbridge Hotel, near Aviemore, and had parked her car, alongside seven others, in the hotel car park.
Just after midnight, the south-bound fish lorry left the road- the old, windy and narrow A9 Inverness to Perth road- at the hotel, colliding with the vehicles, burying three of them under mackerel before crashing into and partly demolishing the hotel dining room.
The Fraserburgh driver was uninjured and fortunately no-one was in the dining room at that hour.
But Susan's holiday plans were shattered as she had planned to drive south that day, leaving her casting about for a lift at least for part of the journey.
And now, sit up all classic car fans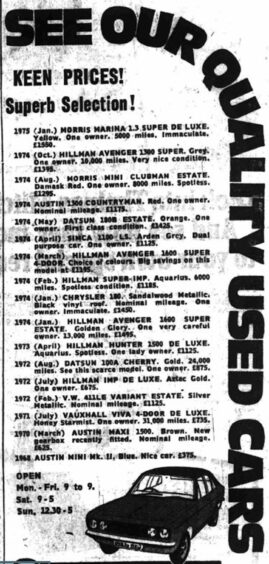 This ad prompted a visit down memory lane to when cars were both chunky and slim at the same time and for some of them, I'll not say which, but anyone who was there knows- appearances could be deceptive, more style than substance.
Take the Austin Maxi, for example.
Sex appeal was being added to its list of attributes, as its seats could all fold down to make one rather lumpy bed.
And remember these cars from the '70s? Did you own one?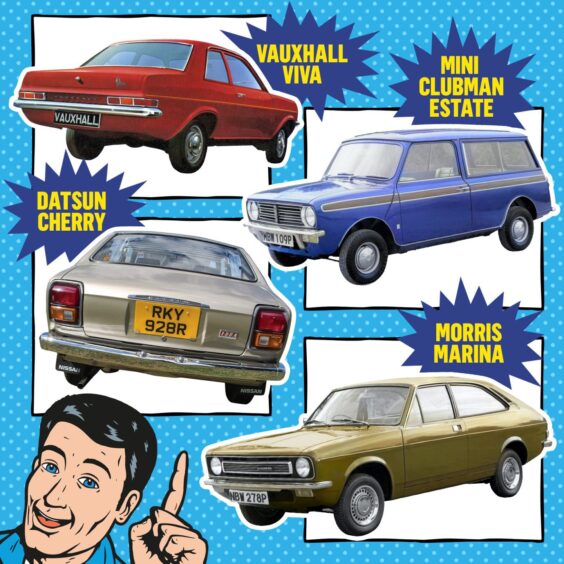 Did you love or hate your Seventies cars? Tell us about them in the comment box below.
More from our On This Day series: