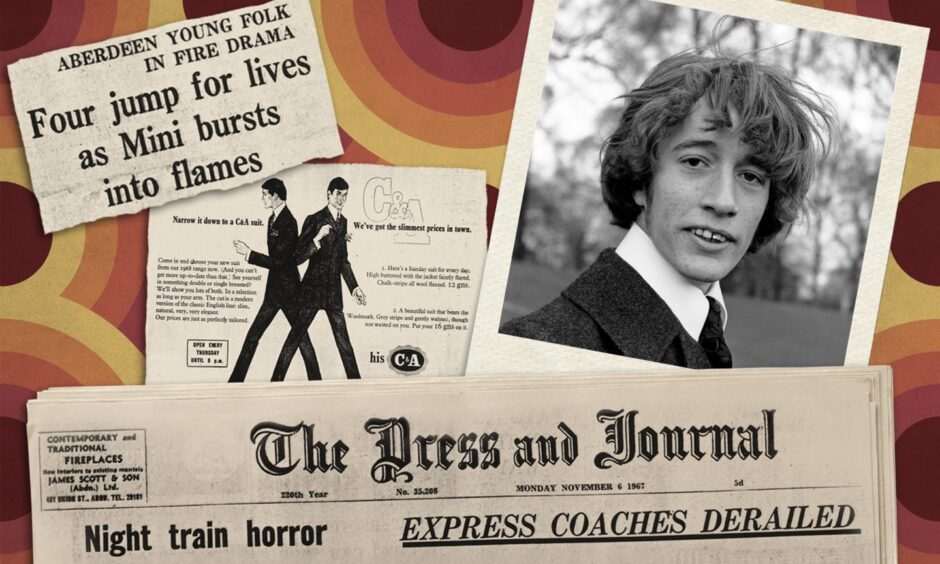 The P&J's front page was dominated by a terrible train crash in south-east London on this day in 1967.
The 19.43 Hastings to Charing Cross had apparently broken into two parts, with the first two coaches staying on the line and the remaining ten coming off.
Thirty-three people were killed in the worst rail disaster since a crash in Lewisham ten years earlier in which 90 people were killed.
The P&J described how nearby residents thought a bomb had gone off and how ambulances were arriving at the scene every few seconds.
More than 120 firefighters were at the scene, not to mention other emergency services.
Doctors crawled into the wreckage to administer pain-killing injections, and the injured were passed by hand along lines of policemen down the steep embankment at the side of the railway station.
Bee Gees' Robin Gibb survived Hither Green train crash
Among the 55 casualties was Robin Gibb of the Bee Gees.
At this time the band was basking in the success of Massachusetts, featuring Robin on lead vocals.
He was reported as unhurt, but badly shaken.
Fortunately the incident didn't slow down the Bee Gees success at the time. They were on a two year UK, Europe and American tour which continued unabated.
Meanwhile, four young Aberdonians had their own drama to contend with.
Four jumped from car as it caught fire near Whiterashes farm
The friends, from various parts of the city, had to jump for their lives when the 1964 Mini in which they were travelling caught fire near Pitcow Farm, Whiterashes.
George Robinson, Lorna Wood, Heather Mullen and Alexander Esson had been on a night out visiting friends near the farm, and had left at 2am.
George, the owner of the car, said he had started down the farm road when he saw a flash at the bottom of the gear stick and from the sides of the car.
"I saw flames shoot out from the bottom of the engine and told everyone to get out — I have never seen people get out of a Mini so quickly in all my life," he said.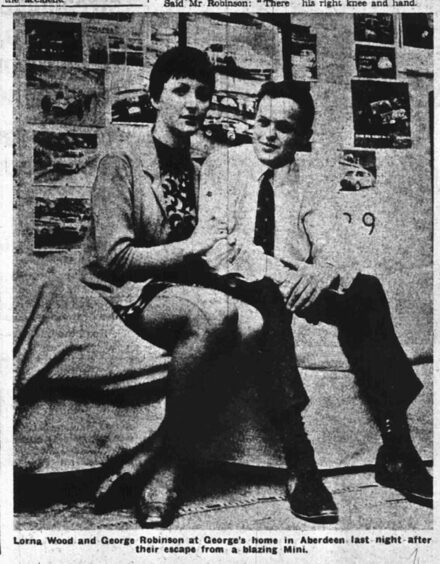 Lorna said she was a bit hysterical.
"It seemed ages before I could get the car door open.
"I saw flames coming from under the car and jumped over them, dropping my handbag which was completely burned."
The friends couldn't get to the fire extinguisher and were afraid the petrol tank would blow.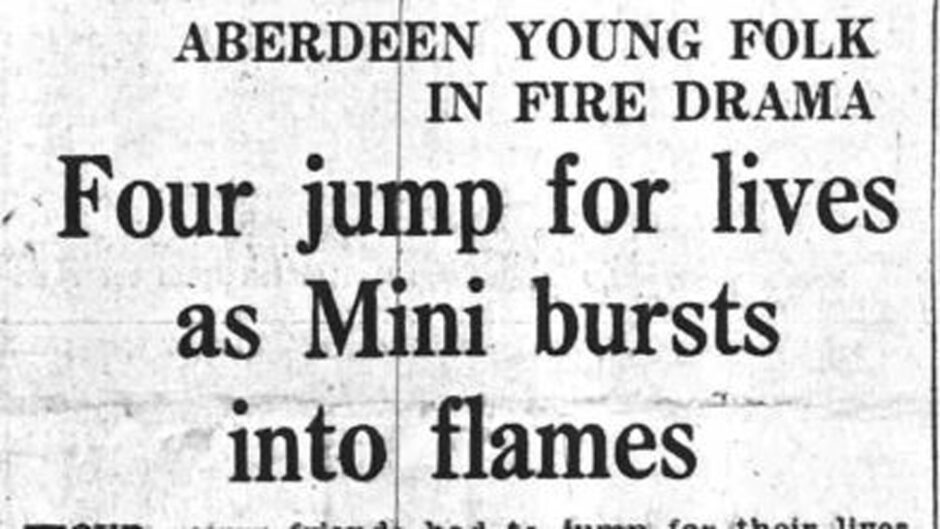 While Lorna was lamenting her handbag, George had more than the loss of his car to feel sick about.
"I had £11 in an envelope in the car and lost that, too."
That's nearly £250 today.
Minis were retailing at around £500 in 1967, equivalent of more than £11,000 today.
Dundee vowed to overtake Aberdeen as third largest city
Rivalry between the cities of Aberdeen and Dundee was alive and kicking.
This time it was about the population figures, and Dundee was reported as 'shocked' to learn it had lost out to Aberdeen.
"The city was shocked to learn that its near neighbour and rival, Aberdeen, had again won third place in the population league for Scottish cities."
Dundee's population was found to be 82,300 as opposed to Aberdeen's 82,900.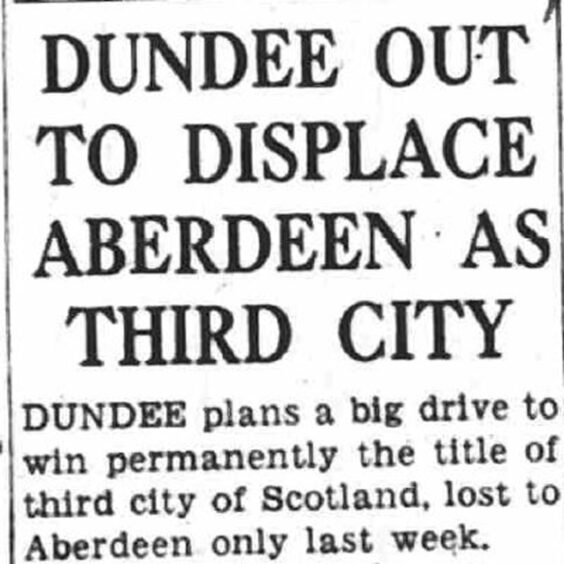 Dundee's civic leaders rushed to find excuses.
A former Lord Provost said that if the smaller towns of Monifieth, Newport, Tayport and Invergowrie were added in Dundee would easily beat Aberdeen.
A city councillor said: "One must remember Aberdeen has a much bigger student population than Dundee… Aberdeen is also attracting many people from the country parts of Aberdeenshire into the city to swell its population."
Responding, Aberdeen's Lord Provost R S Lennox laughed and said: "You should present this question to Aberdeen's young potential fathers and mothers!"
These days Aberdeen is still the third largest city in Scotland with a population of 213,224.
Dundee stands at around 147,700 and is, if anything, decreasing.
Sartorial elegance at C&A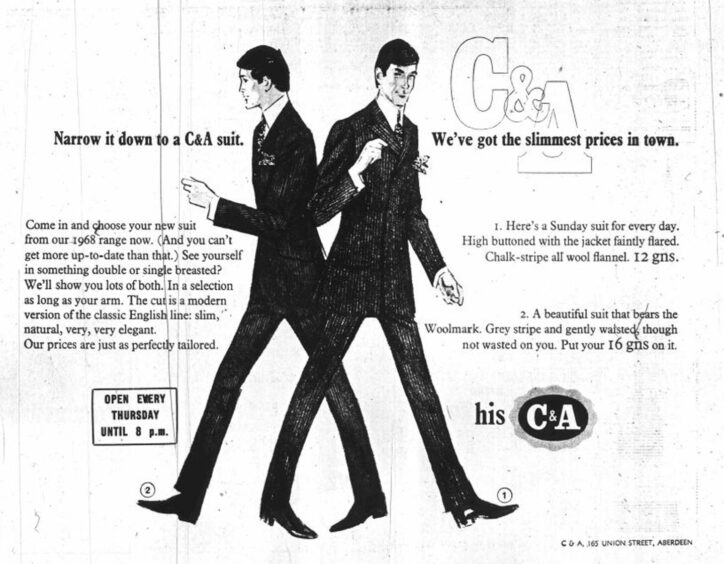 And, C&A Union Street, the last word in masculine chic?
Apparently so.
Narrow and slim was the current look, as the advert informed us.
"Come in and choose your new suit from our 1968 range. (And you can't get more up-to-date than that.)
"The cut is a modern version of the classic English line: slim, natural, very, very elegant.
"Our prices are just as perfectly tailored."
A Sunday suit cost a handsome £12 guineas, or nearly £300 today.
And at around £400, a wool suit: "Grey stripe and gently waisted, though not wasted on you."
Hopefully this cheeky-chappie wit wasn't wasted on the target audience, who would no doubt delegate suit-choosing their suits to their wives anyway.
More from our On This Day series: