Bored during lockdown in late June 2020, Colin was browsing the web on his laptop when a pop-up ad caught his eye.
It was about this "trading strategy" that Jeff Bezos, Elon Musk and Bill Gates recommend.
Colin thought 'if it works for those famous businessmen, it must be right enough'."
But his decision cost him a fortune. In 90 days the retired fisherman from Aberdeenshire had been stripped of his family's entire life savings of £65,700.
In an effort to protect others, the man tells his heart-breaking story in our new P&J Investigates video series.
What is investment fraud?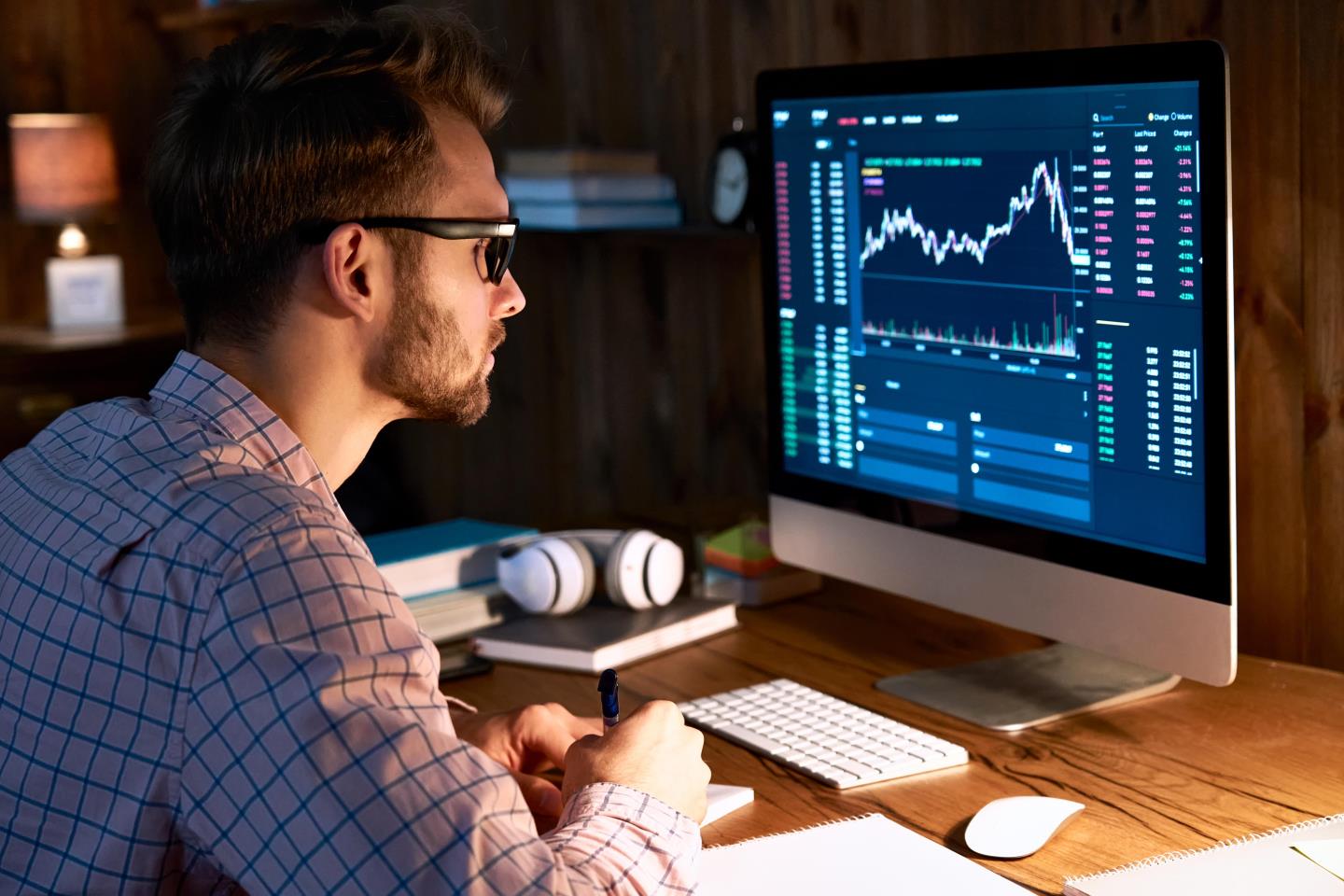 Investment fraud occurs when criminals offer victims an opportunity to invest funds in some kind of scheme.
Often these investments involve financial products or assets that do not exist and/or criminals creating accounts on behalf of victims to manage their investment.
This kind of fraud often results in victims losing large amounts of money – sometimes their life savings or pension pot.
It sometimes takes weeks or months for the victim to realise the fraud has happened.
How common are investment scams in the north-east of Scotland?
Latest Police Scotland statistics* show someone falls victim to investment fraud every five days in the region.
In the 12 months up until August 2020, 73 north-east residents lost a total of £3,224,752.98 in investment scams.
In the same period 12 months early, there were 42 such incidents, with £1,213,553.07 taken.
The data also shows that, between 2017 and 2021, there was a 66.9% increase in investment fraud in the north-east.
The total amount victims lost between April 1 2017 and the end of 2021 was £16,753,947.27.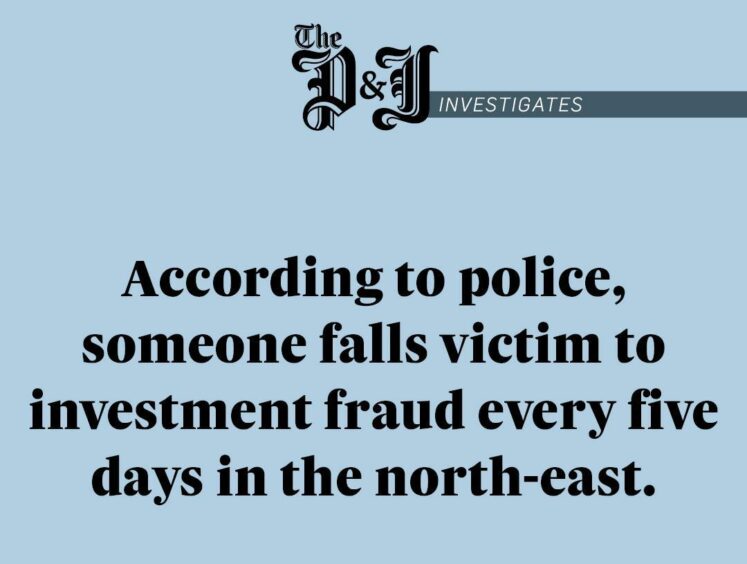 (*All data is classed as Management Information and is not considered official statistics. All data is sourced from Police Scotland internal systems.)
Are there different types of investment fraud?
There are different types of investment fraud in the sense that criminals will entice victims with different kinds of investments.
They may offer investments in stock market shares, bonds, cryptocurrency such as Bitcoin, precious metals, land or renewable energy.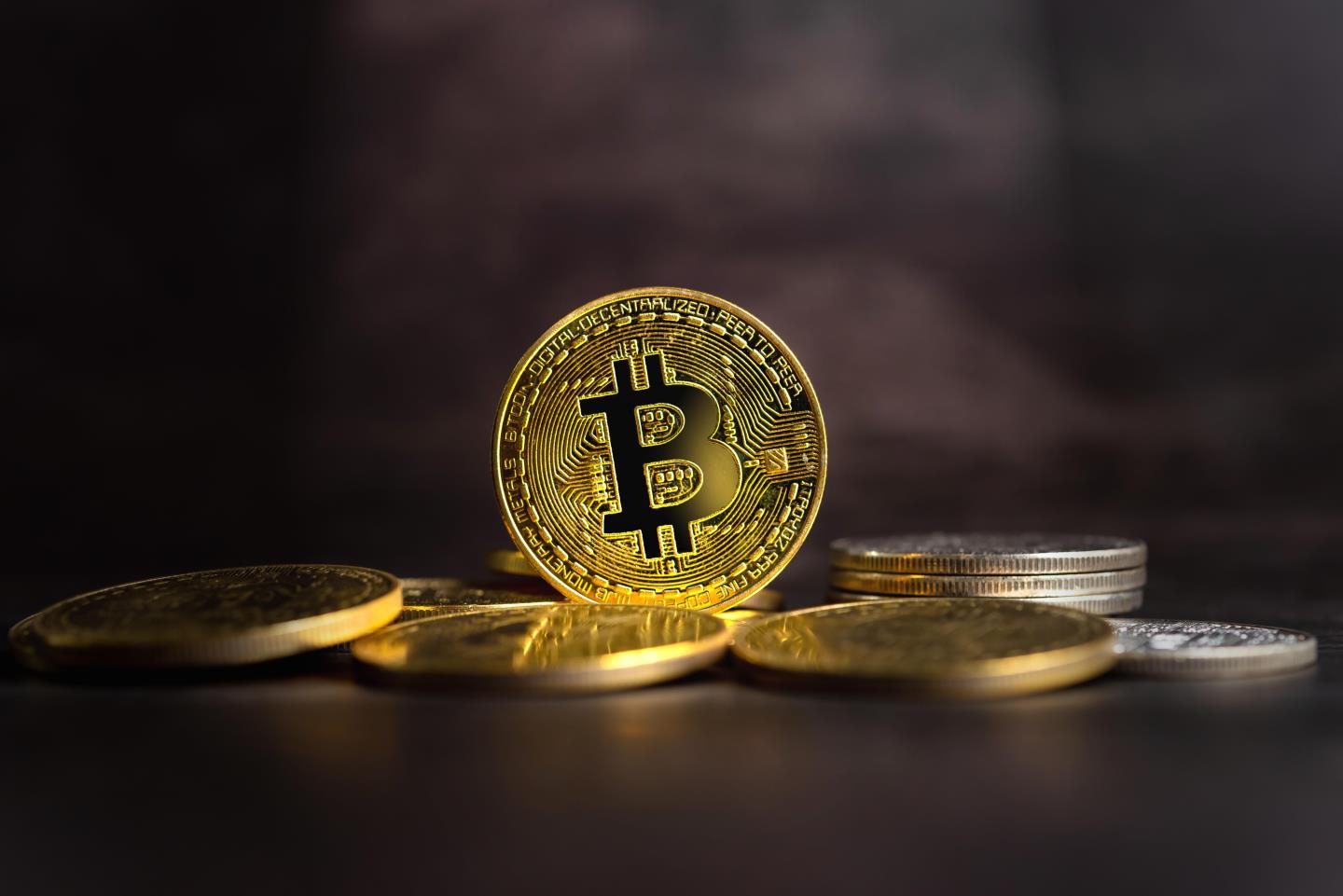 However, the method is always the same.
What is that method?
The criminals will give the impression that the investment opportunity is time limited, enticing the victim to make a decision to invest before the opportunity expires.
Criminals will encourage victims to invest with promises of large returns and low risk.
As the con progresses, they will tell the victim whatever they want to hear to get more money from them.
How do victims get roped in?
Criminals set up websites or adverts on websites or social-media platforms to boast about their 'service'.
Often, such adverts appear high on search results because the fraudsters have paid to have their 'service' displayed prominently.
They can look convincing and sometimes include apparent endorsements from rich celebrities.
For example, some adverts show fake clips from shows such as Dragons' Den and This Morning with the hosts expressing shock at how great an 'investment opportunity' is.
In reality, these scenes never happened and the advert is merely a screenshot of an unrelated scene from the show.
The adverts paint a picture of successful people who are worthy of victims' trust and money.
However, these adverts often contain obvious spelling and grammar errors.
These websites almost never have contact phone numbers.
How do the fraudsters make contact?
Online ads encourage people to fill out a form including their phone number so criminals can contact them directly.
Others provide email address. Criminals then send email replies that can appear very professional and slick.
These communications may be tailored to the recipient, giving the victim a false sense of security.
What happens when investment scammers first get in touch?
Often, criminals prefer telephone calls.
It allows them to build trust and manipulate their victim through salesmanship and false promises.
These telephone calls can be unexpected and criminals may have illegally bought details of previous investments the victim has made, in order to develop trust and rapport.
The initial caller may offer to pass a victim onto a senior associate or manager so they believe they are a 'valued customer'.
Criminals will sometimes use 'spoofing' software to make it seem like their call is coming from a legitimate organisation, when the number appears on the victim's handset.
They will rave about an amazing investment opportunity offering spectacular returns and say there is only a limited time to get involved.
What happens if people agree to it?
Criminals will convince victims to invest a small amount of money initially – and the victim will be told that investment has doubled or trebled quickly.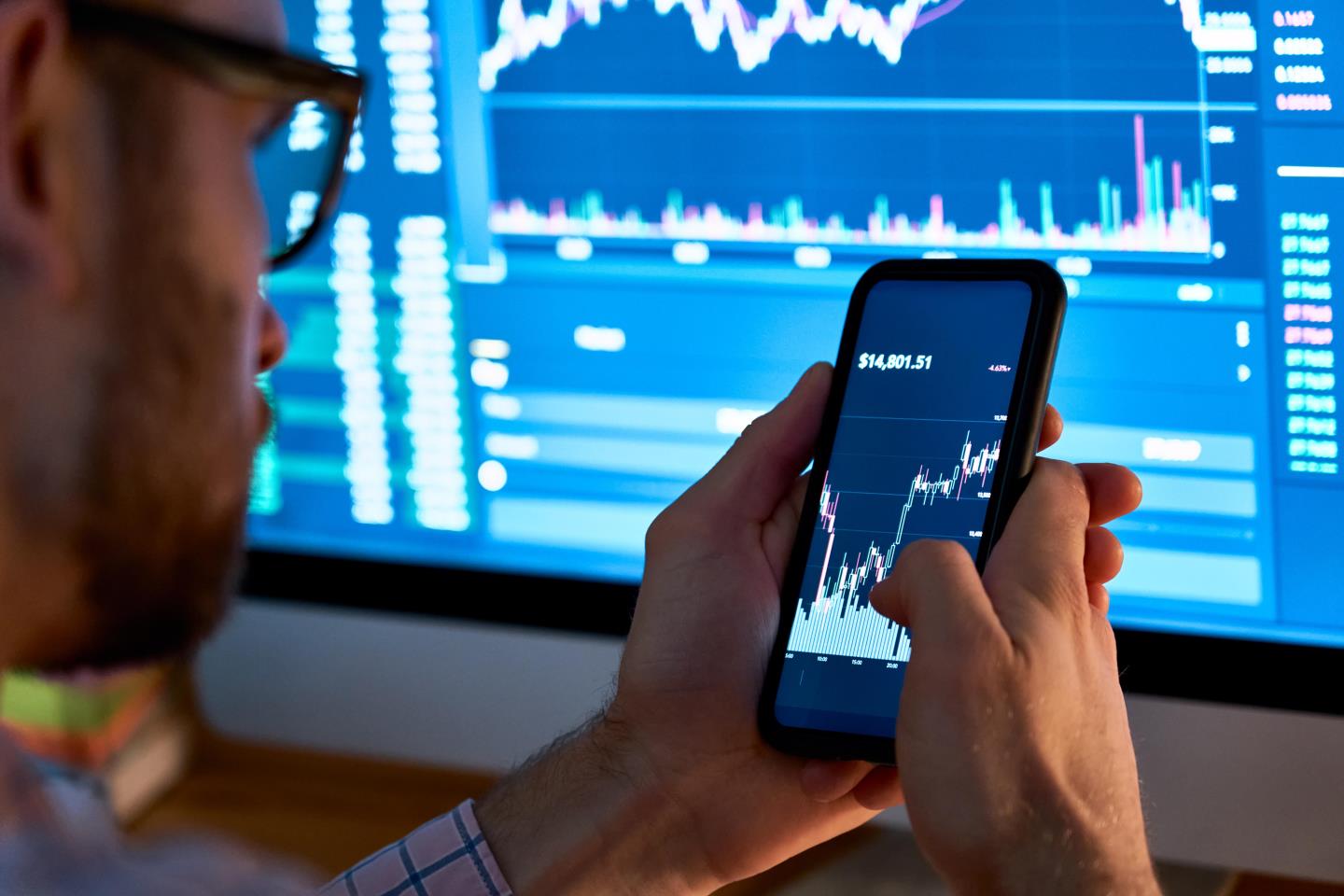 They want to convince the victim the the system works, so they put in more funds.
Sometimes scammers will persuade victims to install computer software, claiming it will allow the victim to keep an eye on how their investment is performing.
But these computer products are almost always fake and can allow criminals to hack into your computer and steal financial information.
As the scheme progresses, one of three things will happen.
Either the victim decides they want to withdraw funds, the criminal will tell them the scheme is over or the criminal will just cease contact.
In the first two scenarios, the criminal will place endless obstacles in the way of a fund withdrawal, and almost always demand more payments to free up the money.
They may, for example, claim they need to be paid commission, or must handle a tax payment – anything to get more money from the victim.
Eventually, they will disappear into thin air.
How can I protect myself from investment fraud?
Before you get in touch with any organisation offering investment opportunities, check if they are registered with the Financial Conduct Authority regulator.
If they are not on the FCA's approved list, avoid them.
If you do proceed, do your research on the company.
Be very wary about investing large amounts and also be wary of withdrawing your funds in unconventional ways, such as via cryptocurrency accounts.
If things don't add up – don't get involved.
What are the warning signs for an investment fraud scam?
A smooth-talking 'investment manager' will contact you offering you a great, time-limited opportunity and convince you to try with a small out of money.
These criminals are expert liars, portraying themselves as professionals capable of managing money.
They are often well-resourced and claim affiliation with professional/regulatory bodies to appear genuine.
They are masters at extracting information and money from victims, channelling funds in a way that makes it very difficult to trace and recover.
One warning sign is when the scammers try to persuade you to install their software on your computer and another is when they call you – often daily – to persuade you they are legitimate.
Always give yourself time to think and to do research – don't make impulsive decisions under duress.
Can it happen more than once?
Repeat victims of investment fraud are common.
When a victim provides their personal information to criminals, these details can be used repeatedly.
If a person falls victim to a scam, they may be more likely to deal with a criminal who contacts them and offers to recover their loss.
Services of this nature are never legitimate and represent a criminal attempt to extract more money from a previous victim of crime.
What should I do if I've been conned?
Contact the police and notify the FCA. You may also be advised to contact your bank and debit or credit card providers to see if they can help.
Can I claim back money I've lost from an investment scam?
Whether or not you can claim money back depends on the nature of the individual crime.
Often banks will decide to refund victims of an investment scam who they judge have made a reasonable attempt to check if the recipient of their funds is genuine.
Victims can also lodge a case to the Financial Ombudsman Service which can compel a bank to refund a victim.
However, sometimes a victim will be left with nothing.
---
If you believe you have been a victim of a scam or have been approached by a potential scammer, there are a number of places that can help.
---
P&J Investigates is our new video series, looking at the devastating emotional and financial impact of online scams.
---
Credits
Interviews and words by Dale Haslam
Story design by Cheryl Livingstone
Videos by Drew Farrell
Graphics by Carly Gilchrist and Mhorvan Park
SEO by Jamie Cameron
A special thanks to those who provided the voices for our videos