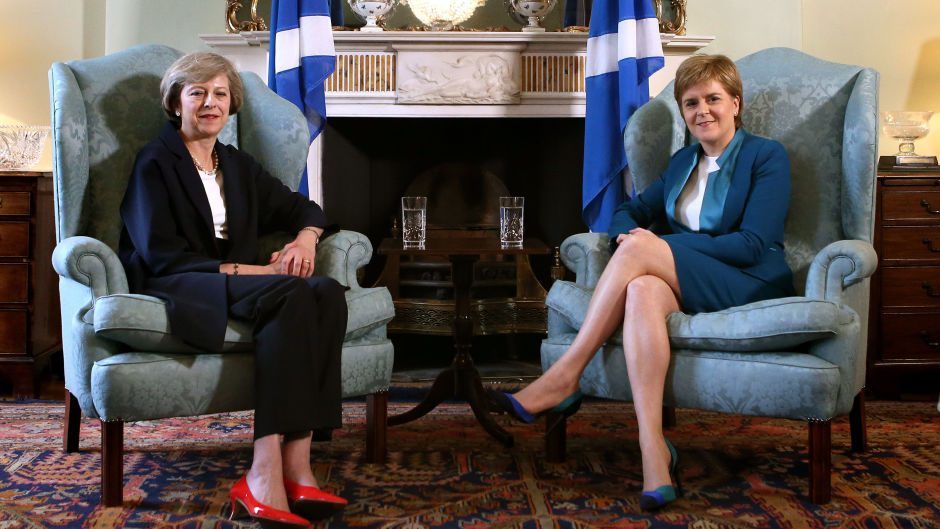 Senior UK Government ministers have been reminded they must continue to engage with the devolved administrations to "nurture" the Union.
Theresa May led a discussion on the topic at Cabinet yesterday, which took up almost all of the meeting.
It came amid mounting speculation a second independence referendum could be called within weeks.
And the SNP said the decision to dedicate so much time to the discussion showed the Tories were "clearly rattled" at how their actions are being seen by people across Scotland.
But a Downing Street spokesman said there was no discussion of the Scottish Government's Brexit paper and that the threat of another poll was only "touched on".
He added: "The prime minister said the government recognised how much we all value the Union, how it had been an incredibly successful partnership – we must continue to point that out. She added that everyone around the table wants the Union to work and stay together."
Ben Gummer, minister for the Cabinet Office, then underlined that ministers and their departments should "continue to listen to and engage with the devolved administrations".
The spokesman added: "He pointed out that it is the most successful political union ever seen, and it is critical that we continue to maintain, strengthen and nurture the 300 plus year-old relationship."
After that, individual cabinet secretaries talked about the work of their departments and the "importance of maintaining a level of engagement to strengthen and enhance the Union going forward".
On the prospect of a second referendum, the government's position – that there should not be one – was restated.
In contrast, ministers only spent a few minutes talking about the threat to the UK posed by Russia.
The SNP spokeswoman said: "This shows the Tories are clearly rattled at how their actions are being seen by people across Scotland – and they have good reason to be.
"They talk about listening seriously to Scotland, but their actions tell a completely different story – underlined by the fact the UK Cabinet failed to discuss the Scottish Government's compromise proposals on Europe."
First Minister Nicola Sturgeon said after the EU referendum that another independence referendum was "highly likely" and is expected to use her speech at next month's SNP conference to make an announcement on the possible timing of a second poll.
But earlier this month, Defence Secretary Michael Fallon insisted the Scottish Government should "forget" plans to stage IndyRef2, suggesting the UK Government would block any attempts.