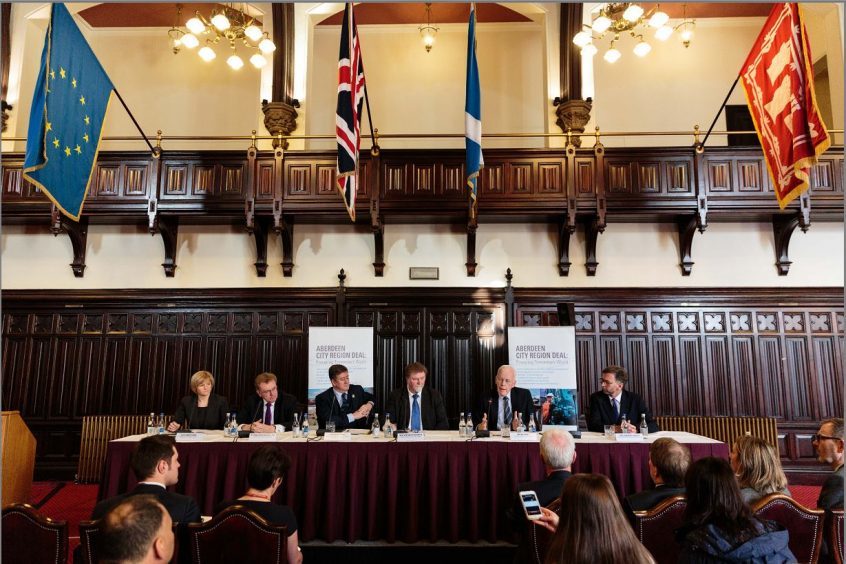 Politicians were divided yesterday over the success of more than £1.2billion of investment outlined in City Region Deals for Aberdeen and Inverness.
The UK and Scottish governments were urged to "stop bickering and get serious" about delivering the projects contained in the lucrative investment packages, but others argued that "significant progress" had already been made.
The remarks followed a critical report by Holyrood's local government committee, which warned yesterday of a "confused and cluttered policy landscape" surrounding the agreements, both of which were signed about a year ago.
MSPs raise "significant" concerns about City Region Deals programme
The report – which is due to be raised in a topical question at the Scottish Parliament today – also raised concerns that areas not covered by existing deals, such as Moray, the islands and Argyll, could be "doubly disadvantaged".
Last night, north-east Liberal Democrat MSP Mike Rumbles said: "It's extremely worrying to hear reports of a lack of proper governance and transparency in delivering the Aberdeen and Inverness deals.
"These deals are worth hundreds of millions of pounds and it is essential that both of Scotland's governments are marching in lockstep to deliver the benefits that these deals promised for the people of northern Scotland.
"Both of Scotland's governments need to stop bickering and get serious about delivering on their promises."
However, Conservative Aberdeen South MP Ross Thomson said: "The key project at the heart of the Aberdeen City Region Deal, the Oil and Gas Technology Centre, was up and running very quickly thanks to effective joint working between the three tiers of government and the private sector in the north-east.
"There remains work to be done, but significant progress has been made and our local economy is already seeing the benefit."
He also raised concerns about rail and road upgrade project commitments which he said "appear to have been kicked into the long grass" by the Scottish Government.
A Highland Council spokeswoman said: "The Inverness and Highland City-Region deal consists of £188million of additional investment into the region from the Scottish and UK governments to be matched by £127million from local partners.
"Projects are already delivering on the ground including the Inverness Castle Viewpoint, Ness Wifi, and affordable housing.
"Partners in the deal include HIE and UHI and regular updates are provided to the council and local partnerships."
Key projects in Aberdeen City Region Deal
Oil & Gas Technology Centre
£180million
Aim: Help unlock full potential of North Sea, anchor the high-value supply chain in north-east and make the region a global hub for oil and gas innovation.
Latest: Launched in February last year and has since approved investment of more than £18million in partnership with industry, has 65 memberships and more than 30 projects. Innovation Hub opened in October.
Agri-Food & Nutrition Hub for Innovation
£10million
Aim: Deliver an Agri-Food and Nutrition Hub for Innovation to position Aberdeen City and Shire as an international centre of innovation excellence.
Latest: Plans being developed.
Bio-Therapeutics Hub for Innovation
£20million
Aim: Capitalise on opportunities to grow the region's life sciences sector.
Latest: Business case approved by the City Region Deal Joint Committee. Next stage imminent.
Digital Connectivity
£17million
Aim: Create a sustainable infrastructure from which the region can transform into a world class digital area.
Latest: Region selected as pilot for ultra-fast broadband in September.
Harbour Expansion
£36million
Aim: Support the £375million expansion of Aberdeen harbour.
Latest: Funding secured and work under way.
Strategic Transport Appraisal
£7million
Aim: Develop 20 year strategic view of transport priorities.
Latest: Consultants appointed.
Inverness City Region Deal
Digital
£20million
Aim: Support ambition for the Highlands to be the "most digitally connected rural region in Europe".
Latest: Planning continues. Pilot city centre WIFI project introduced.
Science Skills Academy
£3million
Aim: Transform the uptake of science, technology, engineering, maths and digital subjects in schools, including new strategy "hub" and establishment of "Newton Rooms" across the region.
Latest: Business case approved by Scottish Government. Work continuing to establish sites for the first Newton Rooms, the hub, a brand identity and evaluation mechanism.
Northern Innovation Hub
£11million
Aim: Transform levels of business innovation through funded targeted initiatives across key sectors.
Latest: Outline business case under review.
FIT House
£3million
Aim: Establish innovative assisted living schemes using the latest IT healthcare to enable elderly people to live in their communities.
Latest: Outline business case is currently under review and development work continues.
School of Health, Social Care and Life Sciences
£9million
Aim: Establish centre of excellence in innovation and commercialisation in health and life sciences.
Latest: Funding awarded and plans being developed.
Road Infrastructure East Link and Longman Interchange
£107million
Aim: Build new "East Link" road between Inshes and Smithton in Inverness, and flyover at the Longman Roundabout.
Latest: Preferred route chosen for East Link and design consultants appointed for Longman flyover.
Affordable Housing
£5million
Aim: Keeping young people in the Highlands by offering attractive affordable housing.
Latest: Business case approved.
Longman land remediation
£10million
Aim: Carry out land remediation and site servicing works to release the former Longman landfill site for development.
Latest: Consultants appointed to carry out site investigations and gas monitoring on the site. Business case to follow.
Inverness Castle
£15million
Aim: Turn castle into "must-see" centre that will celebrate the spirit of the Highlands.
Latest: Outline business case submitted to the Scottish Government. North Tower viewing platform officially opened in April last year.