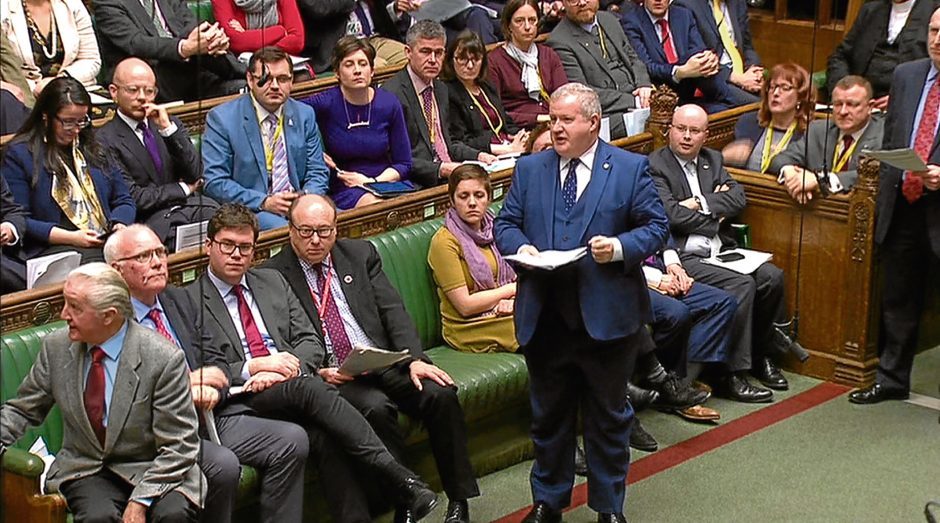 The SNP's Westminster leader, Ian Blackford, has said Donald Trump's visit to the UK should be cancelled, following outrage over children being caged on the border between the USA and Mexico.
The US president is scheduled to play golf in Scotland at either his Aberdeenshire or Turnberry golf courses on July 14 after a trip to London.
But he has provoked global criticism in recent days for his zero-tolerance policy towards illegal border crossings, which has seen thousands of children separated from their parents and imprisoned in cages.
Ross, Skye and Lochaber MP Mr Blackford said Mr Trump's "morally reprehensible" actions meant his visit should be cancelled and he has written to Theresa May to ask her to raise her condemnation of the policy with him directly.
He added: "I think the trip should be called off. I don't think it's acceptable for the president to visit at the current time."
At PMQs, Mr Blackford asked Mrs May if she would still "roll out the red carpet" for Mr Trump and whether she would axe her own hostile environment policy.
He said: "Infants as young as 18 months are being caged like animals.
"Babies of eight months are being left isolated in rooms, and last night the former head of US Immigration and Customs Enforcement said he expects hundreds of these children never to be reunited with their parents.
"They will be lost in the system, orphaned by the US Government.
"On the issue of immigration, while the US Administration call it a zero-tolerance policy, the prime minister calls it a hostile environment.
"We know this Government detain children in detention centres here in the UK. The UK is the only EU country to detain people indefinitely.
"Will the prime minister today, on World Refugee Day, show some leadership and end her policy of indefinite detention?"
Mrs May said she "clearly, wholly and unequivocally" condemned Mr Trump's "deeply disturbing" policy and said, in her time as Home Secretary, she had ended routine detention of families with children in 2010.
She added: "We do, on occasion, need to detain people – but we take their welfare extremely seriously.
"We introduced the at-risk policy, which means we have a clear presumption that adults who are at risk should not be detained, along with better mental health provision for them."
Mrs May added she would keep lines of dialogue open with Mr Trump about shared interests, which would include expressing her disagreement with the policy.