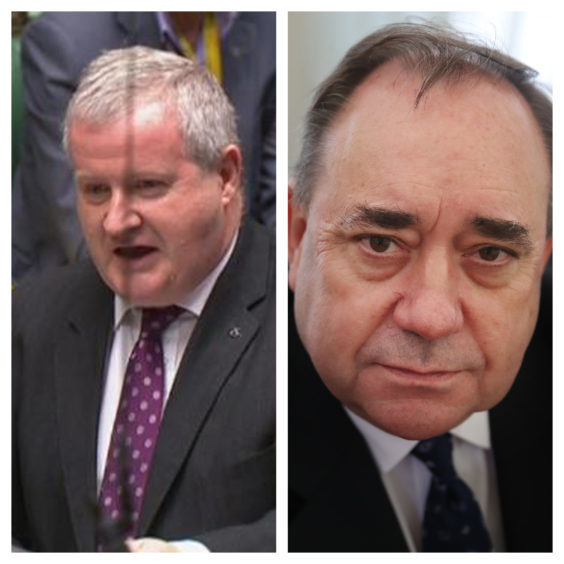 SNP Westminster leader Ian Blackford insisted yesterday that there was no "civil war" in the party amid tensions over allegations against former leader Alex Salmond.
The Ross, Skye and Lochaber MP said there was "far from" a rift among Nationalists as he expressed "tremendous sadness" over the issue and gave his "fulsome support" to First Minister Nicola Sturgeon.
Mr Blackford was speaking in Edinburgh after Mr Salmond quit the SNP and launched a controversial crowdfunding appeal to pay for his legal challenge against the Scottish Government over its probe into sexual misconduct allegations against him.
The online fundraising effort had broken through its £50,000 target within hours of being launched, and had almost hit £84,000 by 6pm last night, with apparent backing from Western Isles MP Angus MacNeil and other SNP figures.
Quizzed on Mr Salmond's support within the party, Mr Blackford said: "It's up to individuals on a private basis what actions they've taken in relation to the crowdfunding.
"I'm not going to get into what individuals do, but I think you can interpret my remarks that I give absolute full support to the government and I am absolutely fulsome in my support for the first minister."
He added: "This is a party, a movement, that is pretty united. I am not getting messages from people suggesting that there is civil war within the SNP. Far from it.
"What we have said is that we cannot treat anybody, whoever they are, any differently from how we would treat an ordinary party member.
"I think there is a maturity in general within the SNP. There is strong support for the First Minister and for the government."
Mr Salmond, who has strongly denied sexual harassment complaints made to the Scottish Government by two women in January, announced on Wednesday night that he had given up his membership of the SNP, 45 years after he first joined the party.
The shock move came after Ms Sturgeon had faced calls to suspend him from the party over the allegations of sexual misconduct, dating back to Mr Salmond's time as first minister.
Asked about Mr Salmond's resignation, Mr Blackford said: "My overriding emotion is one of great sadness."
But he added: "I think what has to be paramount in this are the interests of those who have come forward.
"We need to make sure that people can come forward, fulsome in the knowledge that they will have anonymity, that they will be listened to, and that action that needs to be taken will be taken.
"That's the single most important factor out of all of this."
In the wake of Mr Blackford's comments, the Scottish Conservative MSP Annie Wells said: "Ian Blackford's reluctance to criticise Alex Salmond's use of crowdfunding highlights the civil war in the SNP.
"Those who have made these accusations will be disappointed at such an astonishing lack of leadership.
"The fact well known SNP figures are sharing, and even donating to, this ill judged campaign is a disgrace."
First Minister Nicola Sturgeon, who succeeded Mr Salmond as first minister in 2014 after serving as his deputy, has herself used social media to raise funds, once appealing to her followers to donate to a campaign to fund a legal challenge to the UK Government's so-called "rape clause".