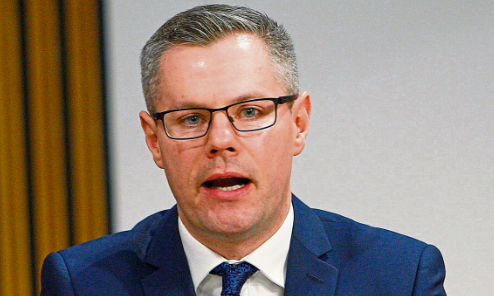 Scottish Finance Secretary Derek Mackay has outlined his tax and spending plans for the country for 2019-20.
Prior to unveiling the plans, he warned his Scottish Budget is being delivered from "under the shadow of the UK Government's chaotic approach to Brexit".
Speaking in advance of his statement to MSPs at Holyrood, Mr Mackay warned of the economic threat leaving the European Union brings, saying this could impact on public services and "risks making us all poorer".
But he made it clear that the budget would "protect what matters most."
So what are the key points of the Scottish Budget: 2019-20?
Public sector pay would rise by 3% for those earning up to £36,500, while those earning up to £80,000 a year will get a wage rise of 2%.
£500 million will go to expanding early learning and childcare.
Invest more than £180 million to raise attainments in schools.
Invest over £600 million to colleges and more than £1 billion to Scotland's universities.
£5 million extra resources to help transform the Scottish Fire and Rescue Service and a £5 million increase for the Crown Office and Procurator Fiscal Service to recruit additional legal staff to deal with increased caseloads.
A promise of £435 million of spending to provide additional cash "over and above" Westminster welfare payments – to include £100 million to continue to mitigate the impact of the so-called Bedroom Tax in Scotland.
Increase spending on the health and care services by almost £730 million.
Increase direct investment in mental health by £27 million, taking overall funding for mental health to £1.1 billion.
Introduce a below inflation cap of 2.1% on business rate increases for 2019-20, ensuring that over 90% of properties in Scotland pay a lower poundage than they would in other parts of the UK.
Understanding the Scottish Budget