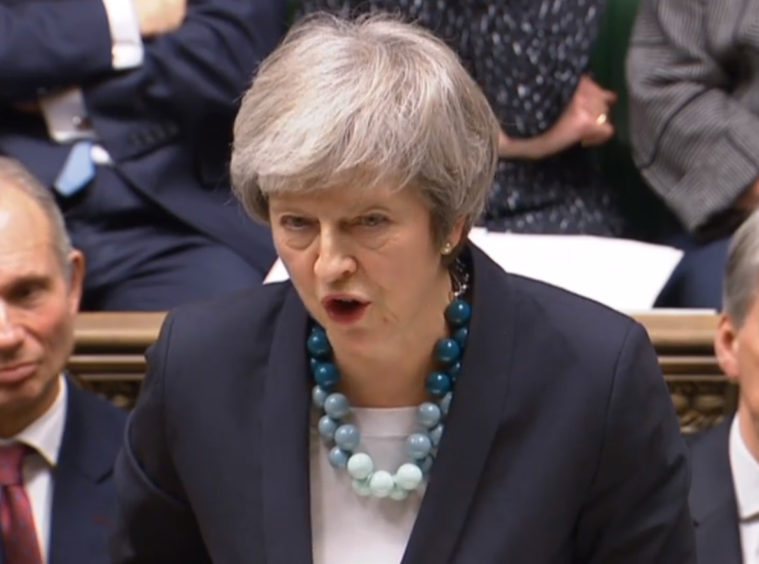 Theresa May's latest Brexit defeat in the Commons has no legal force, but it will reverse the modest achievement she achieved two weeks ago when she secured a majority for a negotiating position with the EU.
All day, talks between Downing Street and the prime minister's backbench opponents rumbled on, with Brexiteers unhappy that the Government appeared to be ruling out a no-deal Brexit.
Number 10 warned that defeat for Mrs May would scupper attempts to negotiate the revised Brexit deal, minus the controversial Northern Ireland "backstop", that they wanted.
But all was seemingly to no avail as the Eurosceptic wing of the party abstained in the vote.
Seeing how hard she is finding it to maintain support among MPs, EU leaders may now feel even less inclined to offer her Brexit concessions than they already were.
But Mrs May battles on and the result has largely been ignored by Downing Street.
A Number 10 spokesman, speaking after the result, said: "While we didn't secure the support of the Commons this evening, the Prime Minister continues to believe, and the debate itself indicated, that far from objecting to securing changes to the backstop that will allow us to leave with a deal, there was a concern from some Conservative colleagues about taking no deal off the table at this stage.
"The motion on January 29 remains the only one the House of Commons has passed expressing what it does want – and that is legally binding changes to address concerns about the backstop.
"The Government will continue to pursue this with the EU to ensure we leave on time on March 29."
The comments make it much more likely that the next vote on February 27 will be Mrs May's "high noon", as one MP termed it, with the very real prospect that a majority of MPs would back amendments to take control of the Brexit process.