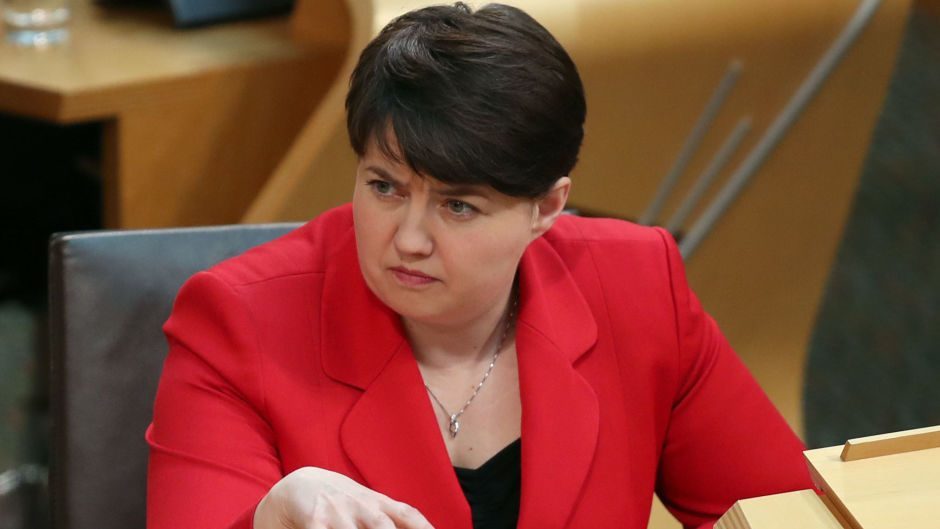 Ruth Davidson is expected to quit as Scottish Conservative leader today, amid growing frustration over Boris Johnson's approach to Brexit.
Tory sources last night acknowledged that Ms Davidson had been put in an "almost impossible position" by the prime minister's willingness to embrace a no-deal Brexit.
They also indicated that pressures of family life are a factor in a decision which will be a huge blow to the Scottish Tories.
Ms Davidson gave birth to a boy named Finn in October and it is understood that she wants to spend more time with her son.
Ms Davidson is expected to make an announcement on her future today. Her departure follows eight years of leadership during which she made significant strides in detoxifying the image of the party north of the border.
Her resignation exposes the bitter divisions within the party over Brexit and comes after a series of public disagreements with Mr Johnson.
Scottish Tory insiders claimed her decision was not a snap reaction to Mr Johnson's controversial bid to suspend the Westminster parliament in the weeks leading up to the Brexit deadline.
Instead, they argued it was a combination of reasons including the difficult political position in which she now finds herself.
A Tory source said: "I don't think it was necessarily the proroguing stuff. It would have happened anyway. It was no secret that it was very difficult for her. If you look through it logically, it was an almost impossible position to be in."
Ms Davidson was a prominent campaigner for Remain in the EU referendum, a role that resulted in angry clashes with Mr Johnson.
More recently Mr Johnson's repeated refusal to rule out a no-deal Brexit has put them further at odds. Ms Davidson failed to support Mr Johnson in the Tory leadership election, backing Sajid Javid and Jeremy Hunt.
She was then angered by Mr Johnson's sacking of her close ally David Mundell as Scottish Secretary, replacing him with the Brexiteer Alister Jack.
Doubts about Ms Davidson's future first surfaced yesterday when Scottish Tories said she was "unavailable" to make any comment on Mr Johnson's plan to suspend parliament.
The SNP accused her of going into "hiding".
Under her leadership, the Scottish Tories had revived their fortunes following years of decline, winning 31  Holyrood seats. By securing 13 Commons seats at the most recent general election,  Scottish Tory support is essential if Mr Johnson is to cling to power.
Scottish Labour leader Richard Leonard said the loss of Ms Davidson showed Boris Johnson was losing "support and credibility".
Scottish Liberal Democrat leader Willie Rennie said: "It's no surprise Ruth Davidson has run out of reasons to stand by this dangerous and power-hungry Prime Minister."
A Scottish Tory spokesman said she would make her position clear "in due course".
He added: "This decision is not connected to today's Brexit developments in any way."