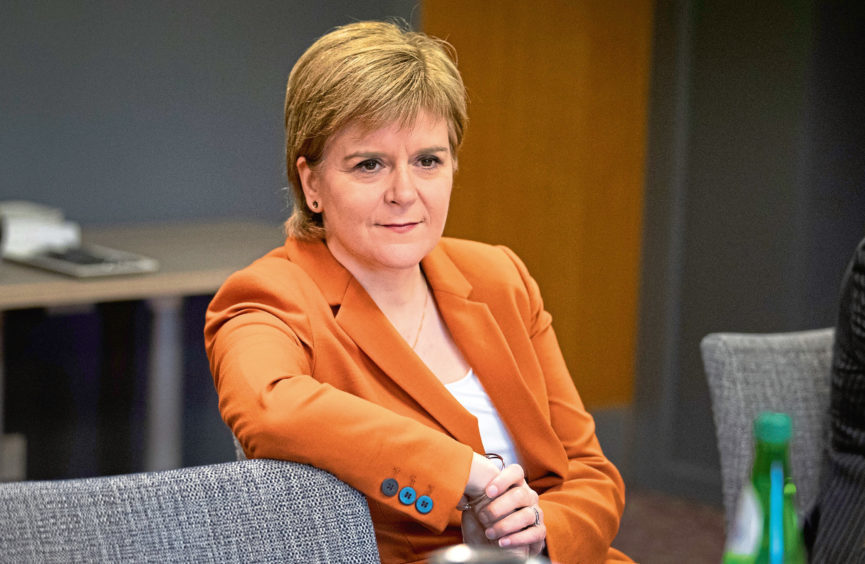 Nicola Sturgeon has claimed Boris Johnson and Jeremy Corbyn were "running scared" of her as she renewed calls to debate them on television.
The SNP leader said she would face-off against the two leaders of the main UK parties "anytime, anywhere" as she spent another day on the campaign trail.
Her remarks came on the back of Lib Dem leader Jo Swinson's complaint to ITV about its decision to exclude her from its forthcoming televised head-to-head contest between the two men.
Ms Sturgeon was also ignored by the channel.
During a campaign visit to a Rutherglen chemist in South Lanarkshire, the first minister said she "absolutely" would like to take part in such occasions.
"My message to Jeremy Corbyn and Boris Johnson is 'What are you scared of?'," Ms Sturgeon said.
"I'll debate one of them. I'll debate both of them. Anytime, anywhere.
"Bring it on and stop running scared of meaningful debate in this election. The people can see you."
Ms Sturgeon added: "The population, certainly in Scotland, but across the rest of the UK, is moving away from the two-party system.
"My message to the broadcaster is make sure that you're reflecting politics as it is and not just how you want it to be."
Ms Sturgeon also claimed Mr Johnson would include the NHS in post-Brexit trade negotiations with US President Donald Trump.
"We want guarantees that our NHS will be protected," she said.
"There is a risk to the NHS in this election.
"If we allow Scotland to be taken out of Europe against our will, which is what this broken Westminster system threatens to do, we put our NHS at the mercy of Donald Trump in future trade negotiations.
"Despite the denials of Boris Johnson – whose word hasn't been shown to be particularly trustworthy since he became Prime Minister – in my view that is a real and present danger."
Scottish Labour leader Richard Leonard focussed on a similar theme as he visited Monklands Hospital in Airdrie yesterday.
"My reading of Boris Johnson's approach is that while he wants to wrench the UK out of Europe, he wants to make us almost the 51st state of the United States of America," Mr Leonard said.
"He sets all his store by trade agreements with Donald Trump.
"People are rightly concerned about what that would do to the provision of services in our NHS."
In Hamilton, Scottish Conservative leader Jackson Carlaw hit back, arguing that a vote for Ms Sturgeon was a vote to break up the NHS as well as the UK.
Mr Carlaw said: "Instead of having a national health service right across the UK, Nicola Sturgeon would unilaterally break up all the valuable health relationships established across the UK, all just so she could deliver independence."
Meanwhile, Lib Dem leader Willie Rennie urged Scottish Labour to "stand aside" at the election arguing its opposition to a second independence referendum had been overridden by Mr Corbyn.
At the weekend, Shadow Cabinet member Rebecca Long-Bailey made clear Labour would not block a second referendum if the Scottish government was to push for one after the 2021 Holyrood election.
Mr Rennie said: "It is utterly humiliating for Scottish Labour to be repeatedly over-ruled on such important matters."