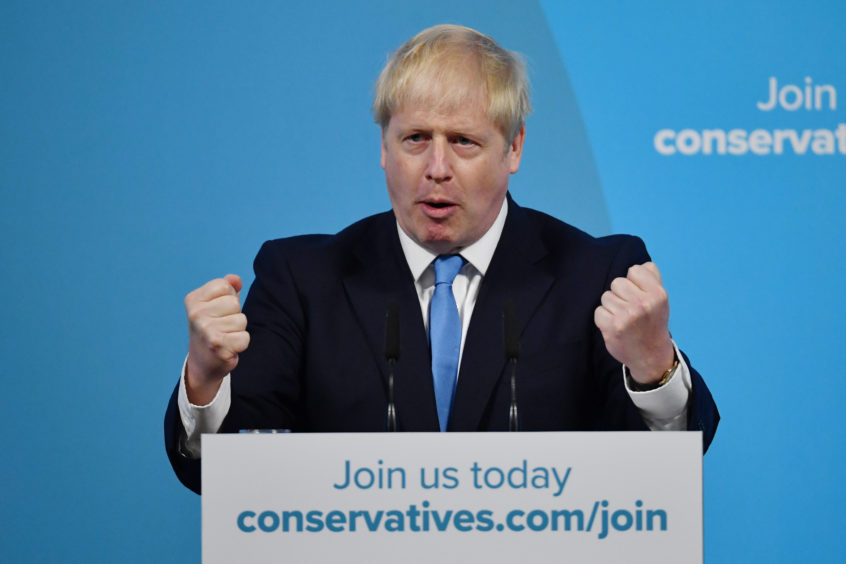 Boris Johnson will move into Downing Street today after winning a landslide victory in the Tory leadership race.
The former foreign secretary comfortably beat rival Jeremy Hunt for the Tory crown with 66% of member votes – 92,153, to Mr Hunt's 46,656.
In his acceptance speech Mr Johnson promised to work "flat out" to energise the country and deliver Brexit on October 31.
He said: "Like some slumbering giant, we are going to rise and ping off the guy ropes of self-doubt and negativity.
"With better education, better infrastructure, more police, fantastic full-fibre broadband sprouting in every household – we are going to unite this amazing country and we are going to take it forward."
In a moment of self reflection, Mr Johnson observed that the wider public may be wondering quite what the Tory party had done in electing him leader – but asked people to trust the "insights" and "instincts" of the Conservative Party – which has for 200 years worked "to promote the good of the whole country".
He added: "We know we can do it and that the people of this country are trusting in us to do it.
"We know the mantra of the campaign that has just gone by, in case you have forgotten it and you probably have, it is to deliver Brexit, unite the country and defeat Jeremy Corbyn – and that is what we are going to do.
"I know that some wag has already pointed out that deliver, unite and defeat was not the perfect acronym for an election campaign, since unfortunately it spells dud – but they forgot the final 'e' my friends, 'e' for energise.
"And I say to all the doubters, dude, we are going to energise the country. We are going to get Brexit done on October 31."
Foreign Secretary Mr Hunt admitted he was "very disappointed", but said Mr Johnson would do "a great job".
He said he had "total, unshakeable confidence in our country" and that was a valuable quality at such a challenging time.
Moments after Mr Johnson's victory, Justice Secretary David Guake announced his resignation, saying he looked forward to returning to the back benches.
Education minister Anne Milton also stepped down, citing her opposition to a no-deal Brexit, while Chancellor Philip Hammond and International Development Secretary Rory Stewart are also expected to stand down today.
Mr Johnson will officially become prime minister after Theresa May tenders her resignation with the Queen after a final prime minister's questions appearance in the Commons at noon.
The former London mayor spent last night finalising who he would like in his Cabinet and is expected to make a number of key appointments this evening.
Mr Johnson faces a daunting in-tray at Number 10, with not only the tight Brexit deadline but also the diplomatic crisis in the Gulf, where tensions have been heightened following Iran's seizure of the British-registered Stena Impero tanker.
The challenge facing Mr Johnson is made even more difficult by a wafer-thin Tory-DUP majority of two in the Commons, with the prospect of it being reduced to just one if the Conservatives fail to win the Brecon and Radnorshire by-election on August 1.