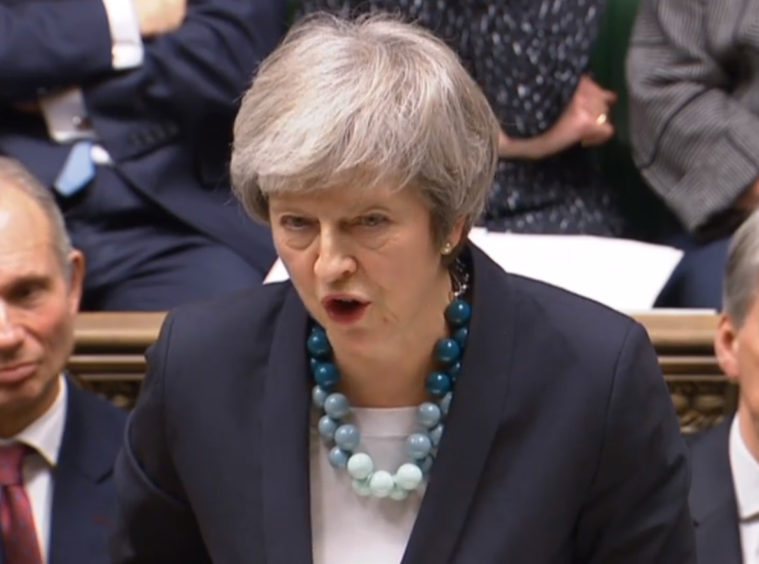 Theresa May bowed out as prime minister with a standing ovation from her backbenchers in the Commons and a farewell letter to the nation from the steps of Downing Street.
Her premiership was dogged by internal party strife, with resignations and rebellions almost a daily occurrence, but yesterday the Tory party united to say goodbye to their second female leader.
Mrs May arrived in the Commons shortly before midday for her last head-to-head with Labour leader Jeremy Corbyn, who praised her "sense of public duty and public service".
SNP Westminster leader Ian Blackford, to chuckles from MPs, admitted the two "have had our differences", but added: "The time for holding her to account has passed. The burdens of office are considerable, the loneliness of leadership can be stark.
"At times we have clashed on points of political difference, but equally we have stood together when it has been right to do so."
Liberal Democrat Jo Swinson, who made her Commons debut as the party's leader, said it was inspiring for girls across the UK to see women in positions of power, whether as First Minister of Scotland or Prime Minister.
She added: "Can I ask the prime minister what advice she has for women across the country on how to deal with those men who think they could do a better job but are not prepared to do the actual work?"
Mrs May replied: "My advice to all women is actually be true to yourself, persevere, keep going and be true to the vision you're working for."
The exchanges ran for more than hour, with MPs from all sides of the political divide keeping comments and questions good-natured before Mrs May left the chamber as prime minister for the final time.
Tory MPs, along with the DUP, the Lib Dems and a number of independents all rose to clap her exit – while Labour and the SNP remained seated quietly.
Following the question session, Mrs May headed back to Downing Street where, after a short lunch with her husband Philip, she delivered a 442 word speech to the nation.
She said: "I repeat my warm congratulations to Boris on winning the Conservative leadership election.
"I wish him and the government he will lead every good fortune in the months and years ahead.
"Their successes will be our country's successes and I hope that they will be many."
Midway through the speech, a protester outside the gates of Downing Street delivered a loud cry of "stop Brexit!", prompting Mrs May to pause and say "I think not".
Mrs May ended with her "sincere thanks" to MPs, aides and staff who have helped her over the past three years, but reserved a special thank-you for her husband.
She said: "Most of all, I want to thank my husband Philip, who has been my greatest supporter and my closest companion.
"I am about to leave Downing Street but I am proud to continue as the member of parliament for Maidenhead.
"I will continue to do all I can to serve the national interest."