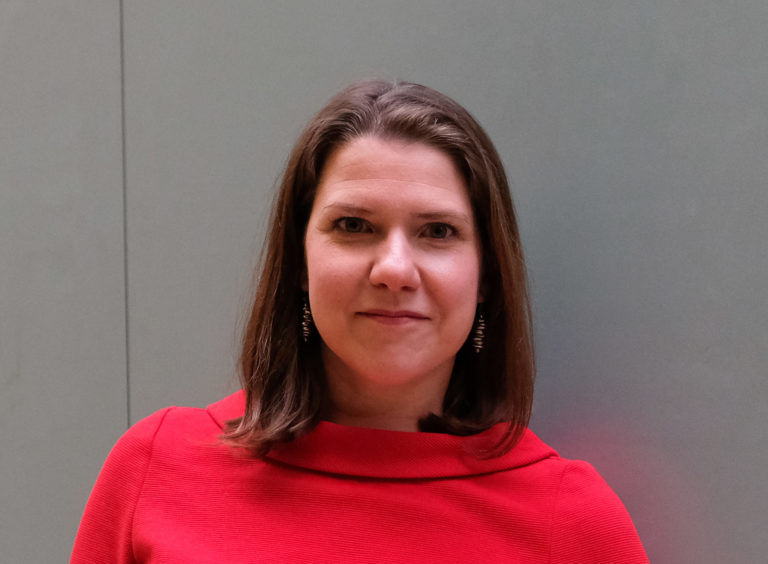 Jo Swinson likened Boris Johnson to a dictator as she used her first conference speech as Lib Dem leader to commit to stopping Brexit.
The East Dunbartonshire MP arrived on stage in Bournemouth to a standing ovation and told delegates she was standing as their "candidate for prime minister".
Ms Swinson, who succeed Sir Vince Cable at the helm of the party earlier this year, also issued a direct plea to Scottish voters, who she said could give the party that "final push" into government.
Her call came as a poll marking the fifth anniversary of the Scottish independence referendum revealed that 59% of voters want to remain in the UK.
The Survation survey also revealed more than half of voters now think a second referendum would make Scottish society more divided.
Ms Swinson said: "Scottish nationalism and English nationalism would both have me choose. But there is no contradiction.
"I am a proud Scot. I love our United Kingdom, and I feel stronger as part of the European family.
"You have a part to play in a growing, strengthening, winning campaign across the UK.
"Join us. Come with me and be part of the bigger movement for change."
Ms Swinson said she did not "hold out much hope" that Mr Johnson could succeed in renegotiating a Brexit deal.
"We all know that commitment has never been Boris Johnson's strong suit, but it's clear he's determined when it comes to crashing us out without a deal," she said.
"Just look at what he's done over the last few weeks. He prorogued Parliament to try to prevent MPs stopping a no-deal Brexit.
"He's kicked 21 MPs out of the Conservative party. Here is even now the suggestion that he would break the law and refuse to ask for an extension to Article 50.
"For someone who proclaims to hate socialist dictators, he's doing a pretty good impression of one."
Ms Swinson also turned on Jeremy Corbyn, saying: "Nigel Farage might be Brexit by name, but it is very clear that Jeremy Corbyn is Brexit by nature."
Scottish party leader Willie Rennie earlier arrived on stage with a promise that "there will be more" defections to come to the Lib Dems.
Mr Rennie went on to offer glowing praise for Ms Swinson, who he described as "talented, energetic, empathetic, clear thinking, intelligent and, most of all, downright determined".
He also took aim at Mr Johnson, Mr Corbyn and David Cameron – saying the former prime minister should have titled his forthcoming autobiography "Honey, I shrunk the country".
He added: "Now we have the current prime minister Boris Johnson held hostage – a prisoner – of Nigel Farage.
"We see what they are doing, from a one in a million chance one day to touch and go the next.
"They are doubling down for no-deal. They are expelling their moderates – but in Scotland no Conservative MPs have been harmed in the making of this dogma.
"Not one has rebelled. Scottish Conservatives, you have to stand up and be counted like Amber Rudd, or forever be condemned as a waste of Scottish space."
He wrapped up his speech with a message to remain voters in Scotland, saying: "There is another way. We can keep Scotland in the United Kingdom and the United Kingdom in Europe.
"Some think independence would allow us to escape Brexit.
"But it will simply add to our woes. All the chaos of Brexit multiplied, and multiplied again."