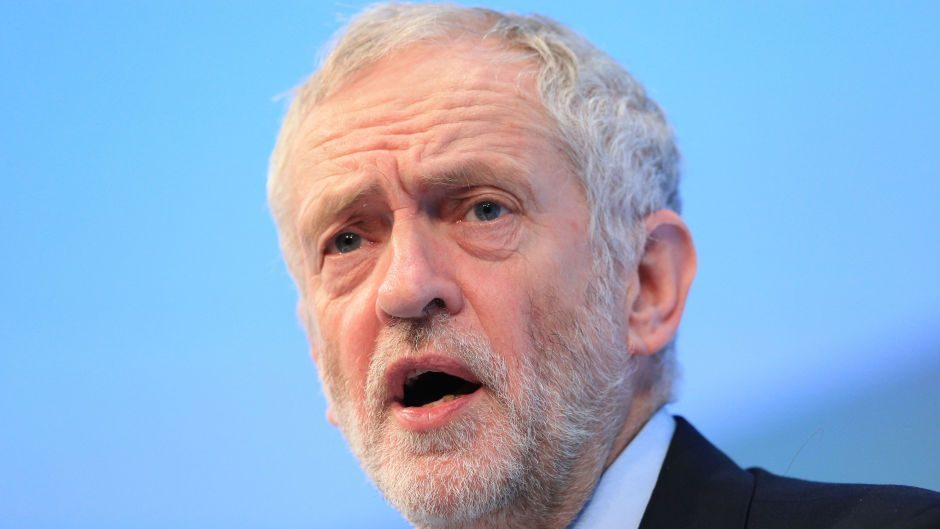 Jeremy Corbyn was ridiculed after the Labour leader came up with his party's fourth position on an independence referendum in two days.
On the final day of a Scottish trip, dominated by his failure to come up with a consistent line on the issue, Mr Corbyn said he would not hold a vote in the first two years of a Labour government.
Mr Corbyn made the declaration in an attempt to clear up confusion over how he intended to deal with the United Kingdom's constitutional future.
But his statement led to Tory claims that his stance on an independence referendum was "weakening" and he was a "clear and present danger" to the United Kingdom.
When Mr Corbyn arrived in Scotland on Wednesday morning, he told journalists that he would not allow a referendum in the first five-year term of a Labour Government.
But within minutes of making that promise, Labour aides back-tracked to a second position by suggesting that stance could be relaxed if the SNP won a majority in the 2021 Scottish election.
By Wednesday afternoon, Mr Corbyn had resorted to a form of words whereby he would not countenance an independence poll in the "early years" of a Labour administration.
His fourth position was outlined this morning on a visit to Dundee, where he was heckled by independence campaigner Bob Costello, who called for him to respect the "will of the Scottish people".
The Labour leader said he would "certainly not" hold a referendum "in the first two years of the government".
Mr Corbyn was also asked whether he would describe himself as a Unionist. He replied: "No, I would describe myself as a Socialist".
Scottish Conservative leader Jackson Carlaw said: "Given how his position on a second independence referendum has weakened every time he has come to Scotland, pro-UK supporters in Scotland will be glad Mr Corbyn isn't staying another day.
"Nobody now can have the slightly shred of doubt – Mr Corbyn is a clear and present danger to the most successful political union in history."
Nicola Sturgeon joked at Mr Corbyn's expense on Twitter, claiming the Labour leader would soon come round to her demands for a referendum next year.
The SNP leader posted a tweet saying: "Yesterday it was 'not in the first term'. Today, it's 'not in the first two years'. By the end of the week, at this rate, Corbyn will be demanding #indyref2020."
But Ms Sturgeon's own stance on the referendum also came under fire when she was accused of "shambolic logic" over the timing of second votes on Scottish independence and Brexit.
At First Minister's Questions in Holyrood, Ms Sturgeon indicated she would want another independence referendum before a second Brexit vote.
Mr Carlaw challenged the first minister on which vote would come first.
The Scottish Tory leader said: "I'm just not sure the First Minister has thought through her big double referendum promise.
"As she keeps telling us, she would ask Jeremy Corbyn for a referendum on independence and demand it's held next year.
"And we know too that she would support Mr Corbyn's plan for a second Brexit referendum also to be held next year."
Mr Carlaw then asked her which vote would come first.
Ms Sturgeon replied: "My priority – and I can't believe Jackson Carlaw hasn't actually cottoned on to this yet, he should maybe listen a bit more – my priority is to give the people of Scotland the opportunity to choose independence next year and I look forward to delivering on that."
The first minister's response led to the Tories warning Remain supporting Unionists not to support the SNP on the basis that they would fight against Brexit.
Mr Carlaw said: "She'll use your vote, and it'll be an independence referendum she'll be promoting first, second and last.
"With Labour committed to a June re-run for the EU question, Nicola Sturgeon's plan would mean an independence referendum within six months.
"Nicola Sturgeon has spent years telling voters in Scotland that she wants to wait to see how Brexit plays out before calling another independence referendum.
"Yet now she wants to hold that vote first, before Labour's second EU referendum would take place. It's a shambolic logic."