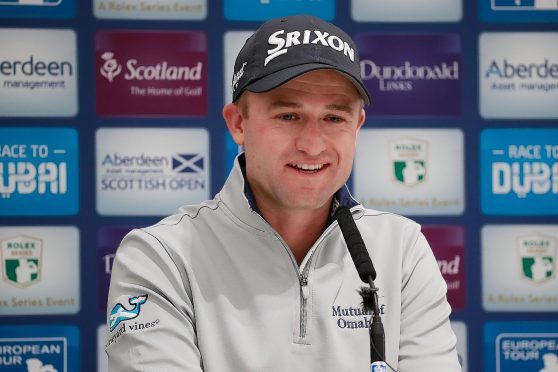 It has been a season to forget for Russell Knox so far but the Inverness golfer remains upbeat that the good times are just around the corner.
The 32-year-old is still searching for his first top-10 of the season and has missed the cut in half of his 16 events in 2017.
That's nowhere near the sparkling form the two-time PGA Tour winner enjoyed last year when victory at the Travelers Championship took him to a career high position of 18th in the world.
Now back to No. 46, Scotland's top player is in danger of sliding out of the top-50 and could do with a good week back on home soil at this week's Aberdeen Asset Management Scottish Open at Dundonald Links.
Knox accepts he is yet to hit top gear this season but believes the reports of his golfing demise have been overblown.
He said: "My game is not nearly as bad as I think a lot of people think it is.
"Golf is a crazy game.
"You're one good swing away from everything being completely different.
"Every single professional golfer that's not playing the way they want is going to say it's not far off but I don't feel like my game is any worse than it was last year when I was playing well. It's just a confidence thing.
"A good example would be Tommy Fleetwood.
"Once you see some good things, you just run with it.
"Last year I felt I was going to play well every week. This year, I'm probably one good performance away from going on a good run of my own.
"My whole year could come down to these next four weeks here at Dundonald and then the Open championship, the WGC-Bridgestone Invitational at Firestone and the US PGA Championship.
"It's been a disappointment but four good weeks could change it in a heartbeat."
Knox was the unfortunate 13th man who missed out on a place in Darren Clarke's European team for last year's Ryder Cup match against the United States in Hazeltine.
At the time, Knox was higher in the rankings than Clarke's three wildcards – Lee Westwood, Martin Kaymer and Thomas Pieters – and felt the fact he played the vast majority of golf in America and was not on friendly terms with Clarke and his vice-captains counted against him.
But Knox says he is not using this week's event at Dundonald Links to embark on a charm offensive with Clarke's successor Thomas Bjorn ahead of next year's match in Paris.
He said: "I'm not really here to sit down and pal around with people. That's not my personality.
"I think just being around, seeing Thomas Björn and the other guys who are going to be involved in the team, getting to play with them and having conversations helps but I don't think it needs to be forced because then it's not natural.
"The bottom line is the Ryder Cup is obviously a huge goal.
"It's still miles away, and if I don't remember what to do, I won't even be talked about, anyway so it's all up to me.
"You don't have to be best friends with everyone, obviously, to make the team.
"Everyone's goal is to play their way on to the team and I'm sure if I did that I would be on the way to creating a lot of good friendships that will hopefully last forever."
Despite his below-par recent form, Knox opted to take time off from working on his game ahead of this week's Scottish Open.
He added: "I didn't make the cut in France. I had the weekend off and spent the week in Italy with my wife. I didn't touch a club for nine days, which I probably needed.
"I didn't take the clubs with me so I didn't have a choice.
"I'm quite good at taking time off. I'm quite lazy at times on off-weeks and won't practise much.
"I know I'm not going to forget what to do.
"Sometimes when you are struggling you feel you need to practise more but sometimes it is actually the opposite that helps."