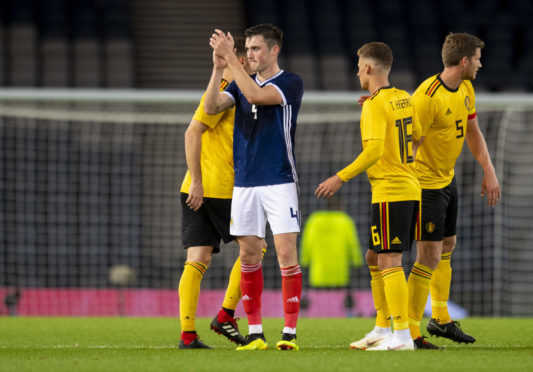 John Souttar feels ready to make his mark at international level after the Hearts defender was handed his first two Scotland caps by Alex McLeish.
After being handed his first call up by national team manager McLeish, Souttar played all 90 minutes of Scotland's friendly defeat to Belgium on Friday, as well as Monday's UEFA Nations League victory over Albania.
The 21-year-old has long been tipped for a Scotland breakthrough following impressive form for the Jambos, and Souttar is encouraged by how he has settled into his new surroundings.
Souttar, who was raised in Luthermuir, said: "It has been a long wait. There has been a lot of stuff that has got in the middle of it, I have been linked with the squad for a long time as everyone knows.
"The fact that I went through all that has made it sweeter and more enjoyable.
"At 21, I feel I'm ready to mix myself physically and mentally in these sorts of fixtures.
"I think it is a step up. It's not so much day-to-day, at Hearts we are very professional with the way the manager works, and the demands we put on ourselves are as good as here.
"It's just different football. On Friday I headed the ball about three times, whereas in the Premiership I do that in the first 30 seconds.
"It's a different sort of test, but one I really enjoyed it.
"It helps me with the way the manager sets up. He wants to play football, which suits me down to a t.
"Playing for my country is something I dreamed of when I was a boy, and I'm just enjoying every minute."
Souttar began his career with Dundee United, where he made his debut in a 2-2 draw against Aberdeen at Pittodrie at the age of 16 in 2013, before he left to join Hearts three years later.
With Andy Robertson, Johnny Russell and Stuart Armstrong also involved in the Scots' squad, Souttar has no shortage of familiar faces from his United stint, adding: "It just felt like the old days at Tannadice, from not so long ago. It's brilliant to have so many familiar faces there.
"There are four of us here just now, we are just missing Ryan Gauld. He was probably the best of the lot of us at the time, but hopefully one day. I'm sure it will come for him."
Souttar hopes his international breakthrough will come as a boost to his Tynecastle boss Craig Levein, who has recently recovered from a health scare.
He added: "Everyone loves the manager. I can't speak highly enough of him for what he's done for me, and everyone around the club.
"It was a massive shock. Sometimes with a manager there are people who don't like him, but at Hearts everyone loves him.
"He's a huge character in the building. I'm just glad, personally, he's back. He texted me before the game on Friday, so I will be glad to see him in training.
"He put himself on the line bringing me to Hearts to be fair. At times I wasn't playing well.
"He has backed me, and put a lot of trust in me. I was upset when I heard the news, but hopefully the two caps will have cheered him up a wee bit and I will see him on Thursday."