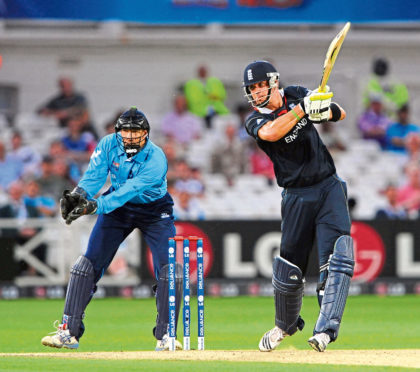 Colin Smith had no shortage of cricket achievements – including a World Cup appearance in the Caribbean in 2007 – from his illustrious international career.
But, as Scotland's current team prepare to return to the Granite City this month – for the first time since 2014 – the former wicketkeeper-batsman took a stroll down Memory Lane while recalling some of the great players he had encountered in his home city.
Back in 1983, shortly after India shocked the West Indies and triumphed in the World Cup for the first time, legends of the game such as Sunil Gavaskar travelled north and the young Scot told the Press and Journal how their trip made an indelible impression.
He said: "The India team came to Mannofield having just won the World Cup.
"I went for a curry with my dad in the Mumtaz on Holburn Street and I can remember sitting round a table with Gavaskar, Syed Kirmani and Kris Srikkanth.
"Roger Binny stayed in our spare room because they didn't have accommodation.
"He gave me a bat and I just thought the whole thing was amazing."
Later on, once Smith has graduated into the Scotland representative ranks, he was among the performers who tackled a powerful Australia A squad in Aberdeen in 1998.
And, once again, the experience was something he has never forgotten.
He said: "[Former Ashes-winning captain] Allan Border was the manager of the side and they were one of the strongest teams who have ever turned out in the city.
"They had people like Mike DiVenuto, Damien Martyn, Matthew Hayden, Jason Gillespie, Michael Hussey, Andrew Symonds, Brendon Julian, Andy Bichel and Adam Dale and it was a real test of our mettle.
"There is a picture of them in the Bradman Suite (at Mannofield) and I am still proud to look back and think about being involved in matches such as that."
Willie Donald, another former Scottish internationalist and the current chairman at Shire, took part in a B& H Cup fixture at the ground in 1983.
And he walked out to the crease alongside one of the legends in Caribbean history when they tackled Worcestershire.
He said: "One thing which really stood out was opening the batting with Desmond Haynes for Scotland in that match at Mannofield.
"Desmond was Scotland's overseas player in the competition that year and he was one of the best players in the world at the time.
"Just batting with him was something to cherish and it has stuck in my mind. We put on 30 for the first wicket and it was a pretty tough game for both sides.
"Hopefully, people will have memories of their own when they come along along to watch Scotland take on Oman and Papua New Guinea from August 14 to 21.
"Everybody will be made very welcome at these important World Cup matches."
************
Aberdeenshire's season has gone from bad to worse in recent weeks. In their last two Eastern Premier Division contests, they have been skittled for 69 and 73.
Relegation has not yet been confirmed, but with matches looming against powerhouses Forfarshire and Carlton, there seems little prospect of Shire escaping the drop.
Indeed, following Saturday's eight-wicket loss in Edinburgh, one former Scotland star said he couldn't believe how far the north east club had fallen in the last two years.
And he added: "There's no quick fix for them. They only have four or five players who look capable of performing at this level just now."
To be fair to Aberdeenshire, they have been struggling with player unavailability. And nobody could have predicted the serious illness which continues to afflict their South Africa professional, Solo Nqweni.
But if they go down, the club's second XI, Mannofield will automatically suffer the same fate. It is a worrying situation for anybody who cares about Scottish cricket.