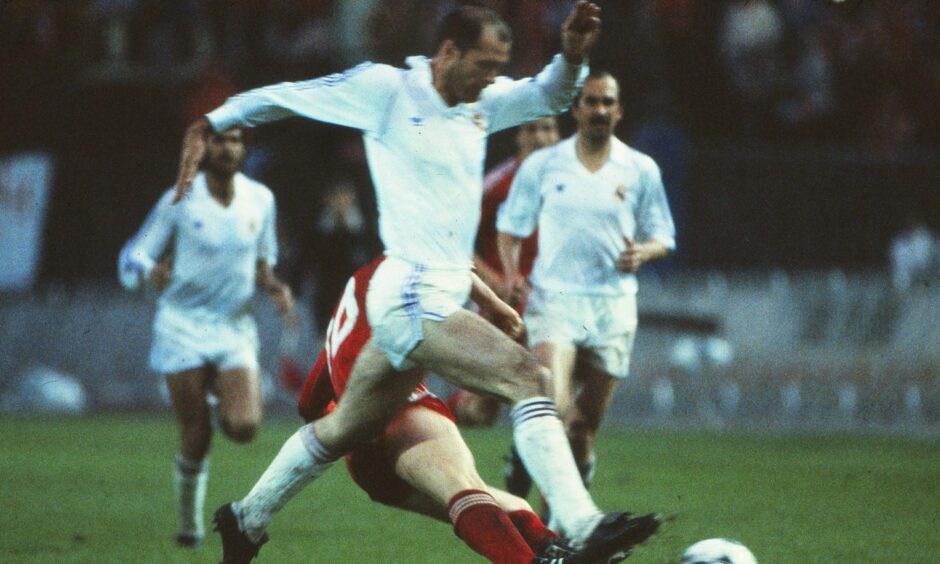 "At least I can say I set Alex Ferguson off on the right track as a manager," former Real Madrid defender John Metgod jokes.
Ex-centre-half Metgod, 65, is talking about something ex-footballers are, on balance, less likely to be asked about – a game he lost.
Metgod played in the 1983 European Cup Winners' Cup final in Gothenburg, Sweden, where Ferguson's Aberdeen won 2-1 after extra-time, and in doing so wrote their names into Scottish football folklore.
It remains the last European final where Los Blancos tasted defeat and an early highlight in the managerial career of Ferguson, whose unprecedented success at both the Dons and then Manchester United established him as British's football's greatest boss.
Despite having come out on the wrong side of the showpiece with Aberdeen on May 11, 40 years ago, Metgod is cheerful when asked about it.
The Dutchman chuckled as he said: "It's a game I'm desperately trying to forget, but as usual Scottish people keep reminding me."
Metgod added: "It's a piece of history, however you look at it – from Aberdeen's point of view, but also from Real Madrid's point of view – so it's something that's part of life.
"It was an experience, not a very nice one for us, but for Aberdeen it was good, obviously."
Already one of the global game's most iconic clubs, Metgod thinks all of the expectation was on Real Madrid going into their early Eighties clash with the Dons.
However, Metgod – having had the experience of losing the Uefa Cup final to Ipswich Town while playing for AZ Alkmaar two seasons earlier – knew the difficulties a top British team like Aberdeen would present.
He said: "Based on history and the clubs involved playing in the final, I think everybody sort of expected Real Madrid to win and we were the favourites, although – personally speaking – I knew exactly from past experiences playing against British teams that it was difficult to beat them.
"You might have more quality, but – one thing was for sure – they would put up a fight, and if you weren't able to compete with them, then it was going to be a difficult game."
Despite their favourites tag, Metgod felt there was no arrogance in the Madrid ranks before the kick-off at the Ullevi Stadium in Gothenburg, and he and his team-mates were fully aware of Aberdeen's credentials: "You don't get to a European final at whatever level for nothing – you need to put in some performances to get there and you deserve to be in the final."
A student of football, who had watched BBC coverage of English and some Scottish football while still in his native Netherlands, as well as reading about the British game in newspapers, Metgod went into the final able to list off a host of names from a Dons' side who by 1983 had already begun their golden period of domestic domination.
Even four decades later, over the phone, Metgod rattles Reds names off: "Mark McGhee, (John) Hewitt, Alex McLeish and Willie Miller, Jim Leighton.
"Gordon Strachan played as well.
"They had a decent side and it was a proper team. Difficult to beat and with a fighting spirit."
Of particular note to a centre-half like Metgod was the famed Dons central defensive partnership between Reds skipper Miller and McLeish, who would, with Leighton behind them, also become a bedrock for the Scottish national team in subsequent years.
He feels the pairing, who played hundreds of games together, were a "very good partnership" – one which embodied the British style of defending.
Metgod said: "It's the sort of thing where, and it's by no means meant in a negative… If you were a central defender in Holland, even in those days, you had to be good on the ball and you had to have passing abilities.
"In English and Scottish football in those days, you had to have a big heart, challenge, to win your aerial battles, to put up a fight and make it very, very hard for the opponent to score against you, so it's a different type of defender.
"They (Miller and McLeish) defended and put their lives on the line to stop anybody scoring against them.
"Normally in a team the ones who will get spoken about most of the time are the ones who create the goals and score the goals.
"But it (success) is hardly ever about (those players), it's defenders who try to do everything they can to stop the opponent from scoring."
What can Metgod remember about the night, and the ebb and flow of Real Madrid and Aberdeen's Continental cup final meeting?
One thing comes back to him, without hesitation: "I remember it was Scottish weather – it was absolutely pissing it down, so that was an advantage to Aberdeen."
Although Metgod can still remember the game's key moments, his enduring feeling about the game is the Dons were able to cope better with the conditions than Real on what was already a pressurised evening.
He added: "It was a difficult night because of the weather, obviously, I don't think the football was pretty, entertaining or good. I think it was tense like it usually is for a final.
"I don't think there was much quality."
The deluge did, of course, have a hand in Madrid's first half penalty equaliser, when McLeish's passback to goalkeeper Leighton was killed stone-dead by a puddle, allowing Metgod's team-mate Santillana to beat the goalie to the loose ball and win a spot-kick, converted by Juanito to cancel out Eric Black's opener.
Metgod said: "Yeah it got held up – the pitch was absolutely soaked and it was difficult to play. Those things could happen because of the weather and the state of the pitch.
"But that's what made it difficult to turn it into a really good game, an entertaining game."
Most clear in Metgod's mind are the events in the build-up to Hewitt's extra-time winner.
"One thing I remember was, in extra-time, Juanito tried to nutmeg a player somewhere around the halfway line," Metgod said.
"We lost the ball, Aberdeen hit us on the break and they scored the goal to make it 2-1."
While the final whistle signalled the moment for the thousands upon thousands of Aberdeen fans who had made the trip to Gothenburg to start the party to celebrate their team's maiden European trophy, the Real supporters, who had travelled in far smaller numbers, melted away.
Madrid were six-time European Cup winners by 1983, so it is fair to say their run to the Cup Winners' Cup final had enthralled their supporters to a lesser degree than it had their Red Army counterparts.
To the best of his recollection, Metgod thinks the Real staff and players travelled back to Spain from Sweden the following day like the Aberdeen travelling party, but in far sombre mood.
The European Cup Winners' Cup final defeat was part of a remarkable season of near-misses for Madrid, who also finished runners-up in La Liga, the Copa Del Rey, the Spanish League Cup and Spanish Super Cup.
Then, as now, Madrid had a squad laced with well-known players, including Juanito – who would go on to win the Uefa Cup in consecutive seasons for the club, and was then tragically killed in car accident aged just 37 in 1992.
But it is what is left in the trophy cabinet which is all-important, and the expectation to win multiple pieces of silverware every campaign.
Metgod said: "You were only allowed two foreigners at the time, which was Uli Stielike and myself.
"We had a few well known players I think – Camacho, Santillana, Juanito, Del Bosque. So there were a few.
"We had two very experienced goalkeepers – Miguel Angel and Garcia Ramon, but I think the younger one, Agustin (played in the final).
"It's plain and simple. Maybe for a lot of clubs it would've been an achievement to get into five finals or really close to winning cup and leagues, but for a club like Real Madrid, all that counts is winning trophies.
"And if you don't succeed, no matter how close you get, that is just a big disappointment."
Real Madrid manager Alfredo Di Stefano, a world superstar during his playing days, is claimed to have said of Aberdeen following their Cup Winners' Cup triumph against his side: "Aberdeen have what money can't buy; a soul, a team spirit built in a family tradition."
Metgod made a half-century of appearances for Madrid between 1982/83 and 1983/84 – which was another disappointing campaign for Los Blancos.
Capped 21 times for the Netherlands, and a player who would move on to significant spells with Brian Clough's Nottingham Forest and then Feyenoord in his homeland, Metgod feels he had a complex relationship with five-time European Cup winner and two-time Ballon d'Or winner Di Stefano in his time at the Santiago Bernabeu, saying: "I had a little bit of a problem, because I didn't speak Spanish and it took me a few months to speak Spanish.
"I think he was Argentinian, but was naturalised… because he played so many years in Spain they gave him a Spanish passport or nationality or something. So he also spoke with a dialect that was even harder for me to understand.
"It was very difficult to get a connection with him, as I always needed others to explain what he said and what he meant.
"That was always difficult – it's easier if you sit to somebody and you can speak eye to eye and have a discussion or whatever. You know where you are.
"It was tricky in training sessions, for example. I had to always make sure I was never the first in line for something, because I always needed someone to do it before me so I knew what to do."
Now an assistant coach with ADO Den Haag under Dick Advocaat, during his long playing and then coaching career, Metgod has only made two visits to Scotland.
Once was with Forest to play Jim McLean's Dundee United the year after Gothenburg, and then there was a friendly with Feyenoord – where Metgod has twice served as assistant manager – against Dunfermline, whose manager at the time, Jimmy Calderwood, would of course go on to take charge at Aberdeen, and in the mid-2000s deliver the club's best European run since the Ferguson era.
"I would have loved to play at Pittodrie, because I hear it is a very old-fashioned ground," Metgod said.
"It looked a bit like Ipswich – a typical British stadium which is packed with supporters, a very good atmosphere, and very fun as a player to play in those sorts of grounds."