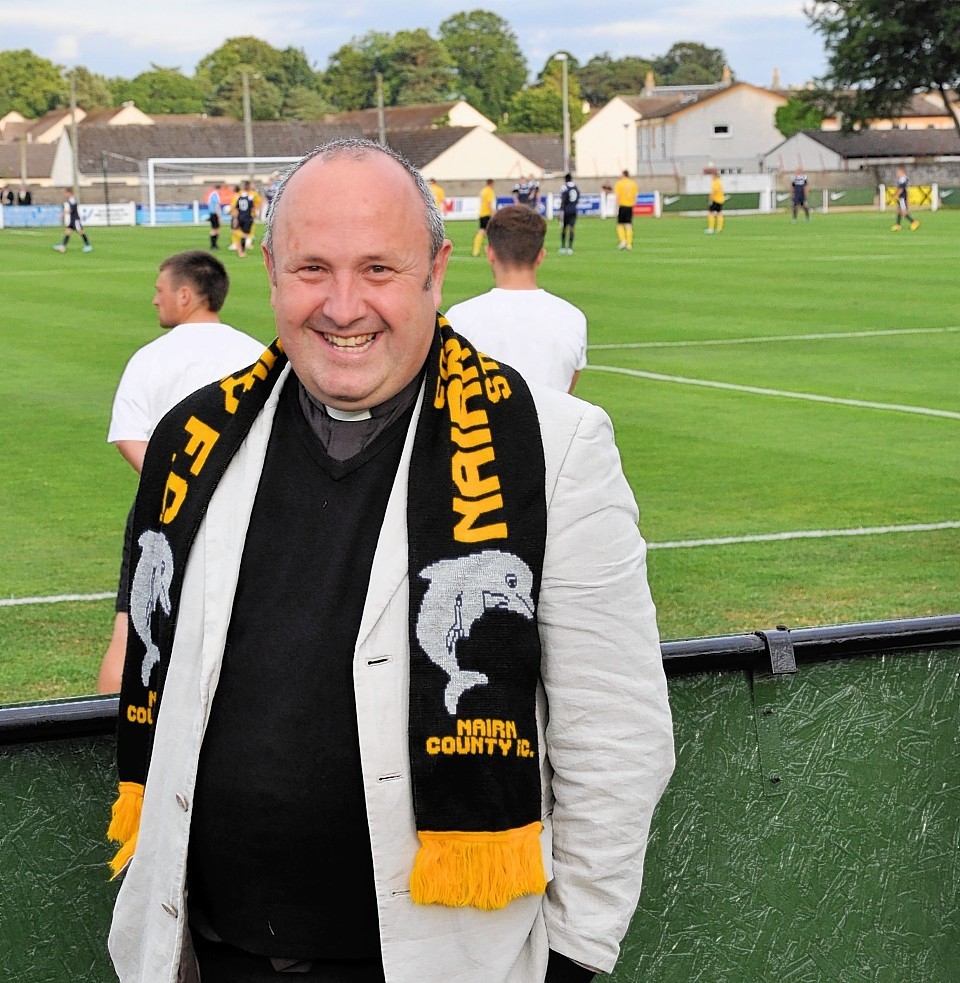 Nairn County are hoping some divine intervention can help them in their quest for the title next season.
The Wee County are the first club in Highland League football to appoint a chaplain, the Reverend Steven Manders of Nairn United Reformed Church.
In the SPFL, 39 of the 42 member clubs have chaplains, but the Station Park side is leading the way in the Highland League by appointing a member of the clergy as part of their duty of care towards their staff.
Manders may be a little bit unconventional, travelling throughout his parish by bicycle, but he is a passionate County supporter.
Rev Manders said: "I am very pleased to be the Highland League's first pastor.
"I am always available for people and obviously for anyone involved with Nairn County, as they are supporting a club which in-turn is supporting the community, and County is a community-based club.
"The football club is a very important part of the local community so I do fund-raising at the church for County. Last year I organised an opera concert to aid club funds, and this year I have organised the Cologne Baroque ensemble coming to play Beethoven, with all proceeds from the event going to Nairn County.
"When I get the time, although the wedding season does rather stop it, I really like to stand on the mound behind the goal at Station Park and watch the game.
"The banter among the supporters is tremendously entertaining, even if, on occasion, the language is a little choice, but I don't mind that."
The leading light in the chaplaincy movement is Mark Fleming, the director of Scottish Football with Sports Chaplaincy UK, who became chaplain to Partick Thistle in 1998, when he was one of only a handful in the Scottish game.
At last year's Uefa training course in Largs, County's former assistant manager, Ally MacLeod, was introduced to Fleming and, as a result, Manders became Scottish football's most recent chaplain.
MacLeod revealed after hearing Fleming talk at the course he was convinced County should ask for someone to perform a similar service for the club.
He said: "The appointment of a club chaplain will allow him to be a sounding board.
"When players have an off-the-field problem they tend to bottle it up and not to tell the manager, or his assistant, but now they can discuss anything with the club chaplain in full confidentiality."
Reflecting on his role in the game Fleming said: "It is basically to be a support, encouragement and listening ear to anyone who has need of one. Each chaplain I appoint is fully vetted, trained and held accountable.
"I report regularly to the SFA and work with them in helping to prepare future coaches and managers on the Uefa A Licence course by delivering a seminar on the benefits of taking a holistic approach to players and other staff at football clubs.
"Personal problems can affect a player and motivation levels and can have a considerable effect on his performance on the park, so having someone that they can go to so they offload their problems can be very helpful."