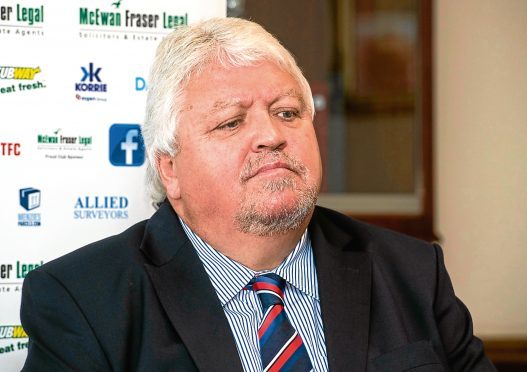 Caley Thistle's new chairman has launched a scathing attack on a small group of "rogue" fans who he said had "disgraced" the club at the weekend.
Graham Rae, who was appointed to the top job earlier this month, said the supporters acted in a "threatening, abusive and disrespectful manner" at Brechin City on Saturday.
The Caley Jags ran out 4-0 winners in the Scottish Championship clash, but Mr Rae said police were forced to remove six away fans from Glebe Park.
In statement posted yesterday on the club website, the chairman said that a senior official from the Scottish Professional Football League had been among those who witnessed and complained about the behaviour.
Mr Rae said: "Unfortunately, there was a small group of ICTFC supporters who disgraced the club by behaving in a threatening, abusive and disrespectful manner.
"The local police evicted six fans who were supporting our team. The club has now received correspondence entitled 'Unacceptable Conduct' from a senior representative of the Scottish Professional Football League who was at the game and observed this small group of ICTFC fans behaving so badly.
"Additionally, I have received multiple complaints from other supporters of the club who were at the game and who have expressed their utter dismay at the dreadful behaviour of some of our supporters.
"Moreover, D&E coaches have advised us that one of their vehicles was badly damaged by these rogue supporters on the journey home.
"We are in discussion with representatives from Caley Jags Together and the ICT Travel Club to seek their input.
"By any measure, this kind of shameful conduct by supporters of ICTFC is not acceptable and will not be tolerated."
Mr Rae also congratulated the team on their convincing win on Saturday, praised the "very gracious hosts" at Brechin City, and the majority of the "loyal travelling supporters who made the journey south".
But he reiterated the club's policy on unacceptable behaviour inside grounds, and said the club were "finalising its review of what happened and identifying those who were involved".
The chairman added: "We will take decisive action with the objective of stamping out this form of unacceptable behaviour at both home and away matches."