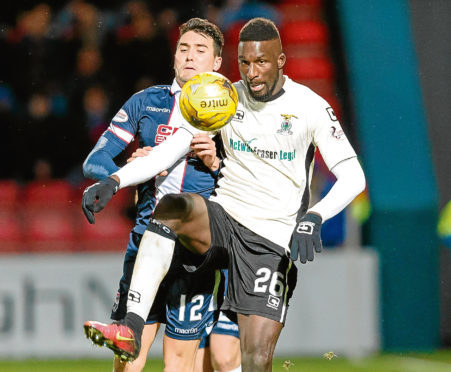 Stress is not a word in Lonsana Doumbouya's vocabulary.
Every obstacle is greeted with his trademark smile. Life for him is a journey to revel in, not to get mired down in worry or concern.
His departure from Caley Thistle in January last year caught everyone by surprise. He had been Richie Foran's marquee signing, the target man who would score the goals and be the cult hero the supporters craved.
Doumbouya felt he fulfilled his side of the bargain. Six goals in 20 games for Caley Jags was a decent return for his first half-season in any top division but Foran's desperation to bring back Billy Mckay meant his days in the Highland capital were numbered.
He said: "At the last moment, Richie called my agent and said he wanted to take another striker and I could go if I wanted. I thought 'OK, maybe in the last two games I didn't play like I did when I first came but I can't play at 100% all the time'. I wanted to stay but the coach said I will never play, because he has another striker.
"I saw what happened with Alex Fisher when he didn't want him to play, but then does. If I stayed, it could have changed."
Is he frustrated at how his time at Inverness ended? Of course, but there are no grudges held. He liked Foran, praising his charisma and enjoying the fact he got "angry about football".
He lived with Fisher during his first week with the club and remains in contact, with both players on the move at the same time last month. While Fisher was high-tailing it down from Motherwell to Yeovil, Doumbouya was going just a tad further, leaving Austria for Thailand.
SKN St Polten was the destination for him after Inverness and three goals in 13 games prevented their relegation back to the second tier of Austrian football last season. The arrival of new sporting director Markus Schupp in the summer prompted his time in Sankt Polten to turn sour quickly. A move to South Korean side Incheon United fell through, with Doumbouya wanting to go but St Polten reluctant to lose him.
Doumbouya said: "The problems started there. I stayed for another six months and started four games. I don't know why the sporting director had problems with me – he didn't want me to go or to play. He came in with new players and wanted them to play. That's why it was important for me to move."
The 27-year-old, who made his debut for the Guinea national team during his time at Caley Thistle, signed for Thai League One side PT Prachuap a fortnight ago, with St Polten at the bottom of the Austrian Bundesliga. While Doumbouya loves to travel, he asserts the move is far from a glorified holiday.
Ambitions to play in Asia had always lingered. His former coach at AFC Tubize, Eun-Jung Kim, is a former South Korean international and he sold Doumbouya on trying his hand in the Far East.
Such a switch came a few years earlier than expected – Doumbouya hoped it would be at "29 or 30" – but he is not turning his nose up at the chance coming now.
He said: "It's not a high level but it's a different type of football. I can enjoy it out here. I played well and scored in my first game last week. I want to develop and I know a player, who I played with at Inverness, wants to come to Thailand. I have my house now in Prachuap and I want to explore, to see the whole country. It's such a beautiful place. But I didn't come here for a holiday."
A goal – the winner no less – on his debut on Sunday, against BEC Tero Sasana, was the perfect way to introduce himself to his new supporters.
He might be over 7,500 miles from the Caledonian Stadium but reminders of the Highlands still follow him. Each Instagram post is usually greeted by a friendly comment from those of a Caley Jag persuasion and Doumbouya credits them as the best fans he has ever played for.
Contact is still made with former team-mates, like Larnell Cole, Ross Draper and Jake Mulraney, and he still holds great affection for Inverness.
He said: "I get a lot of messages from supporters when I scored for St Polten, or played for the national team. They're the best supporters I've ever had."