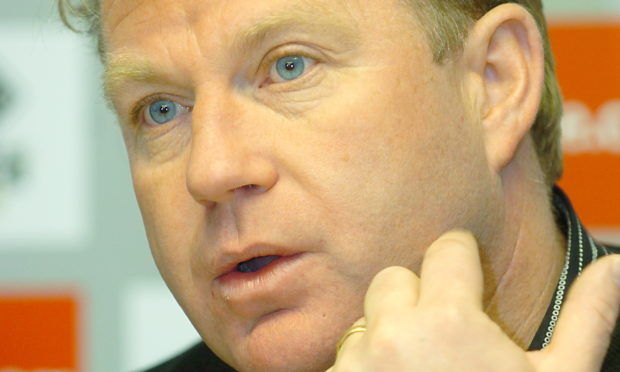 Graeme Bennett says tomorrow's Championship match against Arbroath is a poignant way to remember his former Caley Thistle skipper Alan Hercher.
Tomorrow's match marks a year to the day since Hercher, who was the club's first captain following its formation in 1994, died at the age of 52.
The visit of Arbroath carries all the more significance, given it was the Red Licthies who Hercher scored a hat-trick against in a 5-2 victory in Caley Thistle's first ever league game, which will be 25 years ago on Tuesday.
Former midfielder Bennett, who set up two of Hercher's three goals at Telford Street, says the timing of this weekend's match could not be more fitting.
Bennett said: "It was Alan's day – he scored the hat-trick. He was a fantastic player and a fantastic captain.
"I know the players are looking forward to getting together and seeing each other on Saturday to mark the occasion.
"Herch was a great player. I don't think we saw the best of him at times because he always picked up injuries.
"Three goals in 31 minutes in our first game in the Scottish League was some standard.
"In one season in the Highland League he had scored 24 goals by the end of October.
"It is an unbelievable set of circumstances."
Bennett recalls the excitement ahead of club's first league match, with the Highlanders going on to finish sixth in their first season under Sergei Baltacha.
Bennett, who went on to become Inverness' director of football, added: "I remember it was a really good atmosphere at the old Telford Street ground.
"We never really knew what we were going into. In our first year we struggled a bit with the journeys down the road and with the physical aspect of the game. We did OK, starting well, but we faded a bit.
"It was a great experience. You look back 25 years and our bus driver Tony Fraser used to take both us and Ross County up and down the road. He did a tremendous amount of miles.
"You hear clubs, to this day, moaning about travelling to the Highlands, forgetting we had to do it every second week.
"We did well to get into the league when one of the stoppers was they didn't want us in.
"Hopefully the anniversary will give a bit of a spur to the boys on Saturday. Another 5-2 would be welcome."