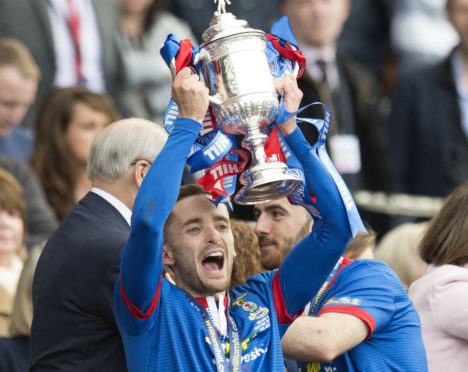 Carving out a pathway into the MLS will remain Nick Ross' ambition as long as the midfielder remains in America.
Former Inverness player Ross has been with USL Championship side El Paso Locomotive since early last year, having long craved a switch over the Atlantic.
The 28-year-old enjoyed a fine debut campaign in the Texas club's maiden season, playing 32 games and netting twice to help his side finish sixth in the division.
Among Ross' team-mates last year was German-born forward Jerome Kiesewetter, whose 12-goal return earned him a move to MLS club Inter Miami, who are owned by David Beckham.
Kiesewetter was born to an American father, which has resulted in him winning two caps for USA's national team, thus meaning he does not occupy one of the seven places permitted for foreign players in each team.
Although Ross accepts that makes his challenge more difficult, he insists his target remains to win a move to the closed-off American top flight.
Ross said: "We had a striker last year who has gone to Miami after a good season, but he's American. That makes it a lot easier when you're a domestic player, as you don't take up any foreign spots.
"There are some Scottish players, such as Gary Mackay-Steven and Lewis Morgan, while there is also Jake Mulraney.
"He's at Atalanta, who are probably one of the biggest teams in the league, so fair play to him for that.
"It's tough because that is where everyone in our league wants to be. I think anyone who says otherwise is not telling the truth.
"I think the MLS is the only league in the world with no relegation. Everyone wants to get there, but the way that's going it's really hard. There is so much money there now.
"They are just throwing money at big players. In our league you can make a good living, and you play some good teams, so I'm happy where I am at the moment."
Ross insists he is enjoying his time at El Paso, where he has come in for praise from the club's English head coach Mark Lowry.
He added: "We have pretty much the same team as last year, so it was easy to come back.
"I have a lot of good mates in the team and they hung about as well, so it was an easy decision for all of us to come back.
"We did well as a team. We got to the final of our part of the league, and probably should have won it in the end.
"We had a really good first year and I think it was a no-brainer for everyone to come back. We are all settled here.
"We have a good team and we play different to everybody else. It's more like total football, which we all enjoy."
Ross is awaiting the green light to resume playing, after his season was halted after just one game due to the coronavirus pandemic.
Ross has returned to training in small groups, with the former Scotland under-21 international adding: "It changes – one day you think there's no chance we'll play again this season.
"They have talked about having a tournament style where we all go to one place and play our games there. I don't think teams can afford that, though.
"They have also talked about regionalising the leagues so we don't have to travel so much.
"The way teams make their money is through ticket sales and merchandise. I would be surprised if we were to be back playing in front of no fans.
"We got told we can maybe play in July, but that's definitely not certain."
Uncertainty over pay dispute will not derail American dream
Nick Ross is confident an ongoing pay dispute will not end his American dream.
He has been asked to take a pay cut along with every other player in the USL Championship by league bosses.
An initial 30% wage cut for all players was rejected after being tabled by the league, before the USL players' union responded with an offer of a 10% reduction, matched by a 10% contribution from the league, which was also turned down.
With a provisional restart date of July 11, the league are also looking to secure the right to cancel the season at any time, which could jeopardise foreign players' visas if contracts are cancelled.
Inverness-born Ross, who lifted the Scottish Cup with his hometown team in 2015, said: "It has been going on for a while now. It has been a bit crazy.
"It's things you wouldn't think you'd be fighting for in a big league like this – fighting for the minimum wage of £20,000 a year, which the league said no to.
"Someone told me that 5% of the league is on £1,000 or less.
"There are so many foreign players throughout the league. I think they need us to come over here to give it a better name, because you get some pretty big players coming over here and having a good career.
"I think it would be a big mistake if they did that, but I'm sure they won't. I'm sure they will realise they need to keep the players happy and willing to come back in the future.
"Hopefully it doesn't personally, because then I would be stuck and having to go back home."
Ross made the switch to Texas at the beginning of 2019, having previously played for Inverness, Dundee, Romanian club Sepsi, as well as a brief stint with Brora Rangers.
In El Paso's debut season last term, Ross helped Mark Lowry's men finish sixth in the Western Conference to earn a place in the play-offs, where they reached the regional final before losing out to Real Monarchs.
The 28-year-old is keen to prolong his stay having settled well in America, and he added: "Sometimes I miss back home, but I'm pretty settled out here. Hopefully I can stay here as long as possible."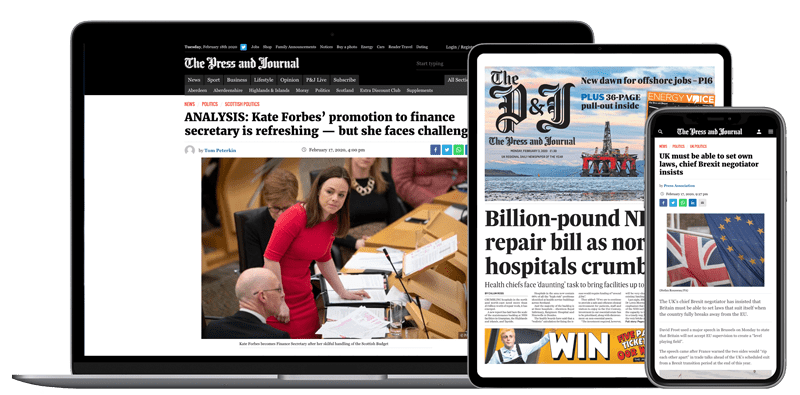 Help support quality local journalism … become a digital subscriber to The Press and Journal
For as little as £5.99 a month you can access all of our content, including Premium articles.
Subscribe