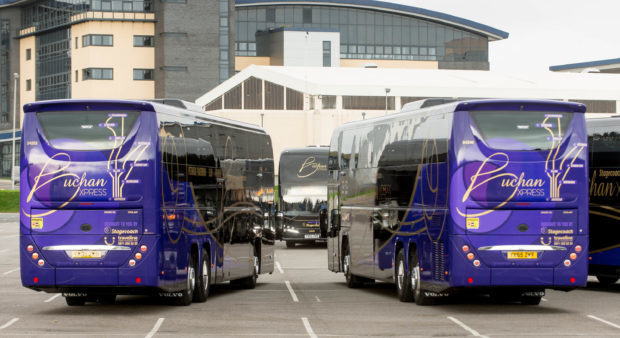 If you use buses in Aberdeenshire and Moray, Stagecoach wants to hear from you!
New bus timetable proposals – planned to start on Monday 12th November 2018 – have been created and can be viewed at the Stagecoach website. And the company wants to know what you think.
The proposals include changes to put more space on busy routes, as well as improving journey times. They have also been designed to prepare for the full opening of the AWPR next year.
Here are some of the main proposals:
New service 747 introducing airport connections from Peterhead, Cruden Bay, Ellon, Kingswells, Stonehaven and Montrose.
Increased frequency from Ellon Park and Ride to Aberdeen.
Improved Sunday frequency from Peterhead to Aberdeen with departures up to every 30 minutes.
Services 54 and 62 in Ellon will combine to become new 54/54X/N54 services.
Revisions to timetables in Aberdeen city to improve punctuality on service 14 (Kingswells), X17 (Westhill) and 37/X37 (Inverurie).
 New Sunday services for service 14 and 15A in Aberdeen.
Additional service 10 journey introduced from Huntly to address capacity issues in the morning peak to Aberdeen.
Additional service 35 journey introduced Monday – Friday from Aberdeen in the PM peak.
Deveron Community and Sports Centre near Banff Academy introduced to some service 35 journeys.
As part of the proposals a brand new service 747 will be introduced, offering a new link across Aberdeenshire and Angus as a result of the AWPR.
Once the AWPR is fully opened, the new service will replace services 107 and 747 and will also provide journeys up to every hour between Montrose and Ellon using the AWPR.
The service will operate from Montrose to Stonehaven before serving Kingswells Park and Ride and Aberdeen Airport. The service will then continue to Ellon and some journeys will also extend to Cruden Bay and Peterhead. It will be operated by low-floor easy access buses fitted with the latest tracking technology as well as the ability to accept contactless payments.
Revisions to service 10 and 35 operating from Aberdeen to Moray will benefit from improved journey times as well as additional journeys as peak times providing more capacity for those commuting to Aberdeen.
Service 35 will also begin to serve the Deveron Community and Sports Centre on some journeys.
Some minor revisions have also been made to services 32, 33, 34, 36 and 38 in the Moray area to improve punctuality.
David Liston, Managing Director of Stagecoach North Scotland, said: "These proposals are the result of a review of the network following the improvements in infrastructure around Aberdeen.
"Ongoing feedback from our customers, staff and local stakeholders has helped shape the proposed network but we are now delighted to share these for further feedback before we finalise our plans for the bus network.
"The importance of frequent connections between Aberdeen and Buchan is clear and our proposals will maintain this high frequency link north of the city with a series of enhancements to the services to the north.
"Our Moray bus network has also been influenced by the AWPR as the £745 million project will address congestion in Aberdeen allowing us to introduce revisions to service 35 and 10 operating to/from the city.
"These revisions have directly influenced onward bus connections in the Elgin local network. Customer comments do help us ensure that we have optimised departure times, routes and addressed as many of our customers wishes as possible."
All feedback should be sent to nscotmarketing@stagecoachbus.com and should be sumitted no later than Friday, September 21.
You can get full details of the proposed changes, including new timetables, at the Stagecoach website.