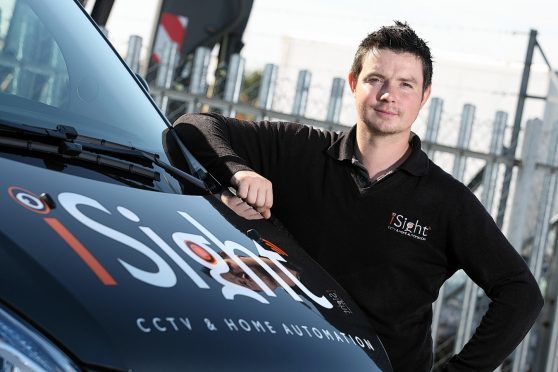 Each week, we ask small businesses key questions. Here we speak to David Coutts, who runs CCTV and automation company iSight Systems in Longman Industrial Estate, Inverness
How and why did you start in business?
Inverness born, I attended Millburn Academy and joined the Army on leaving – studying at the Royal School of Signals. I then served as an Army satellite engineer in Germany for five years, which was the perfect training for my business today.
After six-and-a-half years in the Army I left and moved to the Netherlands, where I became a fire alarm technician and learnt Dutch.
However, I had always wanted to set up my own business in Scotland so I gave myself three years in which to gain some UK business experience, learn new skills and decide what I wanted to do.
On returning to Inverness, I took a job with Northern Security Alarms and loved the company, the work and the technology.
Market research I undertook revealed some large gaps in the market that new technology could fill – the perfect opportunity for me. I left Northern Security Alarms and set up iSight Systems in 2015.
How did you get to where you are today?
After a year in business, I have commercial, agricultural and domestic customers from Perth to Orkney. I'm also expanding into new technologies. I've achieved this by thinking on my feet, seizing new opportunities and giving 100% commitment to my business.
Who helped you?
The Army taught me about structure and the importance of sound administration, while Northern Security Alarms has been a great source of knowledge and invested financially in iSight.
The Federation of Small Businesses and Business Gateway have both amplified my passion for business and their encouragement has helped me enormously. Finally, my family are the rock on which everything sits.
What has been your biggest mistake?
Not employing staff sooner. The business took off from the word go and left me handling everything alone – quotations, sales, installations, after-sales and administration. Life would have been much easier with some assistance and I am now looking for skilled, ambitious engineers to help me develop the company.
What is your greatest achievement?
Being invited to quote for a security system for the Royal Highland Showground in Edinburgh. While I didn't win the contract, the fact I was considered for such a prestigious job proves that iSight Systems is on the map and that all my work over the past year has been worthwhile.
My greatest personal achievement is my family. My partner, Rachael, and my wonderful daughters, Ava and Emily, are the main reason why iSight will succeed. Returning home to three beaming smiles at the end of a tough working day is the greatest achievement of them all.
If you were in power in government, what would you change?
I work mainly with farmers and they need help. I would do more to ensure that all supermarkets and shops sell local produce, where available. We should keep trade local.
What do you still hope to achieve?
My vision is for iSight to become a great Scottish success story and a sustainable, family-orientated business. I'm about to take on staff, Rachael is studying for an accountancy degree and my younger brother is an apprentice electrician. I hope they will join me when qualified.
I also want iSight to become the go-to place for technology in the north. Smart home technology can really improve the quality of people's lives.
While broadband roll-out means that more people can engage, few understand the possibilities or how to go about it – iSight Systems will provide the answers.
What do you do to relax?
I spend time with my family and golf. Work-life balance is vital when the pressure is on, and I love taking my daughters hillwalking or going for runs by myself to let off steam.
What are you currently reading, listening to or glued to on the TV?
Although I am very up-to-date when it comes to technology, I am not up to speed with Game of Thrones.
What do you waste your money on?
I am a bit of a DIY fanatic and a technology anorak so I do indulge in new tools and the occasional gadget – and I love the odd cheeky takeaway. Splashing out on Rachael and the children is never a waste of money.
How would your friends describe you?
Hard-working, organised and a bit OCD (obsessive compulsive disorder), which stems from my military experience. I'm always on time and love structure.
What would your enemies say about you?
I'm sure my competitors – I have no enemies – are keeping a very close eye on me but I just focus on doing what I do best – running my business and enjoying life.
What do you drive and dream of driving?
My trusty van contains everything that I need for work. As a family, we drive an Audi Q3 – Rachael insisted it must be black and shiny – but I would love a white Audi S5; comfortable, elegant and not too flashy.