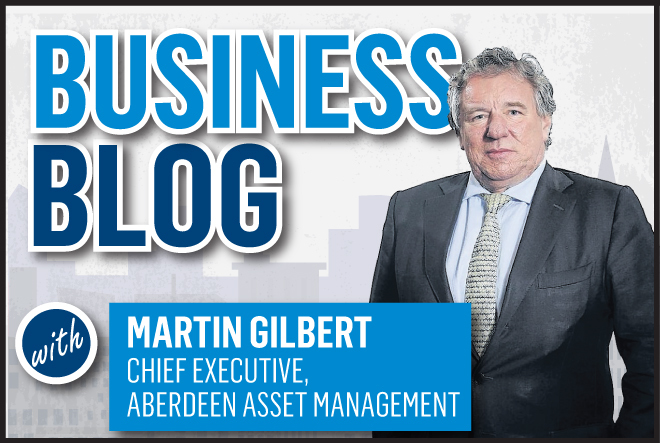 Next month Hillary Clinton may be elected America's first female President which would be a truly historic event. It is of course encouraging that powerful female role models are already not in short supply. Nicola Sturgeon and Theresa May lead the Scottish and UK governments. Further afield Angela Merkel, Christine Lagarde and Janet Yellen also occupy senior positions on the global stage.
However, the real question is why the success of these women is not feeding down further through organisations. The World Economic Forum predicted in 2014 that it would take until 2095 to achieve global gender parity. Then in 2015, they revised their estimate to 2133 instead. A very uncomfortable and disturbing forecast!
Over the years, I am proud that Aberdeen AM has demonstrated its commitment to diversity and inclusion by supporting a wide variety of initiatives and pledges globally. The latest is becoming a signatory of the Women in Finance Charter. As part of this, and along with many other financial services companies, the UK Treasury published our gender diversity targets on its website earlier this month.
Our gender diversity programmes are focused on increasing gender representation at all levels. Our aim is for 42 – 45% of our UK employees to be female by 2022. Within this, our goal is to increase female representation at senior management level to between 31 – 33%. Currently 40% of our UK workforce is female.
Whilst the Women in Finance Charter is a UK government-led initiative, in line with our commitment to achieving gender balance, we have a target of 47% of our global workforce (currently 44%) to be female by 2022.
The percentage point increases we are targeting over the five years may not seem a lot but in actual fact they are significant. For instance, in the UK, assuming our headcount remains unchanged, some 84 roles would need to transfer from male to female employees between now and 2022.
Longer term I hope we can achieve true gender balance, not just at Aberdeen AM, not just within financial services but across the UK economy. According to the McKinsey Global Institute, if women participated in the UK economy to the same extent as men, economic output would be £600billion a year higher in 2025 than current forecasts suggest for that year.
As I have always said, gender equality is not just a moral issue but also an economic and business issue. Increased female participation in the workplace would have a meaningful positive impact on the UK economy at a time when we're facing global headwinds, for example lower rates of economic growth around the world.
From a business perspective, I'm a great believer that mixed teams make better decisions. Mixed teams are able to look at issues from different perspectives and, as a result, formulate better solutions.
So how do we unlock the potential? Conscious and unconscious biases need to be overcome, allowing equal access to jobs and promotion. This involves providing training to all employees and ensuring recruitment consultants are properly briefed to ensure they provide a balanced slate of candidates.
Many businesses also lose women permanently when they go on maternity leave and do not return to work. I'm pleased that the support and coaching Aberdeen AM offers before and after maternity leave has resulted in a very high, and sustained, percentage of employees who return to work following maternity leave.
Achieving greater gender balance should not be the only focus. UK business has a reputation for being white, male and stale, so if we are truly going benefit from having mixed teams we must look beyond gender, and ensure our diversity of thought also comes from people from different ethnicities, ages, socio-economic backgrounds and abilities.
"Hope" and "change" were two simple words which defined Barack Obama's 2008 presidential campaign. For millions around the world, the election of America's first African-American President was a seminal event in the struggle for racial equality, a promise of hope and change in equal measure. They can also be ascribed to the promotion of, and action being taken to, diversity in the workplace.