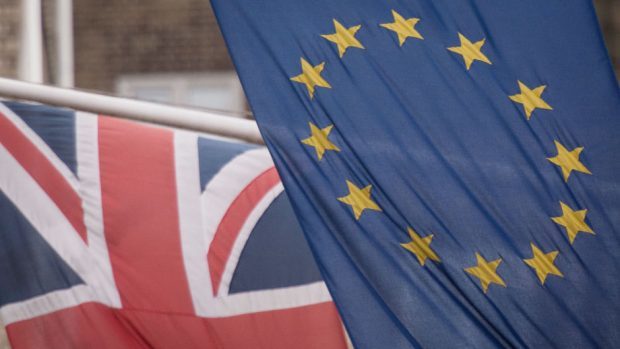 How do you plan to vote on 23 June when Britons go to the polls to decide if the UK should remain inside the European Union or leave?
Business figures from throughout the North of Scotland have been sharing their views with Peter Ranscombe
Even as the dust was still settling after the Scottish independence referendum, attention was already turning to another big constitutional question – "Should the United Kingdom remain a member of the European Union or leave the European Union?"
Voters will go to the polls on 23 June to have their say, with Prime Minister David Cameron and First Minister Nicola Sturgeon leading the campaign for the UK to stay within the EU and the "Brexit" camp coalescing around London Mayor Boris Johnston, Education Secretary Michael Gove and UKIP leader Nigel Farage.
But what do business people in the North of Scotland think about the EU? How will they be voting in the referendum?
Opinion polls linked with the independence referendum and last year's General Election have burned the fingers of many political commentators, but it's still worth pausing to examine what members have been telling their trade bodies over recent weeks.
In Aberdeen and Grampian, 80% of the 115 people who responded to a survey last month by the British Chambers of Commerce said they would vote to stay in the EU, compared with 69% of the 458 respondents in Scotland and 60% of the 2,133 who responded across the UK as a whole.
The percentage of respondents in the north-east who say they will vote to leave the EU rose to 18% from 11.5% last September, when the chambers' previous poll was conducted. Two-thirds of those who replied said they were now watching the debate "closely", up from 37% last autumn.
Yet voting intentions in other parts of the North may not be as clear-cut as the chambers' figures would suggest. Among the 520 Scottish companies questioned for a Federation of Small Businesses (FSB) poll last month, 43% said they were still undecided, while 53% felt ill-informed about the issues.
Business people are often hesitant to share their views about constitutional or political matters, but these ten figures were happy to speak their mind to the Press and Journal, with some wanting to stay, others wanting to leave, and some still undecided.
Michael Reid, managing partner, Meston Reid & Co OUT
Britain joined an economic community, which has morphed into a political community that creates laws that don't fit with our attitude of competitive trade and new ideas. Europe trades more with Britain than vice versa, so it seems ludicrous to suggest Europe will erect barriers. If it does, India, China and the United States trade successfully with Europe: so could Britain. This would pave the way to resume control of our fishing industry and support farming on a more constructive basis. It will permit more focused immigration so we can welcome people. Britain has nothing to fear by Brexit and potentially much to gain.
Graeme Allan, managing partner, Anderson Anderson & Brown IN
If you consider the economic outlook of Britain in the context of an exit from Europe, the only conclusion that could be drawn in at least the short to medium term is that the country would be worse off by leaving. For business, there is certainly an argument that less red tape would encourage business to flourish and, for example in certain industries like fishing, there is little doubt that being part of a common fisheries policy has been detrimental to them. However, remaining in the EU seems like the only sensible option and it's no surprise that the main political parties recognise this, even if not all their members agree.
Billy Walker, managing director, BenRiach Distillery Company IN
From the whisky industry's perspective, we have to stay in the EU. Absolutely. The industry has fought for decades to remove barriers to entry into market places and suddenly we want to take a decision to rebuild these barriers. It's crazy. If we decide to remove ourselves from those markets then it won't be easy to re-enter them. Exports represent about 95% of our company's turnover, with Europe representing about 45% of turnover. All of the European markets are important to us – Germany, France, Belgium, the Netherlands, Italy – they're all important.
Carol Benzie, managing director, Aberdeen International Airport IN
It makes sense, from an aviation industry perspective, that the UK remains part of the EU. It is quite clear that our sector has benefited hugely from being part of the EU by making air travel more affordable and convenient for people. The proliferation of both intra-European and long-haul flights since 1993 is testament to the positive impact of the European single market on the UK's aviation sector. Our international performance at Aberdeen is strong, and this week we saw Icelandair launch a new year-round service to Reykjavik. Later this year we will also launch new flights to Warsaw, Gran Canaria and Newquay, and the opportunities for more leisure destinations remains strong.
Stephen Crossland, managing director, Loch Ness Brewery IN
From a personal perspective, I'm quite happy being Scottish, British and European and don't see any good reason to change that. Having lived in the Highlands for 20 years, I also think it's important to see how many projects here, and in other rural areas of the UK, have been funded by the EU. It's unlikely that many of these would have been funded otherwise. Business-wise, I think it's unlikely we would suffer a significant drop in trade with our European partners, but it would be at best an uncertain situation, and an unnecessary risk. Exporting within the EU is certainly much easier than exporting outright the EU.
Stuart Nickerson, director, The Shetland Distillery Company IN
I firmly believe the UK should stay within the EU. The EU operates as one large marketplace, allowing ease of trading between countries within the EU and consequently allowing companies based in the UK to have direct access to a large marketplace without the need for additional barriers to entry that are prevalent in almost all other countries. Similarly, it allows UK-based companies to import very easily from member states compared with importing from outside the EU. If we were to leave the EU then we would potentially lose these advantages. On a separate point, the EU has introduced many minimum standards in employee legislation, in health and safety, and in environmental standards that have been beneficial in raising the standard of working practices and in company operating policies that have benefited company stakeholders including shareholders, employees, customers, suppliers and the local community.
Samantha Faircliff, managing director, Cairngorm Brewery IN
It is too simplistic to say that, just because the UK is a big market for European countries, we will be able to negotiate similar market access as we currently have, without the red tape and bureaucracy. If the UK wants free market access it will need to agree to all the market rules, will have no say in how these rules are developed (a bit like Norway and Switzerland), will probably need to contribute to the EU budget and agree to some level of freedom of movement of labour – so what is the point? Just under 50% of the UK's exports go to Europe whilst less than 10% of Europe's exports go to the UK – who has the most to lose? Most important, a number of other countries (Sweden, Denmark) will be watching to see what happens if the UK votes to leave there will therefore be no incentive for the EU to make it easy for the UK should it decide to leave as they will want to discourage other countries from thinking about it. If Frau Merkel has to choose between supporting BMW, Mercedes and VW by agreeing a favourable trade arrangement for the UK or the very future of the EU, the EU will win. It is difficult to prove whether the UK prospered because it joined the EU but there is no doubt that the UK was the poor man of Europe and sliding downwards prior to joining and the country prospered subsequent to joining.
Sheila Fleet, founder and creative director, Sheila Fleet Jewellery IN
The EU does need to be reformed so that countries have control over issues that are important to them such as sovereignty. But at the same time I feel that we do need to stay together over big issues, particularly where there may be threats to world security. Culture and unique identities are what make the world interesting, our diversity is our strength, it would be a shame to make a homogenous soup of Europe. Let's celebrate working together without undue regulation spoiling that relationship. I export into Europe and also source materials from EU owned companies. There are some companies in Europe offering very interesting new mixed sheet metals and being part of Europe widens my potential to access these products. I would like to improve this further in the future as well as growing my exports and coming out of Europe might not be the best way of reaching this goal. Further reforms of Europe would help me make my decision.
Dean Hunter, chief executive, Hunter Adams IN
Our 'case-makers' must help the public understand the business case for staying in or leaving the EU. Understanding Mr Cameron's planned changes to our package of membership should we remain in the EU – including migrant welfare payments, competitiveness and so on – are also key to making the right decision. Having traded within the EU with certain ease and then further afield across other non EU jurisdictions, where it can be significantly more complicated, there is a clear benefit as a business owner to remain part of the EU 'network'. I think we will leave the politicians to outline the fiscal case for both decisions.
Isla Cruden, president, Highland Business Women's Club OUT
My views on the EU referendum keep changing. Part of me fully supports the idea of closer union, but the track record of the EU to date does not fill me with confidence. There appear to be two levels of EU membership, and at present the UK does not seem to be getting a good return on our investment in this economic and social union. No business can afford to lose the amount of money that is currently sent to the EU. If the return was worthwhile I am sure that would be the headline we would all be hearing about. I do not believe David Cameron has achieved any significant improvement in the UK position, and on balance I am going to vote to leave, on the basis it will then force the EU to deal with the UK once and for all.