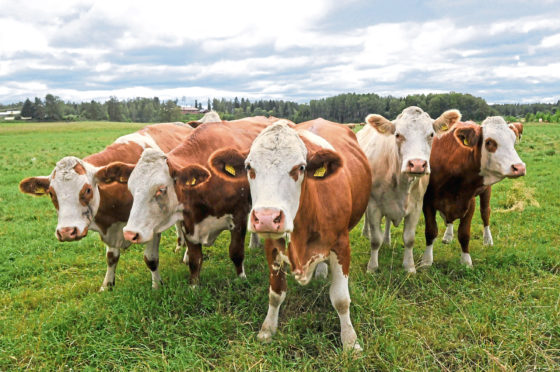 Proposals for a new support scheme to help the Scottish beef sector reduce its climate change impact and boost its efficiency were published yesterday.
The blueprint for the new scheme was published in a report by the Suckler Beef Climate Group, chaired by former NFU Scotland president Jim Walker.
The group was set up by the Scottish Government earlier this year to find a way of supporting the suckler sector as it attempts to mitigate its environmental impact and identify ways in which emissions can be reduced.
The group used detailed performance data from all Scottish cattle herds between 2013 and 2019 to identify the baseline greenhouse gas emission levels from the sector.
A range of management practice recommendations, for both cattle and farmland, were then drawn up along with potential areas for capital investment to help the sector reduce its emissions.
These are packaged together in the new proposed Suckler Beef Climate Scheme, which focuses on four areas – production-based efficiencies, soil health, grassland and grazing management, and nutrient management.
Proposed items eligible for capital grant support include slurry store covers, lime, cattle monitoring technology and precision grassland tools.
Mr Walker called on government to "act now" and said the proposed scheme had been designed to encourage and enable maximum participation across the sector.
"It is a fact that domestic production will inevitably contribute towards a nation's total emissions and Scotland is no different in that regard to any other country on the planet," said Mr Walker.
"But shifting these emissions abroad, simply by cutting domestic food production in order to meet certain emissions' reductions commitments, does not resolve the issue itself – it merely exports the problem elsewhere.
"The conclusion should not be drawn that Scottish beef farmers cannot improve – they can."
Rural Economy Secretary Fergus Ewing welcomed the report and said: "We know suckler beef farming is a key sector in Scotland's rural economy and we are determined to support farmers in a sustainable manner whilst also working towards achieving our climate change ambitions.
"The Scottish Government will now work with Jim and other key stakeholders to consider in full the recommendations made in this report."