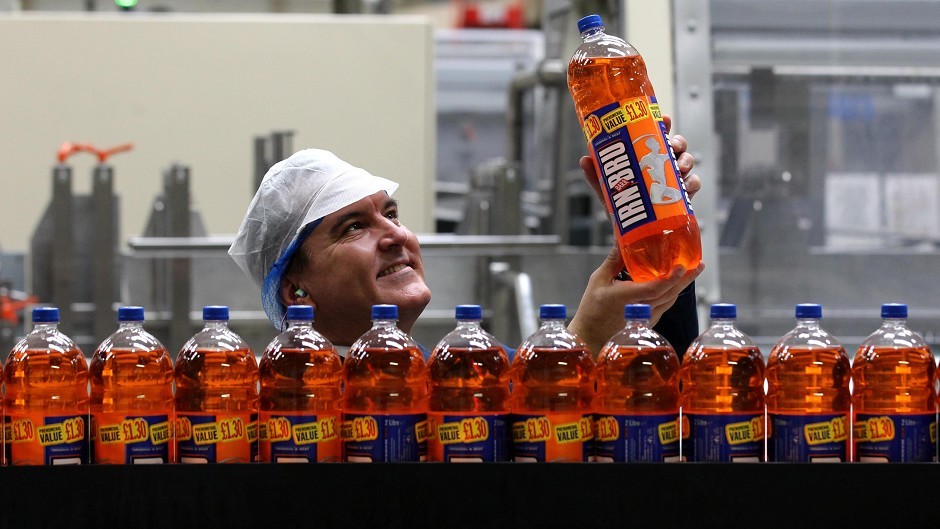 The company behind Scotland's "other national drink" insisted yesterday its sugar-cutting plan would not get in the way of its long-term growth.
A.G. Barr, best known for its iconic fizzy drink Irn-Bru, is reducing the sugar content in some of its best known brands because of a UK Government crackdown on the soft drink industry.
Announcing results for the year to January 28 yesterday, Cumbernauld-based Barr said the sugar tax announced in the March 2016 Budget and the Brexit-hit pound created "additional external headwinds" in a soft drink market already impacted by price deflation.
Chairman John Nicolson added: "Despite these macro external influences, the business has retained a clear focus on the execution of its strategy and in particular on internal improvement actions.
"Financially, the business has delivered another solid performance with (underlying) profit before tax and exceptional items of £42.4million, an increase of 2.7% on the prior year … and exits the year with a strong balance sheet.
"We maintained our market share across the period and continued to invest in our brands, with the key brands, Irn-Bru and Rubicon, delivering good growth.
"Innovation has been a key strategic focus across the year and the launches of Irn-Bru XTRA and Rubicon Spring in particular, both no-added sugar products, have proven successful."
Barr, whose portfolio includes the "high juice" omj and non carbonated Snapple ranges, fizzy drink Tizer and bottled water brand Strathmore, as well as Rubicon exotic fruit drinks and Irn-Bru, aims to have 90% of its products containing less than an ounce of sugars per pint by the autumn of 2017.
The company said the target underlined "how the business is responding to consumers' needs with both pace and commitment".
Chief executive Roger White added: "We have made considerable progress across the business over the last 12 months and delivered a solid financial performance in volatile and uncertain market conditions.
"The UK consumer environment remains uncertain, however, we are confident that our great brands, effective business model, clear strategy and strong team ensure we are well-placed to realise the full potential of our business and to deliver consistent long-term shareholder value."
Barr said underlying revenue grew by 1.5% to £257.1million during the year to January 28, following "supply chain and system implementation challenges" which hampered performance in 2015/16.
And it said it had "successfully maintained market share in a challenging market environment".